A recently published monograph, "Skolnick: Architecture + Design Partnership" (Pointed Leaf Press), explores the 40-year legacy of the East End architect Lee Skolnick and his firm. Alastair Gordon caught up with him to talk about his practice, his design aesthetic, and his collaborations with artists and cultural institutions. 
AG: I'm curious about the architecture of the book itself. You can open and read it from two different sides. It's really two books reversed and bound together. One side represents your residential work. The other represents your public and institutional work. 
LS: We've had a schizophrenic practice all these years between private and public work. When I started talking to the publisher, the designer came up with this mock-up that you could open from either side and it seemed like the perfect embodiment of who we were. Also, it's like a little piece of architecture, not just a book with a cover. 
AG: It's interesting that you've done so many projects for artists or for art-related clients, collectors, critics, museum curators. . . . 
LS: Yes, there's always been a connection to art. Early on, my design approach was influenced by the fact that I did a lot of artists' lofts. I really like open spaces with volume and natural light suffusing the space. I tend not to design houses that have a lot of little rooms. 
AG: I got to know you many years ago through a house you designed for Susan Rothenberg, a Neo-Expressionist painter of horses, who died a few months ago. It was in Sag Harbor, just up the street from my own house and I ended up writing about it ("An Artist's Universal House," East Hampton Star, June 13, 1985); it was one my first architecture reviews. So, here we are, 35 years later, coming full circle. . . . Was that how it all started?
LS: I bought a fisherman's cottage for $75,000, fixed it up, and sold it to Rothenberg for $115,000. Wow! I thought I was a real-estate mogul. Then she turned around and asked me to do some work on it. That was really the beginning of my career. Through Susan, I got to know other artists and one thing led to another. Then there was this other career path, designing museum exhibitions, that started after I met Jo Ann Secor, the program director at the Staten Island Children's Museum, who became my partner and wife. I also formed a partnership with Paul Alter, a classmate from Cooper Union who's now managing partner of the firm. After Susan Rothenberg's place, I renovated a little Victorian house on Harrison Street for the artists Eric Fischl and April Gornik and added two studios. I think Barbara Toll, the gallerist and curator, was the connection. I also worked on Eric's studio in the East Village. 
AG: At some point in the late '80s or early '90s you started to work with the editor/publisher Suzanne Slesin and her husband, Michael Steinberg, on a house in Bridgehampton that was an assemblage of disparate parts. That seems to have been an important moment for you and now, Slesin's imprint, Pointed Leaf Press, is the publisher of this monograph. . . .
LS: Yes. Each member of her family was so distinctive, including the kids, so I decided to design this little bungalow colony in the sky. Everything would be lifted above the original cottage and each family member's room would have a different character, using different materials and shapes: a curving wall of corrugated metal, a gable with cedar shingles, another section with copper, another was clad in vertical siding, etc. 
AG: More recently, you designed another project for Fischl and Gornik. Of the 15 or so projects that you feature in your book, this seems to be a signature piece. 
LS: In the mid-1990s, they bought a property on North Haven overlooking Fresh Pond. The whole idea was to create a world that expressed how they lived, how they worked, to make a place that was absolutely suited to their lifestyles, and the way their art and life created a continuum. Eric and April are very broad in the things they're attracted to. The design came together and ultimately became its own thing. There are two studios side by side and the house behind them is connected by the kitchen and a dining room that's above grade on one side but below grade on the other side. We made a courtyard out of these three buildings connected underground, so technically it's one house. I tried to take advantage of views of the wetlands and April wanted to be able to garden without being invaded by deer, so we sculpted the land in such a way that it's completely protected. There are no fences. 
AG: Are the studios identical?
LS: Almost; they're like non-identical twins 
AG: The roof structures in both are open and modern, very muscular and industrial, but they also remind me of traditional Japanese architecture, something like the temples at Ise.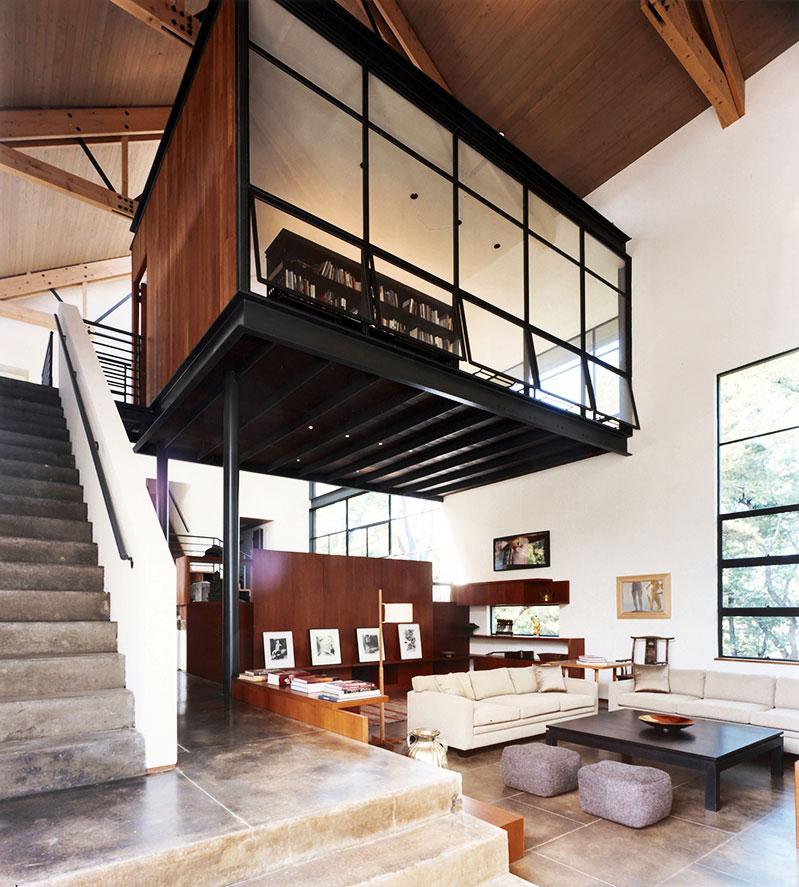 LS: I've always been interested in Japanese architecture, especially the relationship with nature, framing nature and dissolving the membrane between interior and exterior. There's also a certain gentleness and comfort in Japanese architecture that I admire. With Eric and April's studios, I was interested in having a textural quality, a human scale and having details that would make up for the fact that there was a lot of . . . air. I designed the trusses as a combination of wood and steel. Everything about them would be integral but they would also take on an object quality that ties the spaces together because both the studios and the house have the same truss systems, while inside the house, the floating library is framed in steel and mitigates the scale of the space so that when you're under it, you're in a more intimate space. 
AG: What about that narrow canal that runs down the middle of the connecting concourse and cascades down a set of steps? Is this your homage to the Alhambra or is it Louis Kahn's Salk Center?
LS: It's actually from the Casa dell'Amore in Pompeii. . . . But there's a little Salk Institute business going on as well. 
AG: Does the canal recycle the same water, or does it actually drain something?
LS: There's a pump, and the water recycles so that there's always water, but it's spectacular when it rains and the water shoots into the pool.  
AG: After studying architecture at Cooper Union, you came to the Hamptons and have been doing projects here ever since. How much work have you actually done on Eastern Long Island?
LS: Between 1980 and the present, we've done at least 60 residential projects here. I'm working on six different projects right now and we've worked with virtually every cultural institution in one way or another, from designing the Children's Museum in Bridgehampton to the Pollock-Krasner House and Study Center, the East Hampton Library, a master plan for Guild Hall as well as several exhibitions there, including "Long Island Modern," the show you and I did in 1987.  We're currently restoring the Cedar Island Lighthouse. . . .
AG: You're also working with Fischl and Gornik again. This time in the old Methodist Church on Madison Street in Sag Harbor. While it's not in your book, it should probably be mentioned. 
LS: It's literally called the Church, designed to be a local arts center, a place for artists to come and make work and display work and have lectures and screenings. The building had been gutted by previous owners and we came in with this very light touch, exposed all the great carpentry and opened up the space. The entire lower level is an open studio and the main level of the sanctuary is a multi-purpose event space and gallery. The mezzanine is for writers and poets and a library and there are four residential units that share the same social space. They're still working out the program, but it's scheduled to open in January 2021.