David Salle has spent a career assembling images from multiple sources, layering them, and somehow creating a larger meaning from the mixed messages and tropes.
The artist, who divides his time between Brooklyn and East Hampton, continues this practice in his "Tree of Life" series, a selection of which is on view at the Skarstedt gallery in East Hampton.
The 13 acrylic-on-paper drawings use a template of a tree of slightly varying forms that takes over the central portion of the composition. On either side exist the masculine and feminine realms, often in opposition to each other. A sharply painted line separates the bottom and subterranean portion of the sheet from the main area of focus.
The figures are painted in a bold linear style inspired by the mid-20th-century New Yorker cartoons of Peter Arno. This is a period of time Mr. Salle often draws upon for his subject matter, usually more toward the later years of that era.
Made in the isolation of the pandemic, these works are intentionally dated in their presentation, yet universal in their themes.
The tree bears no fruit, unlike a prototypical Garden of Eden, but the man and woman in each can be seen as representations of an Adam and Eve. Their loss of innocence is mostly long established. When the tree has leaves, an undulating wormlike insect eats them. When the tree is barren, the insect is gone, presumably having had its fill and taking all life from it.
There is a lot that is unstated or unreadable in these assemblages. Sometimes the man and woman can be seen interacting through the tree. Other times, the branches or leaves hide vital clues to the action or issue at hand. In one drawing, they do not appear to be aware of each other at all, in their own form of quarantine. (The man holding a bottle in this one makes a second appearance where he also ignores a naked woman, presumably right in front of him, another fraught scenario with a very different sense of isolation.)
In this case, they are not truly alone, because the world below them is teeming with activity, faces, figures, and brushstrokes, even an underworld version of the insect, perhaps progressing from larva to pupa or unleashing its assault on the tree from a different level. Like the world above, this piling on of forms is hard to read for certain; vital information is missing or obscured.
The underground sections of these works can be this kind of rich miasma of forms and details, or it can be sparer, down to one figure with or without any other object. Sometimes it is a showcase of an art historical painting style, a drip painting with an elongated face drawn in oil bar over it, a gestural brushstroke with an incoherent grouping of body parts drawn over it, a hand, a breast. A man appears to be standing in one, but horizontally oriented. Over his body is a dollar sign. Is it another morality play, a reference to other dollar signs in art such as Andy Warhol's, maybe both? In some works, very little, a drip or two, or nothing at all might be placed in that zone.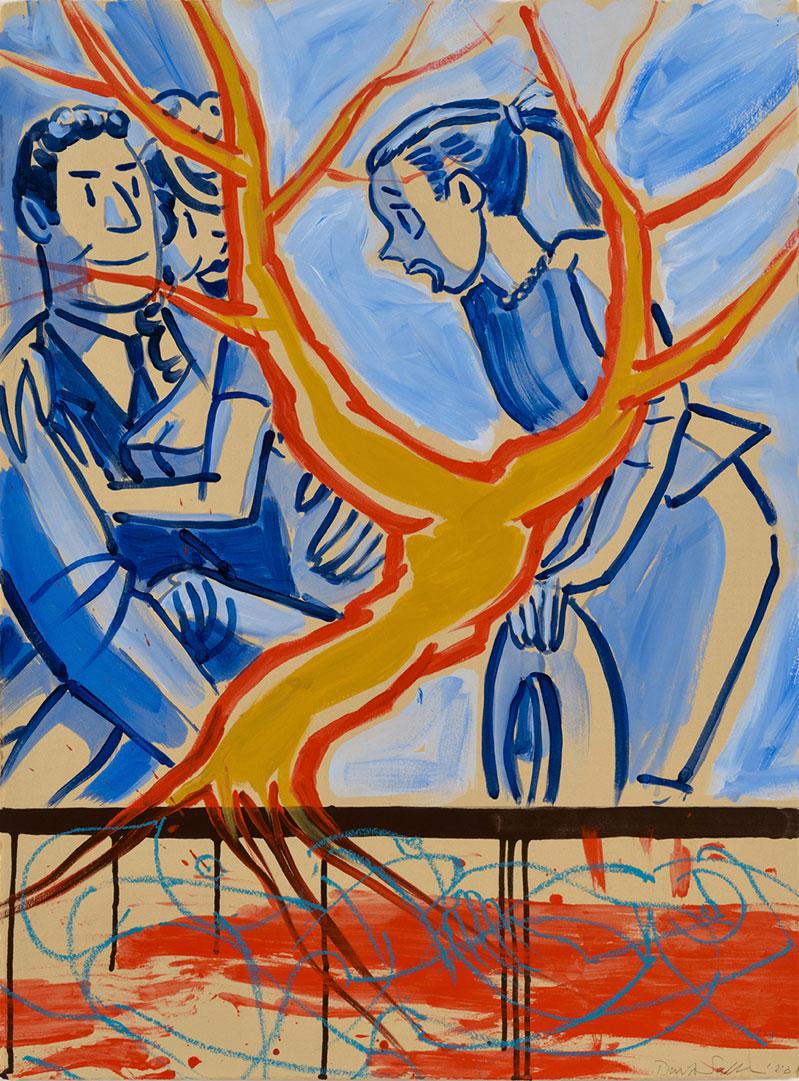 In the particular case of those underground body parts, they relate to the goings-on above them. The hand echoes the hands of the man around the waist of the woman who sits in his lap in a very cozy embrace, and the woman who discovers them, who puts her hands on the back of a chair to steady herself. If there is an origin story to this series, it would be this one, where an actual loss of innocence appears to be occurring.
The shocked woman's prim neckline, peplum, and ponytail read girlishly naive. Meanwhile the man's very generalized features, simple lines for brows, eyes, nose, and mouth, seem almost robotic or doll-like. The blank expression hints at some kind of base biological programming that gets men in trouble. The one who seems to be having the most fun is the woman in his lap, her tight and low-cut dress identifying her as the femme fatale. It's the man's firm grip that broadcasts his investment in the scene, and the hand underground underlines that fact.
Although the viewer is left to fill in the gaps, it is not a flat or sterile experience. The artist leaves enough compelling bread crumbs to offer hints of a story or meaning. He describes the works as vibrant and thematically complex in a video in which he discusses an image from the series that is not in this show. With 13 works painted in this fashion, there is much to consider on while in the space and even after leaving it.
While not overtly religious in their structure, their layout seems to echo the form of traditional altarpieces. The top area has references to an altarpiece's central panel and the bottom to the smaller subjects painted beneath or on the sides of the frame. As with the serpentless tree, Mr. Salle provides the context but doesn't make obvious connections, trusting viewers to draw their own conclusions.
He admits he is creating a human drama, the sum of its parts or intertwined narratives coming from different cartoon languages that he leaves for others to decipher. When a painting has "reverberations beyond the maker's intention," he said, it is welcome.
The works will remain on view through Sunday, and until Wednesday by appointment.