The first sentence of the production notes for Deborah Shaffer and Rachel Reichman's documentary about Audrey Flack describes her as an octogenarian and a trailblazer. What is clear from the film and can be corroborated by anyone who knows her is that she is much more of the latter than the former.
"Queen of Hearts" opens with her mounting a stepladder in faded cutoff shorts and bare feet, reaching up to apply paint to an oversize canvas filled with literal Ruben-esque figures and Superman and Supergirl flying above in a Baroque flourish. The canvas is the latest manifestation of her engagement with realism, art history, and comic-book illustration, which have occupied much of her career in one form or another. Now they have been synthesized into something new, a pastiche that transcends its sources.
Soon after, Rob Storr, a former MoMA curator and dean of the Yale School of Art who now teaches there, says of Ms. Flack, "One of the most interesting things about Audrey's work is its overt defiance of good taste."
It becomes clear that the story that follows will be an unconventional one, even as it follows the expected biographical chronology. The tag line on the film's poster is "Artist, Mother, Teacher, Rebel." All of these attributes are explored in the film.
After a sold-out screening at Doc NYC earlier this month, it will be screened as the opening night film of the Hamptons Doc Fest next Thursday at Bay Street Theater in Sag Harbor.
In her studio recently, Ms. Flack discussed the legacy of Abstract Expressionism, good and bad, the film, and the latest developments in her work.
She is very happy with the way the film came together. "It's fantastic. It's great for several reasons, one of which is that it goes way beyond me," she said. "It contextualizes things."
She said seeing herself in photos from when she was young and then on the big screen now was disconcerting, "but besides that, it's great." The film delves into her family as well, addressing what it was like to have a daughter with autism before it was really understood.
As to Mr. Storr's comment, which she loved, she said, "I don't defy good taste, I like that stuff. It's what is being shown now in the fanciest stores on Madison Avenue, glitz and pattern and everything you're not supposed to do."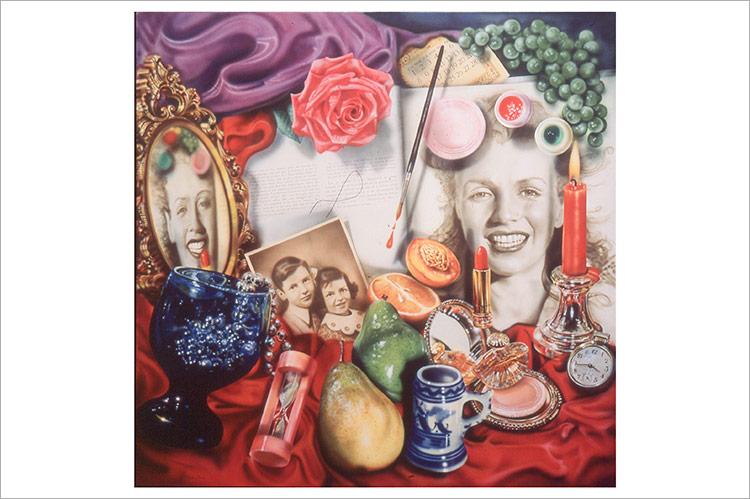 When she saw the film's trailer a year ago, she said, she wasn't happy and began to dread seeing the full film. She finally saw it at the FilmColumbia festival in Chatham, N.Y., in October. "I started bawling. It was on a Sunday morning at 11, and it was packed." The producers introduced her, and "one by one, people stood up. It was a standing ovation for me."
She said the experience made her feel appreciated for who she was and "finally seen. . . . I never expected this."
The filmmakers spent several years on the documentary, going through photo archives that date back to her childhood, conducting interviews, and following her around her studio and the Photorealism show at the Parrish a couple of years ago.
In addition to her triumphs and disappointments, her indomitable spirit is well on display. Those who have an interest in Ms. Flack, the period covered, Abstract Expressionism, and Photorealism will find much to learn and enjoy in this film.
The screening starts at 8 p.m. Tickets are $25 and available on the Hamptons Doc Fest website.
Other films with local connections at the festival include Lana Jokel's documentary "Large Scale Projects: Claes Oldenburg/Coosje van Bruggen," made between 1989 to 1993, to be screened on Dec. 8, and the first episode of Jane Martin's series "What Is Love?" in a free screening on Dec. 9. A full summary of the festival's films will appear in next week's Star.