In the middle of June 1966, The New York Daily News published the winning lottery numbers for the Aug. 23 Beatles concert at Shea Stadium. Incredibly, my friend Anne scored four tickets. Cathy and I were over the moon when she invited us to join her and her current beau, Johnny, who'd drive.     
This was only my second concert; the first was Simon and Garfunkel at Fordham the winter before. Cathy was spending the night, my camera was loaded, and I'd stocked up on flashcubes. We decided to memorialize the evening, snapping naughty photos of each other in some scanty lingerie filched from my mom's nightie drawer. 
Sleep eluded us, and Cathy and I lay awake chattering. We were unique best friends — unfazed by the fact that we shared a heart-quivering crush on our new classmate, a recent transplant from Nassau County. Gary swaggered rather than walked, drove his father's silver Cadillac around Oakdale without a license, and had a grin the width of Lake Michigan. One look at his dancing eyes and you knew the menu included mischief.
A recent ride home in my dad's car following a birthday party had Gary upchucking out the passenger window while the Beatles' "Eight Days a Week" played on the radio. My dad said nothing — he may have been thinking of another recent shared ride.
Two weeks earlier, unknown to Mom and Dad, I had introduced my favorite classmates, Gary, Cathy, Joan, Anne, Bob, and John, to the Hamptons. We headed east in Johnny's Tempest to my family's Amagansett A-frame, the house key taped firmly to my flip-flop. A bonfire on the beach, some jamming on the guitar, and some swimming in a prism-like Atlantic were all but forgotten when we had a blowout in Water Mill on the way home.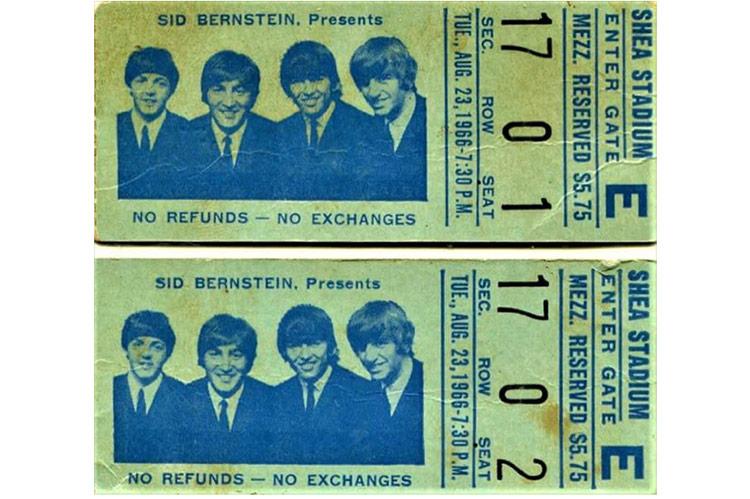 The impact of the crash sent hula hoops spinning across the highway, beach balls bouncing, steel crunching, and me into the windshield of the aging Pontiac. State troopers laid me gently on the shoulder of the road to await an ambulance while my friends gathered around, some in tears, until I was whisked away to Southampton Hospital's E.R. I was uninjured and released. Within hours I was home, with Gary as my company. 
Later, just days before the concert, Gary came over to where I was babysitting for his cousins. Pushing me down on the plump-pillowed couch, he covered me with kisses. When the Moody Blues' "Go Now" came on the radio, he sat up as if surprised and departed for home.
That week at my house, Cathy and I plotted: Would Gary know which of us he was kissing? The object of our affection was game. He sat on my bed, eyes closed, a smirk on his face, while Cathy snuggled up to him. She locked lips with our mutual man while I observed our many differences. She was small of stature, dark, channeling the sultry Natalie Wood of the 1966 film "This Property Is Condemned," while I was tall, slim, and a (Nice 'n' Easy) blonde — think Elizabeth Montgomery of "Bewitched." And Gary — well, Ryan O'Neal could be his stand-in.
Aug. 23, 1966: My clock radio, set for 10 a.m., blared "Time Won't Let Me" and startled me awake. This song made me think of Gary. Would time let me wait for him, while he accompanied tiny, freckled Diane to the recently released "Goldfinger"? Followed raven-haired Mary from Brentwood around with a moon face? Partied with Cathy at the Oakdale bowling alley?
The love notes slipped around our Seton Hall High classrooms burned with frustrated desire. And there were other sexy boys as well — Bob, imagine a young, rosy-cheeked J.F.K. Jr.; hooded-eye Joe, dark, mysterious, silent; Brian, eager to make out with anyone wearing a skirt (in the 1960s that meant a female).
Time to go. Johnny picked us up at Anne's in Bayport in his retreaded Tempest convertible. On the expressway, the rain began and we pulled over, hopping out of the car to flip the soggy ragtop back in place. Anne sat up front next to Johnny, his arm arced around her. The plan was to stop for pizza at his grandma's house in Astoria and then on to Shea. We parked before a row house that five years later could have passed for Archie Bunker's "All in the Family" set. We met grandma and Aunt Rose, demolished a pizza, and took off for Shea. 
We were seated surprisingly quickly. A building hum of anticipation for the Beatles prevented us from really appreciating the fine performances of Bobby Hebb ("Sunny") or the Cyrkle ("Red Rubber Ball" — an early Paul Simon composition). The stadium temperature rose significantly when Cousin Brucie appeared, joined onstage by Murray the K — soon, a collective clutch at teenybopper tummies. 
They always sprinted to a gig — when they did "The Ed Sullivan Show," when they performed the year before at Shea, and this year was no different. Hair flying, striped suits clashing, they flung themselves onstage and plunged — I think — into "Rock and Roll Music." 
The screaming subsumed every other sound, including low-flying planes. I wonder why we all went? We hadn't a chance of hearing a note or seeing one of the Fab Four until Cathy and I dashed down to the front row, attempting to snap a few photos, but we were intercepted by the specially appointed ladies police squad in a protective V formation.
After "Long Tall Sally" and a respectful bow from the lads, a silver Wells Fargo armored car emerged from the dugout and crossed the field. Tossing his shiny mop, Paul climbed in, followed by Ringo, waving to the crowd, fourth finger glinting in Shea's bright lights. Shaggy-haired, crooked-toothed George — my personal favorite — and a boastful but recently chastened John Lennon ("We're more popular than Jesus") hopped in, the armored car boomeranged back to the dugout, and they were gone.
Collective weeping filled the giant soup bowl that was Shea. The bleachers trembled like a wedding cake in a swift breeze. Teenage girls wiping tears spilled into the aisles, eyes reddened and noses running. Virtually asleep on our feet, Cathy, Anne, and I trudged with Johnny through the endless parking lot. We climbed into his Pontiac for the long ride home. Mercifully, I remember no traffic nightmares.
A couple of days later my film was developed at Rexall Drugs. I had to withdraw $13 from my savings account, and all I got were shot after shot of curly brown hair, the crowning glory of the noisy teenybopper crying and cheering from the row below me.
---
Jacqueline Beh, who has been contributing to the "Guestwords" column since 1990, is at work on a novel, "Disappearance on Dune Road."