At dawn on Aug. 10, a Paddlers 4 Humanity fleet of 50 or so paddleboarders and kayakers, perhaps more, is to set forth for Block Island from the foot of the Montauk Lighthouse.
It goes without saying that the some 18-mile crossing, now in its 14th year, is challenging, P4H's Fred Doss and Lars Svanberg said during a conversation at The Star Monday morning, though it is, they said, closely monitored by support boats and by Ocean Rescue Squad members on Jet Skis and, as an experience, is hard to match.
"It's a real immersion in nature," said Svanberg, who introduced the sport of stand-up paddling here some years ago. "I've never seen the ocean so alive as it is now. You're likely to see whales and pods of dolphins. . . . Leaving under the Lighthouse, at the end of Long Island, the farthest east you can get on the East Coast, 200 miles into the ocean, paddling into the sun. . . . You can see the silhouette of Block Island like an oasis out there, and as we move on, it becomes bigger on the horizon. Looking back, we can see how far we've gone."
"And when we get to the Great Salt Pond," he continued, "at the entrance to New Harbor, all of us, who have been spread out for a mile or so, come together at the last buoy before paddling in, and there's this feeling of camaraderie and togetherness, a sense of unity and purpose and accomplishment, the feeling that so much good has come out of this effort. . . . There are few things, when I look back over my life, things that I've done, that match this. It's very high on the list when it comes to transcending our daily rituals."
As a fund-raiser, the two board members agreed, Paddlers 4 Humanity was, in Svanberg's words, "pound for pound, the largest fund-raiser out here on a consistent basis . . . we're doing hundreds of thousands a year."
"We've raised $1.8 million so far," Doss said, "and all of that has gone to our child-centered beneficiaries, such as I-Tri, BuildOn, Project Most, the Retreat, and PIBS. We're all volunteers — there are no salaries, so all the money goes back out the door. We used to have some other events, which we no longer do. This paddle to Block Island is it now. We've talked about doing a more traditional annual fund-raiser, a dinner kind of thing, but our focus is much better here. We're hoping to get to $2 million this year — that would be a nice goal."
"It's taken on a life of its own," said Svanberg.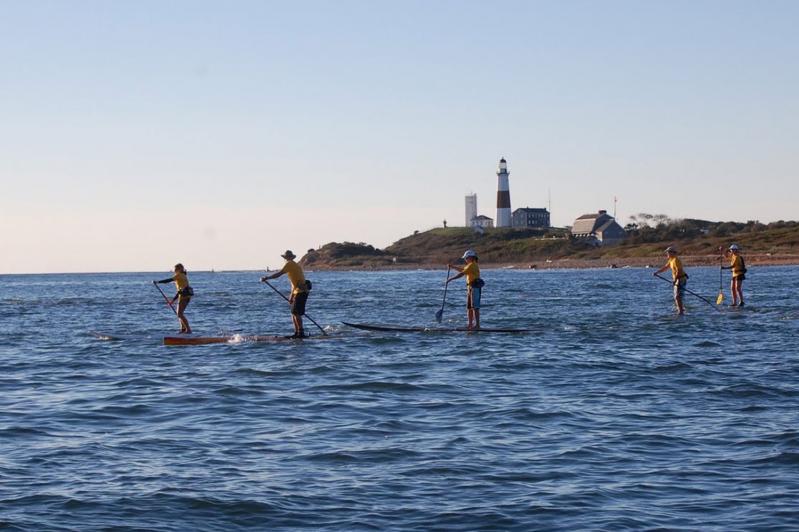 Participants, they said in reply to a question, are asked to raise $1,500 each, "though some have gone beyond that," said Doss. "One of our newcomers, Liana Huth, has raised about $10,000. She came to a gathering we had in June at the Clubhouse, where Sinead [FitzGibbon] and Jay Short encouraged people to do it."
Clearly, it was important that participants have some paddling experience — "ideally, a 10-mile paddle on the ocean with some friends," said Svanberg — though not an inordinate amount.
"We have more newcomers than we've ever had," said Doss, "which is really interesting. I wonder how they heard about us. I'm thrilled."
"It's on many people's bucket lists," said Svanberg. "They tell me in my [Main Beach Surf & Sport] shop that while they may not do it this year, they'll do it next year."
"The beauty of it," said Doss, "is that this isn't a race — it's a communal activity."
"We'll stop and rest about every hour or so," said Svanberg, "for 10 to 15 minutes."
"Support boats and lifeguards on Jet Skis are watching out for everyone," said Doss. "If you lag behind, they'll make sure you catch up. We're offering relays too this year. One person, say, can paddle three miles, or paddle half the way, and switch off to a partner who's been on one of the four or five support boats. . . . We're encouraging people to join us; there's room for more."
Registration for the Aug. 10 paddle can be done online through p4h.org. Grant criteria can also be found there.
"We've narrowed our mission slightly," said Doss, "to focus on programs involved with mental health issues, such as anti-bullying and early intervention programs, though our mission to better children's lives still remains relatively broad."
Svanberg's daughter, Brittni, a recent Boston University graduate, would do it this year, for the first time, said her father, and thus get to experience what he has these many years at the entrance to Great Salt Pond.
"There's a euphoric release. You're in safe harbor.  It's as if you've discovered a new land."