The course of Jordan's Run, a 5K Sunday in Sag Harbor in memory of Marine Lance Cpl. Jordan C. Haerter, who, with Cpl. Jonathan T. Yale, lost his life in saving those of 150 fellow servicemen in Ramadi, Iraq, on April 22, 2008, repelling with their fire an onrushing truck packed with 2,000 pounds of explosives, took its 448 participants by Pierson High School, from which he'd graduated, the bridge to North Haven named after him, and by Oakland Cemetery, where he is buried.
JoAnn Lyles, the late Marine hero's mother, thanked the crowd of runners — from California, Texas, Georgia, the Carolinas, Virginia, the tristate area, and New England — for coming, for remembering her son, and for supporting Jordan's Honor Ltd., "the benefactor from the proceeds raised today which will allow us to continue to celebrate and honor graduating [Pierson] seniors who choose to serve their country through the military or law enforcement, as Jordan would have done."
This year's scholarship winners were, she said, Phoebe Arkinson, who's to study criminal justice at Plymouth State University in the fall, and Chase Eckey, who has joined the Army.
"Thank you to all who have served," she said in conclusion, "and thank you to the first responders, the fire department, and police, and to our sponsors and race committee. I am thankful that you could come here to share this day." Her son's life, she said, had indeed been "woven into the lives of so many."
"It's a great race for the community, a great atmosphere . . . great people running for a most worthy cause," said Ben Mac, a 16-year-old Pierson junior and the third-place finisher, on the high school's sloping green afterward.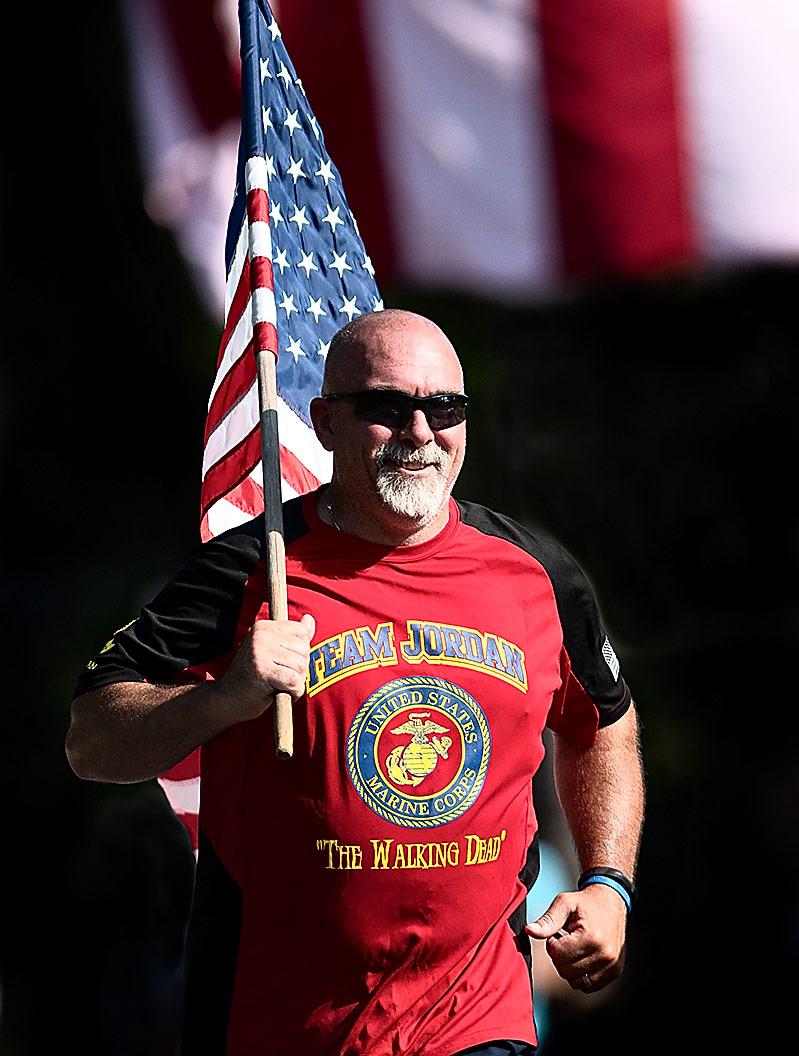 Mac, who has from a distance been trained for the past six months by a former Sag Harborite, Joe Boyle, a Harding University Hall of Famer, was out to win Sunday, and almost pulled it off, though the laurels went to Paige Duca, 21, a top cross-country and track runner throughout her recently completed four-year career at Boston College.
Duca, who summers in Montauk, should have won Jordan's Run last year, but finished 18th, in 21:39, after having initially run on into North Haven instead of turning around once over the Jordan C. Haerter Memorial Bridge that connects Sag Harbor with North Haven.
She and Mac agreed that the lead pack of five or so had gone out very fast, but had settled into a sustainable pace soon after, and had remained together for the first two miles, after which Duca, taking advantage of her cross-country experience, began to pull away, accelerating her way down the hills in the final mile, and thus putting some distance between herself and the others.
She was still in the lead as she turned the corner toward the start-finish line below the high school, near its parking lot, and won in 17:24.48.
Oscar Lorenzo, a 30-year-old from Amityville, was the runner-up, in 17:33.01. Then came Mac, in 17:39.32, George Gochuico, 17, in 18:10.11, and Clinton Thompson, a Farmingdale State College graduate, in 18:33.71.
Tara Farrell, 40, of East Quogue was the second female finisher (and ninth over all), in 19:43.28, and Penelope Greene, 16, a Pierson junior who runs in the winter and spring with East Hampton High School's track teams, was the third (and 13th over all), in 20:05.43.
Mical Petrzela, 44, who recently won the Montauk Playhouse Foundation's 5K ocean challenge swim at Ditch Plain, was eighth, in 19:35.94.
Ava Engstrom, an East Hampton 16-year-old who is a track teammate of Greene's in the winter and spring, was in the field too, as were Dawn, Jim, and Jessie Stavola of Montauk, Dennis Fabiszak, the East Hampton Library's executive director, Heather Caputo, a member of East Hampton's Ocean Rescue Squad, and Mike Davis, who was one of several carrying American flags, and Joi Jackson Perle, both members of Team Jordan and of the race committee.
Jordan's Run was the fifth of a nine-race series honoring Suffolk's veterans, Tom Gillin, the M.C., said. The next, the Heart of an Eagle 5K, is to be held in Heckscher State Park on Sept. 8, with the 5K for Fighters in Patchogue on Oct. 4, the Suffolk County marathon, half-marathon, 10K, and 5K in Patchogue on Oct. 27, and the Run for the Warriors 5K and 10K in Babylon on Nov. 9.
"This race has a fun, community feeling that I love — it's not cutthroat," Duca said before going off on a cool-down run across the green.