Washington has been home since 1982, but Amagansett has been my summer escape since 1968, when my parents bought a small house on the bay side of the Napeague stretch. I'm still there every summer with my husband and son, reveling in that magical smell of the saltwater air. But I also love living in D.C., where I own a landscape-design company. It's such a nice, clean, green city, and easy to get around. Here are my top picks for experiencing the nation's capital like a local.
Stay
The Line D.C. is unquestionably the coolest hotel in the city, set in a preserved, century-old former church in Adams Morgan. Complete with a glassed-in radio studio and guest rooms filled with leafy plants and local art, it also houses three great restaurants.
Visit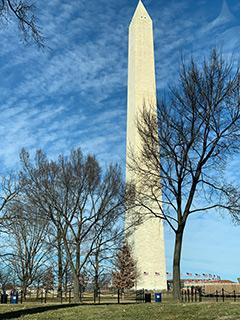 The National Museum of African American History and Culture — for the collection, the architecture, and the views from the little windows in various corners of the museum. Hillwood Estate, Museum, and Gardens was once the home of Marjorie Merriweather Post and is now filled with the loot from Russia that she and her husband brought back after he was ambassador to the Soviet Union. The grounds are gorgeous, with a Japanese garden, a dacha, an Adirondack house, and a pet cemetery.
The Smithsonian American Art Museum and National Portrait Gallery share the old U.S. Patent Building in the revitalized and artsy Penn Quarter neighborhood, and feature works from the Colonial era to the present. My favorite part is the enormous open area in between the museums, where an airy, light-filled cafe now has an orchid exhibit.
Do
The Rock Creek Park Nature Center and Planetarium, near the intersection of Military and Glover Roads, is one of my favorite places to hike. Trails start by the water-powered 1829 mill, where visitors can see corn being ground.
See
The 272-seat courtyard-style Woolly Mammoth Theatre, in the Penn Quarter neighborhood, was founded in 1980 as one of the first in the area dedicated to producing alternative plays that are theatrically adventurous. Many of its productions go straight to Broadway.
Eat
D.C. is a true multiculti feasting ground. Union Market, housed in a revived mid-century produce and meat bazaar, offers everything from Korean beef tacos to locally made sausages.
The Rappahannock Oyster Bar is my favorite place for slurping some Chesapeake oysters. Chaia Tacos, owned and run by women, is a great light, healthy lunch spot serving much lauded, vegetarian-only tacos with outposts in Georgetown and the Mount Vernon Triangle. Officina, on D.C.'s wharf, is another favorite; it's run by Nicholas Stefanelli, the Michelin-starred chef of Masseria (also wonderful — fine dining, very expensive). Officina is on three levels, with a bright, modern Italian trattoria, a specialty market, and a rooftop bar with fabulous views of the Potomac.