Before they arrive at Terra Glamping East Hampton, the new upscale campground in Cedar Point County Park, guests receive a welcoming email that succinctly lays out the difference between camping and what they will be paying at least $300 a day to do: "You have booked a safari glamping tent that includes a queen memory foam mattress, down comforter, dresser, bench, rug, porch, and all the furnishings you would expect in a hotel."
Those who harbor nostalgia for lugging a mildewy sleeping bag into a tent haphazardly erected on a lumpy patch of ground will be heartened to know that Terra Glamping has retained some of the rustic charm of camping. The tents do not have electricity; therefore, once the sun sets, campers must use an LED lantern or a flashlight to trek through the woods, or stroll along Northwest Harbor, or read Walt Whitman, or find their misplaced smartphones. Wi-Fi is not provided, but cell reception is surprisingly good, and there is a portable phone charger in each tent.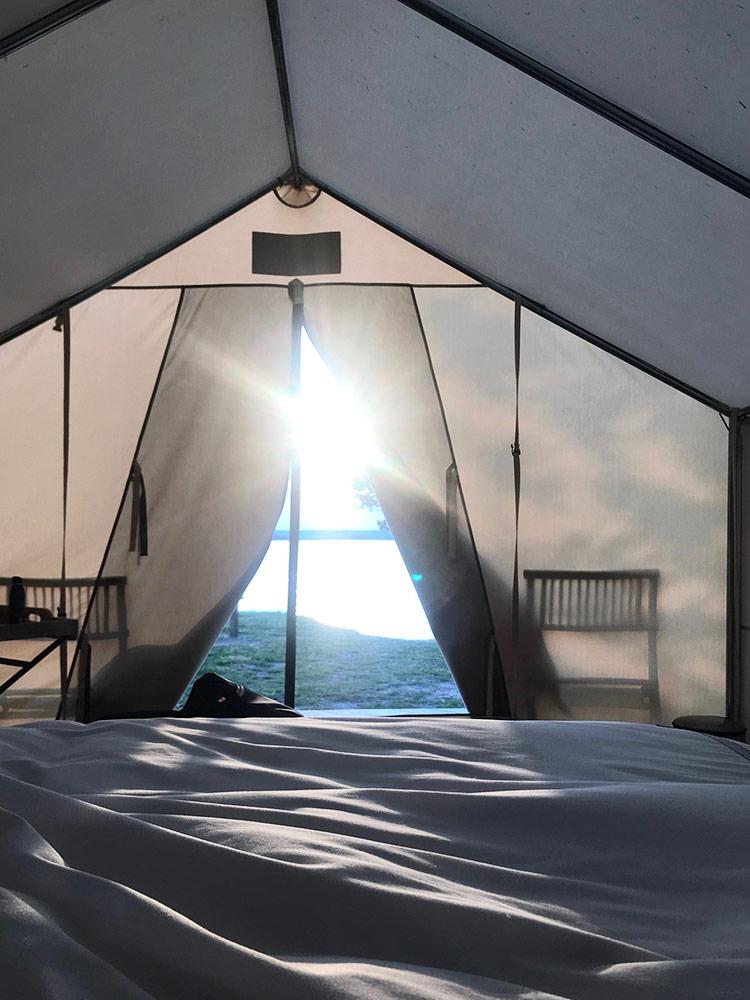 According to the Suffolk County Parks Department, Cedar Point was settled in 1651 and developed into a bustling port from which timber, farm produce, and fish were shipped. The 607-acre park has been underutilized in recent years, and last spring, in an effort to attract more visitors, the Parks Department solicited bids to set up a glamp-ground there.
Since becoming the purveyor, Terra Glamping, a New York City company that also operates a camp in the Catskills, has installed 30 sleeping tents (some with one queen-size bed, others with two); a lounge stocked with games as well as books supplied by Berry and Co. (the new Sag Harbor bookstore run by the former owner of Harbor Books), a fire pit around which complimentary s'mores can be assembled, a trailer with six individual bathrooms (with showers and flushing toilets), and a grilling and dining area.
Food is not permitted in the sleeping tents. Each morning, a continental breakfast of yogurt, granola, and Grindstone doughnuts is available to guests in the lounge. 
Aside from the first-rate bed, the most luxurious aspect of the Terra Glamping experience is the access the camp provides to East Hampton's natural resources. A waterfront tent offers impressive views of Northwest Harbor rom the deck, and, once the tent flaps are tethered, from the memory-foam mattress itself.
There is direct access to the beach from the campground, which makes it easy to take multiple dips in the bay, and kayaks and paddleboards are available for guests to use all day.
Hikers can explore one of the park's nearby trails, and history buffs can take a half-hour walk along the shore to see the decommissioned Cedar Point Lighthouse, which was built in 1860 on an offshore island but became connected to the mainland after the 1938 Hurricane shifted the sands.
The camp's remoteness also lends itself to those simply looking to get away from the din of a neighbor's landscaping equipment or the house party next door. During the day, only the occasional rumble of a boat's motor disturbs the peace, and at night, the camp has quiet hours between 10 p.m. and 8 a.m.