A Thursday night salon series at the Jewish Center of the Hamptons will kick off next week with a discussion between Michael Musto and Rabbi Lyle Rothman. 
The talk, "The Quality of Equality: A Conversation About Being Gay in Trump's America," timed to precede Pride Weekend, will take place between an outspoken longtime "out and proud" advocate (Mr. Musto) and a rabbi who just came out last year.
The series, organized by the author Steven Gaines, will have Paul Goldberger, Lorraine Bracco, Faith Popcorn, Ross Bleckner, and Ron Delsener among its future headliners.
Mr. Musto is most enduringly associated with his gig as nightlife chronicler for The Village Voice from 1984 to 2013 and is now a columnist for NewNowNext, Logo TV's website. Along the way, he has had cameo appearances in films and television shows and written books and articles for a variety of publications, including The New York Times, The Advocate, and Out.
When he started his column in The Village Voice — long before there was something known as an L.G.B.T.Q. community — "there was not a plethora of queer voices in the media. From the beginning I was openly gay because I couldn't imagine any other way," he said. "I couldn't and didn't want to pass for straight, and I felt as a gossip columnist writing about public figures I was freeing myself from any hypocrisy by being open about myself."
In promoting New York City's queer culture, he said, he wanted to show those who were growing up in repressive homes or societies in other parts of the country that there was a family they could be part of that would celebrate who they were. "Later on, I started hearing responses from people that thanks to me they may have come to New York, they maybe came out, that I was a factor in those trajectories. I was very gratified about that."
Having come of age in the 1970s, after Stonewall and before AIDS, he said it was an extraordinary time to explore nightlife as an openly gay writer in the city. When AIDS began to emerge in the 1980s, "that changed everything," he said. "I broke down the boundaries of what a nightlife-gossip column was supposed to be." He covered AIDS issues, joined ACT UP, "and went on their protests and rallies and reported on that too. I mixed it all in; my column was a little schizophrenic as a result."
He said he might be covering Pee-wee Herman or a party at the Palladium nightclub and then run off to a protest of the Food and Drug Administration or St. Patrick's Cathedral. He credited The Village Voice with giving him the freedom to write what he wanted in what he sees as a precursor to blogs and social media postings. "The second I started my column, they said do whatever you want with it."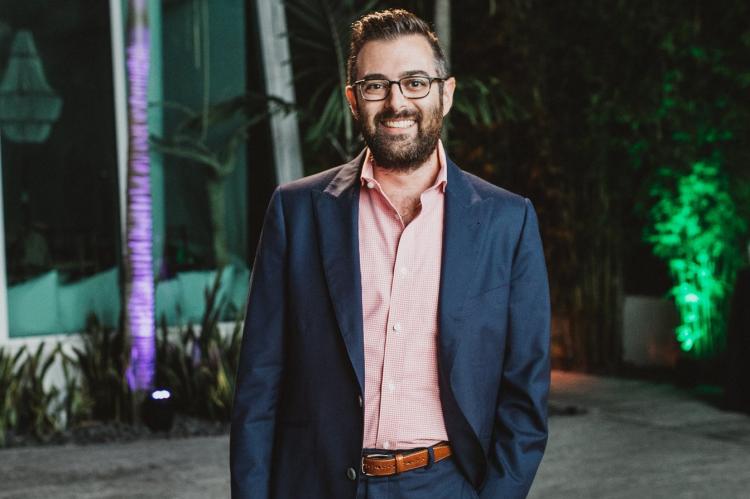 Noting his juxtaposition with Mr. Musto, Rabbi Rothman said he had a much different experience. Just 37, he was born two years before Mr. Musto's first Voice column. Yet he is much more introspective, given all the strides in recent years. "I never felt that I would receive rejection in coming out. It was mostly stuff going on in my head and my understanding of what Judaism had to say about being gay."
Although trained in the Reform branch of Judaism, his work as the campus rabbi and Jewish chaplain at the University of Miami Hillel has introduced him to students from all different branches, including Conservative and Orthodox. He said many of his students probably don't know that he's gay. "It's not the first thing I lead with. It's not why I became a rabbi. . . . Days go by without it coming up."
Coming out at 36 had a special meaning for him. "I came out a few days before Passover, with its theme of liberation, of slave versus free." He said the number 36 in Judaism is considered double chai, which has a numeric value of 18. Chai also means life, so the question for Rabbi Rothman was "When am I going to start living my life as me?" No one told him he had to do it. "My thought was, I am 36 and I want these things in my life: a meaningful relationship, family." 
Both men can agree they are not happy with the Trump administration's approach to L.G.B.T.Q. rights. 
"In Israel, they're not asking if you're gay, straight, or trans to sign up to fight for the Israeli forces," Rabbi Rothman pointed out. He said the attempt to roll back rights that have been affirmed in recent years is "highly offensive." He added that those who are against gay marriage "aren't getting rid of gay people by telling them they can't get married."
For Mr. Musto, it's about life and death, with cases working through the courts about whether "doctors can be able to refuse service to a queer because it's God's will. That's absurd. Even the pope said recently that gay people have dignity and should not be turned away."
And, he said, "Trump just recently doubled down on a medical worker's right to refuse service to L.G.B.T.s. First of all, how do they even know someone's gay? Is it their haircuts? Will there be a trivia quiz about Judy Garland or something?" Mr. Musto mused. "Aside from that, it's breaking the Hippocratic oath. It's unthinkable. It's inhuman."
"The House has approved a bill where queer rights will be added to existing civil rights law," he added. "But Mitch McConnell refuses to even introduce it into the Senate and Trump is against the bill."
The talks will be held at the center, on Woods Lane in East Hampton, from 7 to 9 p.m. They are $15, free for members. A full list of speakers and a reservation form are available on the center's website.
This article was modified from the print version to clarify that many, but not all of Rabbi Rothman's students, may not know he is gay.