Gold is alluring to just about anyone and will always be categorized as a very precious metal, valued at its market price on the commodities trading floor. Gold is golden. It's a given. 
Lying at the other end of the commodity spectrum is a simple, common bivalve named the oyster. It may not be gold, but to those who savor its briny, metallic flesh, it's golden. 
Oysters are a white-hot item these days, found from the highest of the culinary epicenters of excellence to the smallest roadside clam shacks. Plus, they do a darn good job filtering our waterways when not being consumed, a much-welcomed attribute.
A recent trip to the iconic Grand Central Oyster Bar, perhaps my favorite restaurant, nestled deep underground in Grand Central Station in Midtown Manhattan, offered a choice from 30 different types of oysters to be enjoyed chilled on cracked ice. It was, and always is, mesmerizing to witness and taste them within the historical, white, subway-tiled restaurant. 
The variety offered that day spanned  Canada and the West Coast of the United States, and also included a number from the East End. The cheapest on the menu were plucked from the eastern Connecticut side of Long Island Sound, named Bluepoints, and were priced at $2.75 apiece. Not cheap.
While they were at the lowest price point, by my palate that day I can satisfyingly proclaim that those oysters were briny, plump, and totally delicious. With a quick squeeze of lemon and a mere dab of cocktail sauce or mignonette — a classic combination of finely diced shallot, freshly cracked black pepper, and red wine vinegar — they were beyond refreshing. My appetite for them was intense. 
The most expensive oysters on the incredibly long menu were priced at $3.95 each. I'm sure they were just fine. However, I was content with what was grown in my general neighborhood.
Around 1980, when I first visited this venerable establishment, which has been around for well over 100 years, an oyster harvested from Great South Bay, also named a Bluepoint, was served in the raw at a mere 65 cents each. Despite my outsize appetite at that time in my early life, I could only afford to eat half a dozen. Times and inflation sure have changed.
It was with that thought in mind that I secured my New York State Department of Environmental Conservation permit and sauntered over to Southold last week to the Cornell Cooperative Extension facility to pick up my very first set of juvenile oysters to raise at my dock and ultimately consume at a much cheaper price than what I had paid at the Oyster Bar.
On a rather cloudy, windy, and humid Wednesday morning, I entered the well-worn facility and was greeted by Kim Tetrault. Tetrault, a longtime resident of East Hampton, who is, and has been, the facility's lead cultivator of spawning oysters, clams, and scallops for several decades, knows all. He is the captain of the ship.
I shook his hand and was promptly assigned a chore: to cull out 1,000 oysters for my personal use, as well as for my next door neighbor. Tetrault, spry in his maneuvers, was the ideal maestro in orchestrating the nearly two dozen volunteers assembled that morning to help sort, clean, and process the minuscule bivalves that were barely larger than a quarter.
"The oysters here were spawned last summer and are pretty good in size," said Tetrault as he lifted several 55-gallon blue plastic drums of said spat. "Now, it's up to you to sort through them to secure your batch." 
Not looking to disobey, I promptly took to my chore. And it was not as easy as it sounds. Constantly leaning forward, I ultimately tweaked my back. It's tough getting older, even when working at a simple culling board.
I had company, as two other people in foul weather gear were also involved in the very same process. Sharing a few laughs and comments, we quickly bonded. After about three hours, my job was complete and it was time to take my precious cargo home. By late next year, I should be able to benefit from my labor by enjoying one of the finest shellfish that can be consumed anywhere. 
A lot of work still lies ahead, like cleaning the baskets in which they reside, tumbling them to ensure evenness in their growth, removing any unwanted predators looking for a cheap meal in the cage, and more. But much like the precious metal called gold, I know the reward will be worth all the hard work and effort.
On the fish front, large striped bass are on the prowl at Montauk. Fish up to 40 pounds were landed in the past week, but a hulking 51-pound bruiser was hauled aboard the charter boat Oh Brother! on Saturday morning. A big linesider by any standard.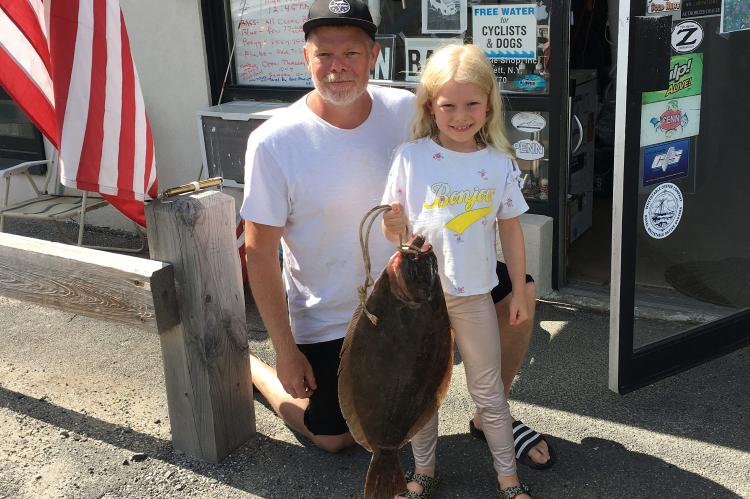 Beyond the bass, the population of porgy and bluefish continues to increase in and around the lighthouse. As per fluke aficionados, fishing, while not stellar, has been consistent, with a good number of large fluke landed in recent days, including a 12-pound whopper on the Lazy Bones on Saturday morning. 
"Porgies are everywhere and are large in size," said a smiling Sebastian Gorgone, the longtime proprietor of Mrs. Sam's Bait and Tackle in East Hampton. "And there are plenty of striped bass and fluke in the bays for all to catch. Blowfish too, are in Three Mile Harbor. The action has really picked up on all fronts and the fishing has been great."
Gorgone also remarked that many large-size black sea bass have been landed of late. Alas, the season for the tasty fish does not open until June 23. 
For the well-worn Bonacker Harvey Bennett, owner of the simply titled Tackle Shop in Amagansett, fishing of late just does not get better.
"Wow, you name the fish, and you can likely catch it," he exclaimed on Monday from behind the counter. "Porgies are just about everywhere and are very large in size. Big striped bass have been landed in the surf and if you want bluefish, there are plenty off of Accabonac." 
Bennett added that fluke, too, have been landed in solid quantities from Napeague, all the way westward to Sag Harbor. 
"Hickory shad also showed up big time," he said. "And don't forget the carp fishing in fresh water. It has been fantastic."
Bennett took an afternoon off last week to partake of the carp madness. "I had a ball," he recounted. "There were too many fish to count. The action was incredible. Big fish too."
As usual, Bennett continues to accept donations of school supplies, clothing, shoes, and baseball equipment. All items collected will be shipped to underprivileged children in the Dominican Republic.
"I was down there for a week this winter helping out and it's unbelievable how poor so many of the kids are," he said. "Even a simple pencil and paper is hard to come by. I'm hoping to send a few containers of goods in the next few weeks."
Bennett has a heart of gold for sure. 
---
We welcome your fishing tips, observations, and photographs at 
[email protected].
You can find the "On the Water" column on Twitter at 
@ehstarfishing.