Dollar, a beautiful white tiger around 2 years old, was serene, lazily lounging on the ground as I stroked her flank and gently rested my head on her 400-pound body, blissed as could be, all senses sharper than at any other time in memory.
Without warning, Dollar lifted her massive head and turned directly around. Eyes locked, our faces inches apart, time, the earth, and my heart stood completely still. We looked into one another's eyes for a long, long moment. Terrified and exhilarated, I tried to will any lingering fear from my consciousness.
I smiled -- beamed, really, trying to radiate lovingkindness, as though I were His Holiness the XIV Dalai Lama Himself, the present manifestation of the Bodhisattva of Compassion. Dollar swung her massive head around, resting it again on her front paws, blissed as could be.
It was one of innumerable such encounters over eight days in Chiang Mai, the largest city in northern Thailand. The former capital of the kingdom of Lanna ("Land of a million rice fields"), Chiang Mai has long drawn a wealth of tourists and expatriates alike.
From the first moment to the last and seemingly to a person (and certainly to a tiger), those who call Chiang Mai home exude welcome, positivity, bliss. The happy vibe is reinforced throughout the day in the wai, the respectful Thai greeting consisting of a slight bow, hands pressed together, and singsong-y "Sawatdi." The expats, too, have gone native, having bathed in the tranquil vibe for months or years.
Thailand's self-appointed designation -- the Land of Smiles -- is wholly justified. My guess is that Theravada Buddhism, to which a large majority subscribes, has plenty to do with it, but whatever the reason, the Thai people are certainly good-natured and often positively joyous.
On a second visit, in March and April of this year, Chiang Mai further revealed itself as a kind of bohemian paradise, a dreamy if lively Shangri-la offering copious music, art, food, and adventure; and everywhere, smiling faces. But for the tropical heat, it is like some mythical community such as I imagine exists on northern California's coast.
 
Inside the Old City
Last year, Veeralnunt Thanithammachote, proprietress of Alternative Travel, was immeasurably helpful in rearranging flights and hotel bookings on short notice, so this year I relied on her to recommend a hotel. The sole criterion: a swimming pool. Ms. Thanithammachote, who is known as Teatuk, chose the Top North Hotel, a 136-room complex just inside Chiang Mai's Old City comprising three buildings, four and five stories tall, enclosing a pool and pool and dining patios. When not eating or enjoying the nightlife, mornings and afternoons were spent cooling off, swimming or gazing skyward, the Top North's off-white buildings forming a triangular cocoon. At around $31 per night, it was more than good enough, though visitors can spend a lot less, or more, for accommodations.
It's interesting to note, I thought, floating in the pool and staring into the morning blue sky, that, while xenophobia and nativism are on the march in the United States and elsewhere, Thailand is home to a sizable expat community. While President Trump's tenure tracks renewed assertions of white supremacy, the Thais are the most welcoming people I have encountered, and it was an easy decision to return for two weeks' rest and relaxation among the locals, the tourists, and the many European, American, Canadian, and Australian expats. Best to leave America's anxiety-inducing climate behind for a while and embrace more hospitable fellow beings.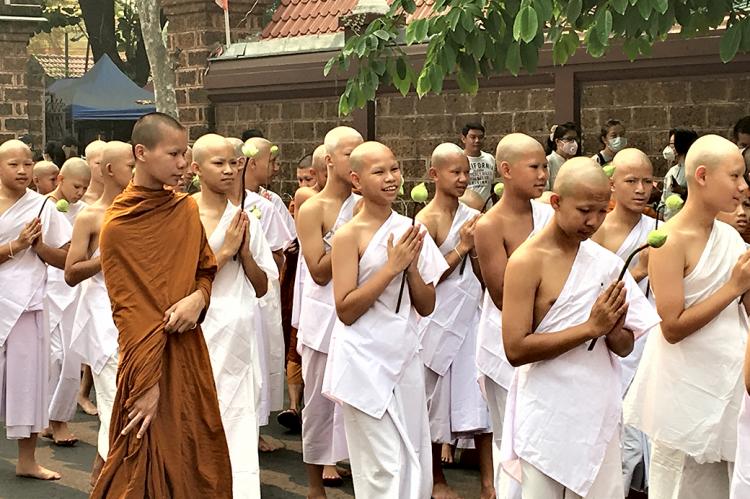 Food and Adventure
The Top North is a proverbial stone's throw from the Tha Pae Gate, a largely intact component of the crumbling fortress walls surrounding the Old City (as capital of Lanna from 1296 to 1768, Chiang Mai endured multiple invasions). One morning, I wandered through the gate in search of breakfast and, at the large, open space before it, came upon an ordination ceremony for young monks, perhaps 100 shaven-headed boys in the white robes of the novice, the long stem of a lotus bud between clasped hands. I followed as the procession, including elder monks and the boys' families, moved through the gate, onto Rachadamnoen Road and into the Old City.
Along its main thoroughfares and the smaller labyrinthine streets, the Old City offers an even denser grouping of shops, restaurants, and guesthouses than the larger city around it, some of them operated by foreigners. One can't really get lost, but it's fun to try: an unmapped exploration will inevitably reveal myriad delights.
As it happened, my brother recently took a job teaching at a secondary school in Chiang Mai, and we met a few times for a meal and conversation. One evening, we enjoyed dinner in the garden at the UN Irish Pub and Restaurant, run by an Australian and offering Guinness on tap, before another winding street took us to Nanairo, founded by young Japanese partners. Nanairo ("Seven Colors") offers clothing and other items from the Himalayan region and Southeast Asia, as well as a tattoo shop, live music, and a cozy patio. Along the way, walls and fences were adorned with murals, and artists and artisans lined the streets with their work. Creative expression in Chiang Mai is vibrant, colorful, and continuous.
Another night, I dined upstairs at Eat & Drink -- technically, at Drink, the open-air bar upstairs from Eat -- each a part of the U Chiang Mai, a fashionable hotel on Rachadamnoen Road. Seated on cushions, a companion and I feasted first on northern Thailand's delicious spicy sausage with steamed vegetables, then stir-fried chicken with cashew nuts, and finally barbecued pork with sticky rice and spicy Thai dipping sauce, all downed with big bottles of Singha, Thailand's oldest and best-known lager.
From there it was on to Roots Rock Reggae, a venue on Ratvithi Road that presents multiple bands per night, some of them conjuring the spirits of Bob Marley, Peter Tosh, and Toots Hibbert at least as well as their Western counterparts; and then to Linda, a bar on the Loi Kroh Road, a narrow street across the moat from the Old City that is lined with yet more bars, restaurants, and the omnipresent massage parlors, where the proprietors allowed me to play D.J., and we drank beer and danced to James Brown until very late.
Music City East
Speaking of music, I was hoping to find a piano, the better to retain any gains I'd made in semi-regular practice over the previous months. A Google search had turned up the Fern Forest Café, a restaurant and bakery on Singharah Road, where a somewhat out-of-tune upright piano stands in a corner. The café offers delicious Thai food along with an ample menu of pastries and other confections, with seating indoors or on a fern-canopied patio. On a Sunday afternoon, I went for lunch and discovered that the café offers live music on weekends: a pianist indoors on Saturday, and on this day, Grit Scat on electric guitar and Zen P. Tanwattana on alto saxophone. I called them over to my table during a break, and we spoke about guitars and Bill Evans and Chet Baker, and Chiang Mai's effervescent music scene. Mr. Scat -- a stage name, let's assume -- told me that he and Mr. Tanwattana would play on Wednesday at the North Gate Jazz Co-op, another venue previously discovered in that Google search.
Open to the street and the still-hot Chiang Mai night, some patrons of the North Gate sit on narrow benches, close to the action inside, while others spill onto the sidewalk. The crowd, on this night a mix of Thais, Japanese, and Westerners, sipped beer and listened to modern-ish jazz that is decidedly more electric than traditional. Mr. Scat was one of two guitarists during an early set, with musicians filing in and out through the course of the evening.
There, I met Molly, a young woman from Oregon who was in the first months of a yearlong, around-the-world journey. Molly, who is blogging her trip at guaca-molly.com, was just one of an abundance of our countrymen and women visiting Chiang Mai. On another night, at Linda, I chatted with Rob Callander, founder of Himalayan Roadrunners, which offers motorcycle tours of Southeast Asia and the Himalayas. Passing through on his way to Delhi, Mr. Callander, who owns a house in Vermont, kept me spellbound with stories of adventure, and very real danger, in Tibet and elsewhere.
But upon walking into the Writers Club and Wine Bar, back on Rachadamnoen Road, I knew I was home. "Why is it called the Writers Club?" I asked a manager-type. "I can tell you," replied an American woman who sat nearby and sipped white wine with an open book. I sat down with Catherine Nesbit, another Oregonian by birth, who lives in a nearby guesthouse, and she told me about Robert Tilley, who founded the restaurant and bar.
An English journalist who died in 2015, Tilley was a senior correspondent for an Asian financial publication when he moved from Bangkok to Chiang Mai, following a career that included covering conflicts in Africa, the civil war in Yugoslavia, the Sarajevo Winter Olympics, and both the apartheid regime and an oasis in South Africa's then-segregated society, the Durban arts scene. With Tong, his longtime partner, he opened Chiang Mai's unofficial press club in 2003.
I returned to the Writers Club the following afternoon, and Tong told me about her late partner and Chiang Mai's expat-writer community as I sipped a South African Chardonnay. I met her son, who works there, and she told me of her other children and grandchildren. I watched as her face turned sad, though, when she referred to the years "since Bob left me," and wished it were different.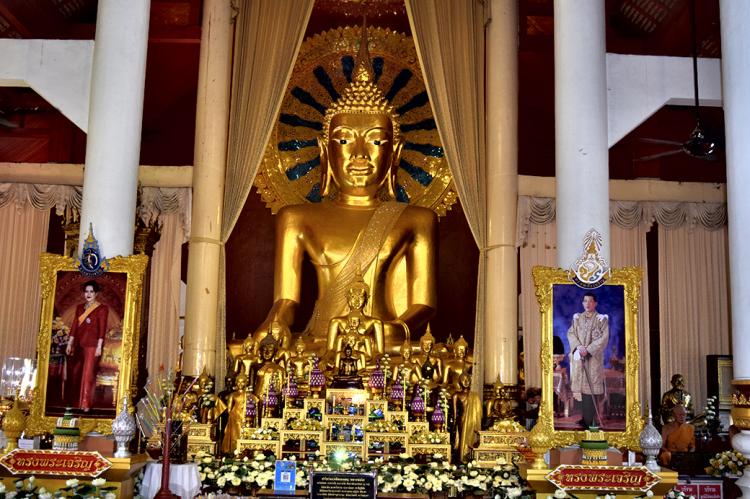 Wats Happening
But such is life, and for remembrance and contemplation and prayers for auspicious rebirth there are so many wats, or temples, to visit. Inside the Old City, Wat Phan On, Wat Chaiphrakiat, Wat Tung Yu, Wat Dok Kham, Wat Pan Tao, Wat Chedi Luang, and Wat Phra Singh are all within walking distance from one another, each ancient and magnificent. Throughout the day, tourists wander in and out, the Asians, mostly, pausing to pray and perform prostrations before the Buddha. From the intricate gilt carvings of Naga, the huge, mythological serpants that extend across the balustrades of a wat's entrance, to the larger-than-life gold statues of Buddha and myriad holy men within, I marveled at the devotion that brought it all into being.
Yet one cannot be content to visit the wats in the Old City, not when Wat Phra That Doi Suthep looms high on the Doi Suthep mountainside, around 10 miles outside of the city.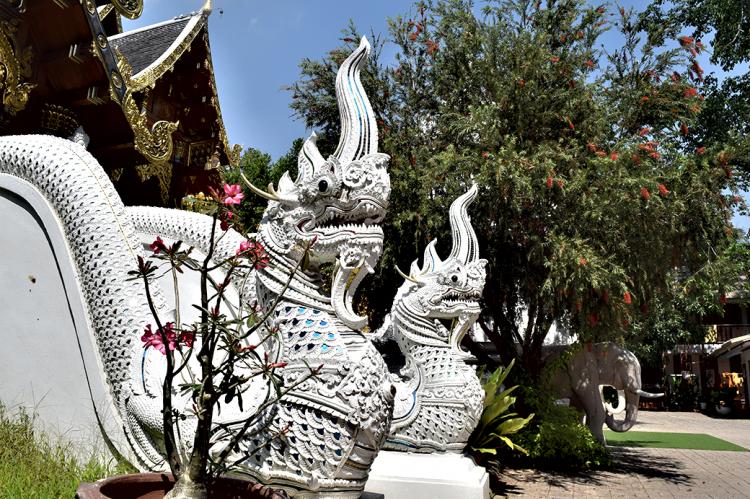 Sumanathera, a monk, had a dream, the legend goes, in which he was told to seek a relic. At the appointed place, he found what was said to be a shoulder bone of Gautama Buddha. In 1368, a piece of the bone was put on the back of a white elephant, which is said to have climbed Doi Suthep, stopped, trumpeted three times, and gently died. The king, seeing this as an omen, decreed that a temple be constructed there.
A shrine to the white elephant greets visitors, once they have ascended the 309 steps (or taken the tram) to the temple grounds. There, murals, bells, and dozens of statues of Buddha as well as Hindu deities surround the gold-plated chedi (also called a stupa), the hemispherical structure containing relics, this one stretching 79 feet into the sky. Like the Taj Mahal, words cannot adequately describe the majesty of Wat Phra That Doi Suthep.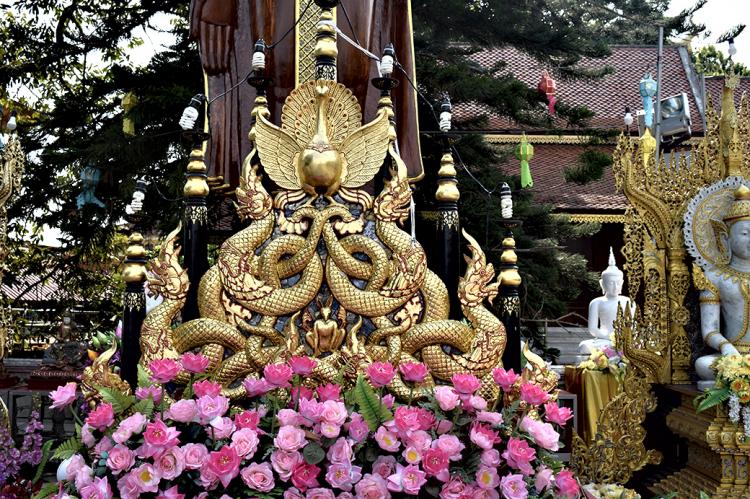 Visitors, numbering in the thousands per day, make offerings, light candles, and pray. I partook in another offering, stuffing a 100-baht note into a collection box before shaking a cup filled with sticks until one fell out. Based on the number painted on it, one's fortune is found on a small sheet of paper in a corresponding rack affixed to a nearby wall. "The powerful goodness which you had cultivated in the previous life will enable you to be happy," read mine, "and prosperity will attend you for ever and ever. Your life will be successful and full of resources."
I felt neither successful nor full of resources, but a long moment's reflection brought a new awareness: I had been born, and born human, and to relatively prosperous parents in the West, and had lived for many years without serious illness or injury, and had experienced so many people and places and things near and far, and now had traveled more than 8,000 miles to behold one of the most wondrous places in this world, and was circumambulating the chedi said to contain a relic of the Buddha.
The wider one's worldview, the more one understands that we really are one people. If we 7.7 billion bundles of consciousness, driven by fear and desire, attraction and aversion, could see beyond the illusion of duality, we might find waiting for us a world of infinite bliss.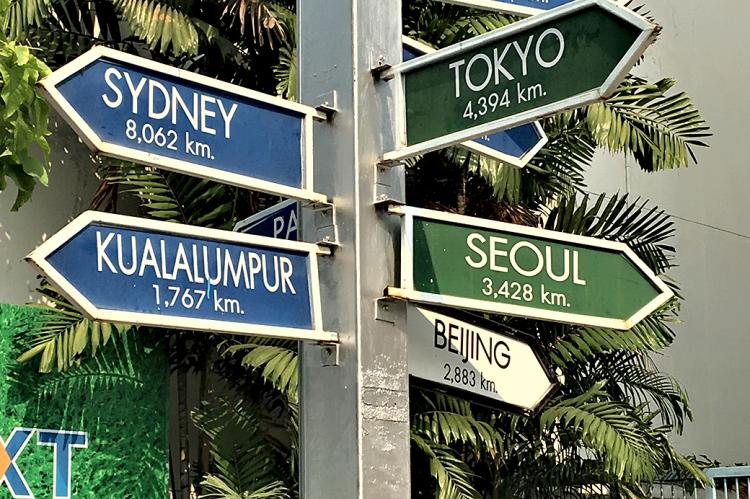 Expat Life
Ms. Thanithammachote was my driver for this day of sightseeing, and she had taken me to Tiger Kingdom, a short drive from the city, where Dollar and Franc, her companion, live. From there, we visited Mai Sa, a multi-tiered waterfall with shallow pools for swimming and plenty of rocks for sunning, and from there Doi Suthep. By now, it was evening, and a long line of orange-robed boys -- more monks -- appeared, and we tourists gaped and snapped pictures and took video as the older monks supervised. A ceremony was to begin, but not for another hour. We descended the 309 steps and set out for the city.
Back in the Old City, I was enjoying a cold bottle of Tiger, another Thai beer, at the THC Rooftop Bar (Thai Hemp Connection, which in its original incarnation sold hand-made hemp clothing). Looking down from the back side of the building, I saw a previously undiscovered road and, perpendicular to it, a straight and narrow path, colored stones whimsically inlaid to form a long stem and flowers, lush and leafy vegetation reaching over and across the wall on either side of it, and I wished it was not the entrance to a guesthouse but to my simple home. Curiosity piqued, I descended the THC Rooftop Bar's back steps and landed on Moon Muang Road, which winds and intersects with still other winding roads, most of them lined with yet more guesthouses, restaurants, and bars, including the two-stool Tiny Corner bar, its sign declaring that it "may be the smallest bar in the world" and was "not recommended by Lonely Planet."
Searching for dinner, my path was nearly blocked by Nick Ascot, a Canadian-American who stood outside his Banh Mi Guest House and Restaurant. I agreed to sit down, and enjoyed a fine meal and another beer as we talked about the expat life in Thailand. An older Australian man wandered in, was handed a glass of wine, and joined the conversation. The expat life in Chiang Mai, we agreed, was most agreeable indeed.
Isn't It a Pity
On the morning of my last day, I walked down Thapae Road in search of an optician to repair my sunglasses. That task completed, I stopped at Wat Buppharam, built in 1497. I was about to ascend the steps to the viharn, or assembly hall, when an older Thai woman descended. Tiny, salt-and-pepper hair atop a weathered face and tattered T-shirt, I wondered if she was very poor, even homeless. We exchanged hellos, and I said, "How are you?"
"I'm sad," she said, her unaccented fluency surprising me. Her boyfriend, an Englishman, had recently died, at 64. He'd had a heart attack a few years ago, she said, but it was cancer that took him, swiftly like a thief. My gaze rested on her eyes and the lone teardrop that slipped from one, and then from the other.
"There is so much pain and sorrow in this world," I said, and told her that my father had died at 58, that my ex-wife's father had died in his 60s, and then, only three months later, her younger brother, at 27. I never knew my uncle, killed in a car accident on his 18th birthday. A cousin, while still in college, and a close friend, at 42. This is how life is.
"But," I said, "there is also so much that is wonderful," gesturing to the magnificent temple before us, and, implicitly, I hoped, to the Three Jewels -- the Buddha, the Sangha, and the Dharma -- and within them, the keys to the cessation of suffering.
She agreed, and we continued on our respective way. We won't meet again in this life, but our brief encounter, before a beautiful Lanna temple in the brilliant morning sunshine of early spring, remains.
This was my seventh journey to Asia. The first five were to India, where I could not help but think of George Harrison and his deeply spiritual music, his yearning to connect with the divine and to cultivate the seed of divinity within himself. For the rest of that last day in Chiang Mai, I thought of the woman at Wat Buppharam and a verse from Harrison:
Some things take so long/But how do I explain

When not too many people/Can see we're all the same

And because of all their tears/Their eyes can't hope to see

The beauty that surrounds them/Isn't it a pity?
Staring out the window of my office in early May, a mixture of anticipation and dread came over me: the sublime beauty and frantic mania of summer looms large, and after it an election campaign that I suspect will bring out the best, and the worst, in us. If anyone wants me, I'll be at the Writers Club and Wine Bar.