James Bradley, an eighth grader who played number-one on East Hampton High School's young golf team this fall, "was three shots shy of making all-county" as a result of the 86-83-169 he shot in the recent Suffolk County individual tournament at Rock Hill in Manorville, East Hampton's coach, Rich King, said Monday.
All six of Bonac's golfers, Bradley, Trevor Stacheki, a ninth grader, J.P. Amaden, a ninth grader, Nico Horan-Puglia, an eighth grader, Aiden Cooper, a junior, and Charles Goldsmith, also a junior, qualified for the tourney, King said, adding that "for the most part that was our lineup this season."
East Hampton, with a 5-5 record, finished third in league play, behind Westhampton Beach and Southampton, both of which wound up at 9-1. Southampton went on to play in the finals of the county's first-ever team tournament, while the Hurricanes were eliminated in the quarterfinal round. East Hampton, seeded 20th among the tourney's 24 teams, lost a first-round match to 13th-seeded Islip "by two strokes on their home course," said King. "We were 3-3 in the matches, with James, Trevor, and Aiden winning, but Islip carded the low aggregate score, 212, to our 214."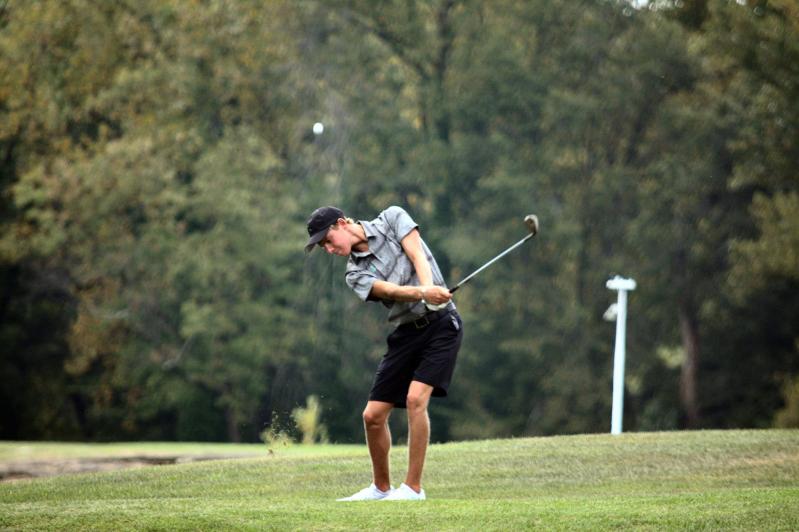 Bradley, who finished in a tie for 25th in the county's individual tournament, was the sole Bonac golfer to make the cut at Rock Hill. Horan-Puglia missed by one shot, Stacheki by four, and Amaden by six. The county's top 10, Pierson's Henry Brooks and two Westhamptoners being in that number, are to play in the state tourney at Cornell University in June.
King said he was definitely looking forward to next year. "We'll have a solid lineup — it's exciting to watch these young kids grow and hone their craft. They're all solid players and they all play a lot. They enjoy the game, both recreationally and competitively."
Losing Turner Foster, a former county champion, and Nate Wright, "our two big guns," to graduation had put an end for a while to East Hampton's customary league dominance, but the Bonackers "will be back, for sure," said their coach.
Speaking of Foster, he was named the Patriot League's golfer of the week as a result of his third-place finish in the Metropolitan Intercollegiate tournament on Oct. 28 at the Montclair (N.J.) Golf Club. The Loyola (Md.) freshman shot an even-par 70 in the rain-shortened regional Division 1 tourney, his father, Eden, the Maidstone Club's head pro, said, adding that "he qualified to play in four of five major events this fall." His son has been playing number-five on Loyola's team, which the elder Foster said is ranked 100th in the country.
"He loves it down there," he said when asked how his son had taken to the college. "But he'll miss basketball.­ . . . Their fall season is over now; they'll begin playing again in February."
Under King's predecessor, Claude Beudert, East Hampton's golf program was pre-eminent on the East End, winning league-championship banners in 14 of 16 seasons, the last one apparently in 2015, when the Bonackers shared the league title with Westhampton Beach. The team was the runner-up to Westhampton in 2016, and finished out of the money again in 2017. Foster won the county championship in 2016, and was the county runner-up in 2017.
Led by Zach Grossman, Ian Lynch, and John Nolan, East Hampton won county and Long Island championships in 2011. Following a triumphant arrival with the Long Island championship cup at the high school that June, on the same night as its spring sports awards dinner, Beudert said of Nolan, the senior captain and "the backbone of our team," that he'd been with him since his eighth-grade year.
It's not hard imagining that King also will be able to reminisce in like fashion in the not-too-distant future.