The National Transportation Safety Board faults Ben and Bonnie Krupinski's pilot, Jon Dollard, for the plane crash that killed him, the Krupinskis, and their 22-year-old grandson off Amagansett in June of 2018.
In the final accident report, issued on Nov. 6, the N.T.S.B. said its investigators determined the probable cause of the accident to be "the pilot's decision to fly under a thunderstorm and a subsequent encounter with turbulence and restricted visibility in heavy rain, which resulted in a loss of control."
Mr. Dollard, a 47-year-old commercial pilot with over 3,000 hours of flight time, was flying the small aircraft from Newport, R.I., to East Hampton Airport when he and his passengers encountered a wind shear or thunderstorm on June 2, 2018. According to findings released over the summer, Mr. Dollard radioed in to air traffic control that the plane was at 700 feet and "coming in below" the thunderstorm, according to his recorded communication with air traffic control. "Doesn't look like there'll be an issue," he said.
The report's findings listed Mr. Dollard's "decision making/judgement" and "aircraft control" as causes for the crash, along with the thunderstorm and its effect on Mr. Dollard's operation of the plane. 
At about 42 and 15 minutes before the plane took off from Newport State Airport, two inflight weather advisories were issued for the route and the area of the East Hampton Airport warning of heavy to extreme precipitation associated with thunderstorms. Weather radar that was reviewed showed "a low-pressure system associated with a frontal wave over Long Island Sound with a cold front stretching westward over Long Island into central New Jersey and a warm front turning back to a cold front eastward," the report said. There were also scattered thunderstorms over the area. 
While the N.T.S.B. could not confirm that Mr. Dollard received these advisories, the pilot of a second plane owned by the Krupinskis and brought to Newport to pick up their granddaughter and her belongings from prep school, told federal investigators that he and Mr. Dollard had talked for about an hour about the weather before departure. They planned to fly the planes south toward Block Island, R.I., then turn west and follow the Long Island shoreline to East Hampton.  
The second plane, a Beech Bonanza, contacted air traffic control after takeoff at 2:10 p.m, and was advised of a slow-moving thunderstorm near East Hampton Airport. According to a memorandum written after a phone interview with the second pilot, Frank Pinter, Mr. Pinter worked with air traffic control and decided to fly further south. He flew above 1,000 feet and slowed down due to turbulence. "He said the storm was to the right of him and a little higher," the memo said. He landed safely at East Hampton Ariport. 
He did not know if Mr. Dollard heard him on the radio or not, as he never heard him or saw the plane again. 
The Federal Aviation Administration's radar data picked up the Piper PA-31-350 Navajo, owned by Mr. Krupinkski, a former pilot, over the Atlantic Ocean, about six miles south of the East Hampton Airport at an altitude of 432 feet above sea level. It climbed to 512 feet and then descended to 152 feet.
The last radar return at 2:33 p.m. indicated that it was at 532 feet at about two miles south of Indian Wells Beach in Amagansett. That is when Mr. Dollard radioed the traffic control tower at East Hampton Airport that he was flying at 700 feet and flying underneath the storm, the N.T.S.B. said. All communication was then lost.
The seven-seat, low-wing airplane was destroyed when it hit the water. The wreckage was found about a mile south of Indian Wells Beach in 50 feet of water. The fuselage was broken into multiple pieces, and the left and right wings were both separated from the fuselage and were fragmented. The airplane was equipped with Garmin GPS units, capable of displaying weather information, according to the N.T.S.B. 
A resident about a half-mile from the accident site took several photos of the approaching thunderstorm at 4:21 p.m., which showed shelf cloud and cumulus mammatus clouds along the leading edge of the storm, indicative of potential severe turbulence, according to the transportation board's senior meteorologist, who reviewed the photograph.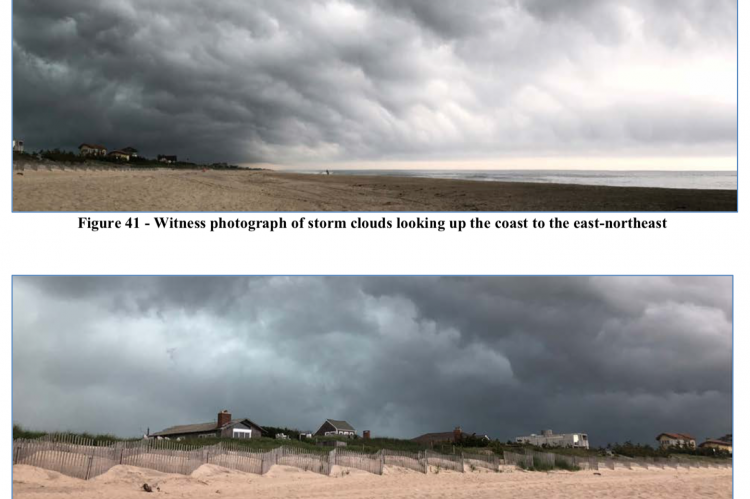 Starting just after 2 p.m., a special weather statement was issued that said a strong thunderstorm was located over Gardiner's Island, moving south at 20 m.p.h. with winds in excess of 30 m.p.h. possible, along with heavy rains. It listed the area that would be impacted as Southampton east to Montauk, including East Hampton Airport. 
"Review of weather imagery and the airplane's flight path showed that the airplane entered the leading edge of 'extreme' intensity echoes with tops near 48,000 ft. Imagery also depicted heavy to extreme intensity radar echoes over the accident site extending to the destination airport," the final report said. 
"It is likely that the pilot encountered gusting winds, turbulence, restricted visibility in heavy rain, and low cloud ceilings in the vicinity of the accident site and experienced an in-flight loss of control at low altitude," the analysis said. "Such conditions are conducive to the development of spatial disorientation; however, the reason for the pilot's loss of control could not be determined based on the available information."
Mr. and Mrs. Krupinski's bodies were quickly recovered that afternoon, but it was not until January 2019 that partial remains of their grandson, William Maerov, were found.  
Because Mr. Dollard's body was recovered two days after the accident, no forensic toxicology was performed. His autopsy listed his cause of death as blunt force trauma.