Politics makes strange bedfellows, and in East Hampton, this year there may be no stranger political couple than East Hampton Town Justice Lisa R. Rana, a lifelong Republican, and David Gruber, a Democrat who is running for town supervisor but not on the Democratic line.
Mr. Gruber is also a prolific writer of letters to the editor that appear in The East Hampton Star and other East Hampton newspapers. A computer snafu in August led to a revelation that few would have expected: that Ms. Rana has worked behind the scenes on Mr. Gruber's letters before he submits them for publication.
Ms. Rana, a 16-year incumbent, has Republican, Conservative, Libertarian, Independence, and EH Fusion Party backing. Having been cross-endorsed in the past, she unsuccessfully sought the town Democratic nomination in a June primary, but lost to Andrew Strong, a political newcomer.
Mr. Gruber is a former town Democratic Committee chairman and was a candidate for supervisor in 2001. Like Ms. Rana, he took part in the June Democratic primary, but did not win the nomination. He also sought Republican backing, but the county committee poured cold water on that plan. A paperwork mistake cost him the November EH Fusion ballot line, so his name is only on the Independence and Libertarian lines.
The Gruber-Rana connection came to light in August in a letter to the editor that Mr. Gruber sent to The Star. The letter, which was published in the Aug. 8 issue, criticized the town board members by name for their support of the proposed South Fork Wind Farm and the town's settlement of code violations with Duryea's Lobster Deck in Montauk.
Delivered by email, the letter was an unfinished Microsoft Word document on which the "Track Changes" function showed Ms. Rana had made multiple changes, as had Mr. Gruber.
New York's rules for sitting judges and candidates for the bench prohibit any partisan political activity other than in their own campaigns, even anonymously. Judges, justices, and candidates may not participate in any campaign for any office other than by running against an opponent for the same position.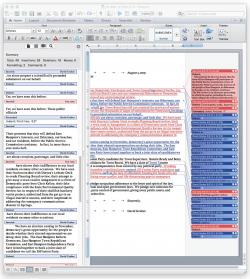 Shown a copy of the letter on Tuesday, Ms. Rana adamantly defended her involvement and rejected the question that it demonstrated prohibited coordination with another political campaign or did not comport with ethical guidelines. "A private conversation or communication with a colleague or candidate where I had every reason to believe such communication would remain private between myself and the other party does not constitute direct or indirect political activity within the meaning of the ethics rules and does not violate those rules," she said. "I have made no public comment about any candidate, which is what the judicial ethics prohibits, including the candidate that's running against me."
Ms. Rana's campaign committee handles all fund-raising for her, she said. "I don't receive money from any parties. Any public comments I make are about my qualifications to be the town justice."
In a telephone interview on Tuesday, Mr. Gruber said that he "routinely shared letters" with Ms. Rana "to review and offer her editorial commentary," but said that the letters consist of his own words and the flow was always from him to Ms. Rana. He also referred to a "committee" to which he routinely sends drafts "and it's up to them who chooses to make a comment." He too insisted that Ms. Rana's participation in no way violated the guidelines stipulated in the state's "Judicial Campaign Ethics Handbook."
"Nobody is my ghostwriter," Mr. Gruber said. "I asked Lisa to edit a letter in its third or fourth draft. She's a strong writer, a good writer. . . . My purpose is to be understood. My letters can sometimes be lengthy."
Among the summary of changes to the Word document received by The Star was Ms. Rana's addition that the town board showed "ineptitude in addressing the emergency communications disaster in Springs." And in one instance, she softened Mr. Gruber's punch, changing "corrupt bargain" to "backroom deal" in the final copy. The majority of her changes were less significant and consisted of minor word changes, deletions, and moving paragraphs around.
The New York State Advisory Committee on Judicial Ethics, which was created to help judges comply with the conduct rules, has repeatedly advised judicial candidates to avoid even the appearance of impropriety and to always act in a manner that promotes public confidence in the judiciary's integrity and impartiality. For example, judicial candidates are warned they should not "comment on the qualification of or endorse other candidates and should not hand out the literature of other candidates."
In a 2016 opinion the advisory committee wrote, "A judge may not engage anonymously in otherwise prohibited political activity, such as publishing partisan political literature." The 2016 opinion went on to note, "And if, as is quite likely in modern politics, the public learned that a judge was attempting to conceal his/her impermissible political activity, that would only exacerbate the resulting appearance of impropriety."
James Sample, a professor of law at Hofstra University's Maurice A. Deane School of Law, was noncommittal when the letter was described to him by phone. "I can imagine a harmless scenario in which the judge was making purely grammatical changes as a favor to a friend," he said. "And I can imagine a scenario of concern, in which the two political candidates are coordinating political campaign efforts and messaging in ways that, particularly if both gain elected office, could pose a conflict of interest for the judge."
"Without knowing more about the details," Mr. Sample said, "it would be hard to say it's a per se violation." The edited letter "could mean many different things, some of which could be innocuous. To say it's a violation, without more, would be, I think, irresponsible."
On Tuesday, Mr. Gruber referred to a campaign letter that Mr. Strong distributed in May. In it, he told Democratic voters that he faced a primary challenge from "a lifelong Republican," Ms. Rana, "who is supported by David Gruber, Rona Klopman [an EH Fusion candidate for town trustee], and a small group of disgruntled Democrats."
Mr. Strong also wrote that "Our local decisions can and should stand against the cruelty inherent in our current President's policies and administration." Mr. Gruber pointed to that letter as evidence of partisan political activity. "What he did was clearly impermissible," he said of Mr. Strong.
Mr. Strong said in an email yesterday that he had consulted the State's Judicial Campaign Ethics Center for guidance from its staff attorney, who he said advised that it was permissible to describe his opponent as a Republican running in the Democratic primary. "I believe it to be true," he said of the advice he was given. By extension, he said, "calling Mr. Gruber and Ms. Klopman 'disgruntled Democrats' seems permissible for the same reason." He has contacted the J.C.E.C. several times during the campaign to ensure that his statements and campaign materials comport with its guidelines, he said.
Regarding his remarks about President Trump, "I don't think anything connected to the president touches on my impartiality concerning Justice Court matters," Mr. Strong said, "or even local politics." He added that "I feel strongly that those things don't characterize or relate in any way to my opponent or the local Republican Party."
He also said that "I genuinely feel the utmost respect for my opponent and I have no doubt that she has acted properly and with integrity throughout the campaign."
­With research and additional reporting by David E. Rattray