Gigging (or spearfishing) — a primordial method for nabbing eels and all sorts of other briny creatures — requires no special skills and just a few basic pieces of equipment. David Gibbons tries his hand with Kerry Heffernan, the celebrated chef, as guide.
It was the calm after the storm. A week of mind-numbing rainy weather had given way, mercifully, to a crystal-clear evening. It was the summer solstice and a lovely, lingering sunset lit up the western sky in shades of red, blue, orange, purple, and gold.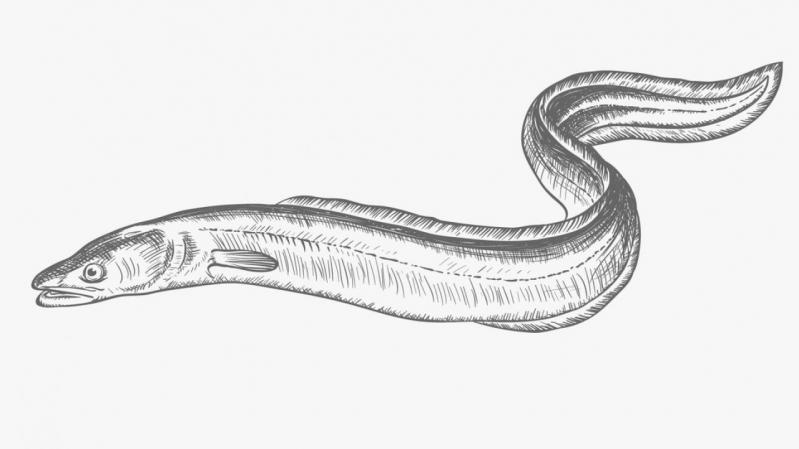 My host, Kerry Heffernan, was at the helm of his 18-foot shallow-bottomed fishing skiff and we were headed to a favorite spot on a cove to gig for eels. 
A native of Rowayton, Connecticut, and part-time Sag Harbor resident, Heffernan has had a long, successful career as a highly regarded New York City chef: Bouley, Eleven Madison Park, Montrachet, One Fifth, and the Westbury Hotel's Polo are all on his résumé. He's currently executive chef at Grand Banks, a seasonal seafood restaurant located on a retired cod-fishing schooner in Lower Manhattan.
"Avid fisherman" doesn't tell Heffernan's whole story. Since 2015, in concert with other prominent angler-chefs, he's spearheaded efforts to promote sustainability and, for example, take striped bass off restaurant menus, calling attention to the waning population of our region's number-one "glamour fish." His advocacy rose from empirical observation, much of it in his neighborhood estuary. "It's been more than three years since I killed a striper," he told me. "There just aren't that many around here anymore." As fly-fishing for stripers became more difficult, Heffernan gravitated toward bluefish. Lately, he's enjoyed "playing weekend bayman." 
Before hopping aboard, Heffernan checked his oyster rack, which hangs off the edge of his dock. The shells of the fledglings, or spats, were less than an inch in diameter but showed promising signs of growth. Farmed oysters are not only sustainable but restorative, since they filter impurities out of the water. 
After a few minutes of gliding across the glassy surface, which reflected the evening sky in shimmering technicolor, Heffernan anchored his boat and handed me a headlamp and gig, in this case a broom-length pole with a multi-pronged spear on one end and a net on the other. For eel-gigging, conditions have to be just right: clear, shallow water, low tide, dark, and no wind. Even a slight breeze ripples the surface and greatly reduces visibility.
We waded in, knee to thigh deep, peering intently down at the lit-up circles made by our lamps. Inside 10 minutes I spotted an eel hiding, as they're wont to do, under a clump of seaweed. Poising my gig just above, I speared it with a decisive downward thrust. We stowed the eel, slimy and slithering, in the boat's well. (They can bite, so beware when landing them.) 
Exploring such a teeming ecosystem calls on all your powers of observation. A swirl in the water 10 yards out might indicate a school of minuscule baitfish with perhaps some blues or stripers chasing it. A quick boil, equidistant, could be one of those bigger fin fish kissing the surface to feed; an osprey circling overhead to investigate would be thinking the same thought. 
Time flies. Over the next hour and a half, we came across a fascinating variety of species. There were darting needlefish and wriggling sea worms, tiny shrimp and at least one zebrafish. Heffernan snagged a five-inch blowfish that treated us to an amusing and slightly ridiculous display, slurping and sucking in air to blow itself up to the size of a grapefruit. One imagined this would be fearsome to a potential predator.
We saw plenty of blue crabs, five or six of them keepers, which Heffernan scooped with deft underwater twists of his net. (The New York State minimum is four and a half inches across the carapace.) He tried for a good-size porgy but it got away; a well-camouflaged fluke, around 10 inches across, took off in a barely visible flash. 
Whelk were also abundant, and Heffernan kept several of the big ones, 8 to 10 inches from tip to tip. It takes up to 30 years for them to grow to full size; their larvae start out in strings of disc-shaped sacs, nicknamed mermaid's necklaces. If you ever find one, break open a disc and you'll discover many miniature shells inside. Of the whelk meat, Heffernan said, "There are two sections, one tough and the other very tough. They're not for everybody but they have a real richness and depth of flavor." 
On the way back, under a moonless, starry sky, there was a briny smell in the air accompanied by slaps and splashes, clearly audible over the low hum of the outboard motor. Bluefish or stripers, snoozing or lolling, startled awake by the looming form of the boat? Probably.
As Heffernan practiced a few expert fly casts, hoping to lure one of those unseen fish, I glanced around the cove, which was ringed with comfortable homes. Picture windows were illuminated; cocktail-party sounds wafted across the water. Certainly nature was persistent amid all this civilization, but how much and how well would it survive? There was but one guarantee: Spend an evening like this and you'd go home with a heightened appreciation of the abundance and diversity of life in our East End waters. 
EQUIPMENT
Bug spray: insects swarm at dusk
Water shoes or surfing booties
Headlamp or waterproof flashlight 
Gig: multi-pronged fishing spear
Net: on a pole, for scooping crabs
Rag: for picking up eels
Pail: if you're not using a boat with a well 
Rock salt: what the pros use to stow eels 
How to Cook 'Em
Eels:  Though they can be fried, broiled, grilled, sautéed, even braised in sauerkraut ("Polish style"), smoking is Heffernan's preferred method. First dry-rub or brine them, then smoke them the same way as bluefish filets, though for proportionally less time since they're thinner.
Blue crabs: Boil for 7 to 10 minutes in a flavorful court bouillon, including fresh-cut garden herbs, crushed garlic, salt, and chili peppers.
Whelk: Scrub the shells well and simmer in a well-seasoned bouillon for 25 to 40 minutes, until the meat can be easily extracted with a fork. Discard the entrails, slice the muscle and serve with sauce of your choice; melted butter with garlic and parsley works great. Heffernan's mother-in-law, Sookja Koo, serves hers Korean-style with a sauce of gochujang, sesame oil, and scallions, thinned with a little vinegar.