Residents of the East End awoke Saturday morning to a hazy sky and the distinct smell of something burning, which continued over the following days as a result of the wildfires raging in the Canadian provinces of Quebec and Nova Scotia.
National Weather Service air quality alerts over the last several days warned of "elevated levels of pollutants" in the air over the New York metropolitan area, making the sky an ominous orange, almost as if an the sun were setting in the middle of the day.
CNN reported Wednesday that more than 150 individual wildfires continue to burn north of the Canadian border, with smoke drifting as far south as Maryland, Virginia, North Carolina, and South Carolina. On Saturday, East Hampton Village police said that calls were coming in from Montauk to Bridgehampton from people concerned about the origin of the smoke.
"It seemed to dissipate when the wind shifted," East Hampton Fire Department Chief Duane Forrester said on Tuesday.
School administrators in East Hampton and Springs announced they would be keeping children indoors for recess and gym class Wednesday. And Wednesday morning, as children were dropped off at the Springs School, the normally bustling playground outside the entrance was empty.
"We are hopeful that conditions improve (as predicted) tomorrow so that normal activities may resume, including Field Day," Debra Winter, the Springs superintendent, said in a message to parents Wednesday.
Health experts advised people with conditions like asthma and chronic obstructive pulmonary disease to avoid being outdoors. Inside, air-conditioning units should be set to recirculate and filter interior air, rather than drawing air in from outside.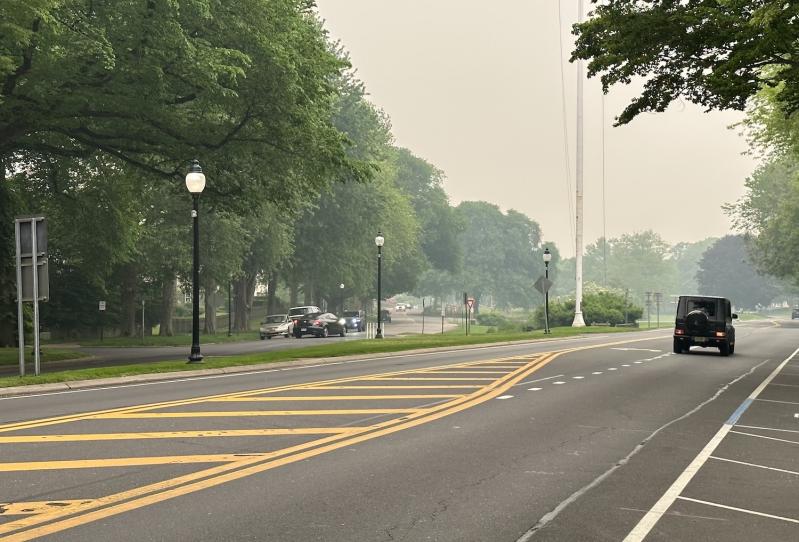 "People with asthma or other lung diseases have very reactive muscles in their airways," said Dr. Erin McGintee, an allergist with ENT and Allergy Associates in Southampton. "When there is any kind of particulate irritant in the air, and you're inhaling that, it can cause bronchospasm, when the airway's muscles spasm and get tight, which causes wheezing, chest tightness, and shortness of breath. They're always at risk of that, but when there is something in the air, it puts them at increased risk. It's even worse, given that we're in the middle of pollen season."
Dr. McGintee said people at risk should consider wearing an N95 mask outdoors. "There is data that wearing an N95 mask, a real respirator mask, can significantly decrease the amount of particulates in the air you're breathing. Regular cloth masks or paper surgical masks won't do much, but if you have a good N95, which you may still have kicking around from Covid, it could be helpful."
She recommended that people follow the news and weather forecasts. "They should keep track of the air quality reports, so they have a better sense of the level of risk on any given day. It's a beautiful time of year when we want to be outdoors enjoying nature, but it's prudent to keep an eye on the air quality reports. Hopefully it will get better soon."
Joe Gaviola, the keeper of the Montauk Lighthouse, said he woke up Saturday thinking there was a fire somewhere on the grounds of the historic landmark. "I looked all through the museum, couldn't find it. Ocean Institute, couldn't find it. Control tower, couldn't find it," he said. "At the Lost at Sea Memorial — as far east as it gets — the smoke smell was coming off the ocean, not from here."
The usual five-mile visibility wasn't affected that day, but visitors definitely noticed the haze and the smell. "I think we also smelled it the most when the wind blew hard from the northeast on Saturday," Mr. Gaviola said on Tuesday. "I don't smell it like I did the other day. It was so pungent on Saturday."
In Sag Harbor, at 5:13 p.m. Tuesday, Luke Babcock, a sailor and surfer who considers himself a "weather nerd," didn't smell smoke but said the haze was the worst he'd seen yet. "The water has a sunset glow," he said. "It would be sort of pretty, in a way, if it wasn't from a fire, and I'm told it's bad for your health to breath it in," he said.
"I'm certainly no authority, but I've been out on the boat a lot the last few days, looking at the skies," Mr. Babcock said. "It's all over the northeast."
That afternoon at Maidstone Park in Springs, which usually offers views across the water to Shelter Island, Gardiner's Island, and the North Fork, the smoky haze was so thick that none of that could be seen. 
More than 100,000 people have been evacuated from their homes across parts of Canada impacted by the wildfires. "We've never had so many fires so early in the season; it's not just a problem for Quebec, it's a problem all over Canada," Public Security Minister Francois Bonnardel told Canadian news outlets.
"Climate change is increasing the frequency and intensity of wildland fires and creating longer fire seasons in Canada," Michael Norton, director general of the Northern Forestry Centre at Canada's Department of Natural Resources, told BBC News.
Last week, it was reported on the CBC that some 50 houses had been lost in the unprecedented Nova Scotia fire, which started near the Town of Barrington. It moved relentlessly eastward in Shelburne County, out of control, with strong winds pushing it onward, before rain set in and helped ease the situation.
It was not the only large wildfire in Nova Scotia in recent days: Thousands of residents were evacuated last week when another blaze went out of control near the capital city, Halifax. The Shelburne fire has been called the largest in Nova Scotia history.
According to Bess Rattray, an East Hampton Village resident who lived in Shelburne, Nova Scotia, for six years and served as a captain with its fire department, more than 55 volunteer fire departments from around the province converged on Shelburne County to try to slow the fire's progress. These all-volunteer fire services have been aided by helicopters and water-carrying airplanes from other provinces and on loan from the United States and Costa Rica.
The chief of the Shelburne Volunteer Fire Department, Darrell Locke, who has been a firefighter for 48 years in Canada and abroad, told the CBC that saving houses was the crews' focus.
"We've gotten pushed out of situations for safety reasons that we've had to basically quickly unhook the hose from our trucks and run for our lives," he said. "This is nothing anybody down this way has seen before," he said. "This is nothing Nova Scotia has seen before. . . . It looks horrible in lots of places. Folks have lost everything."