After several days of uncertain predictions, Tropical Storm Henri appeared on a path to make landfall in Rhode Island, sparing the East End the worst of its winds. 
At 8 a.m. Henri's center was about 40 miles south-southeast of Montauk Point with maximum sustained winds of 70 miles per hour, just short of hurricane status. A weather station on Block Island had reported sustained wind lasting a minute or more of 41 miles per hour and a gust at 50 miles per hour. Narragansett recorded winds of 44 miles per hour and gusts to 55.
Winds of about 33 miles per hour with gusts to about 45 were recorded at an observation buoy about 10 miles out in the ocean from East Hampton Village.
The National Hurricane Center said that Henri's forward speed was expected to slow as it neared land. This would put the region at increased risk due to the storm conditions that could last through two abnormally high full-moon tides. 
On the South Fork of Long Island, rain had begun on and off before sunrise. By 8 a.m., the rain was heavy, with wind from the northeast and north. At the Montauk Airport, the wind was from the north at 18 miles per hour with gusts to 30, according to the National Weather Service.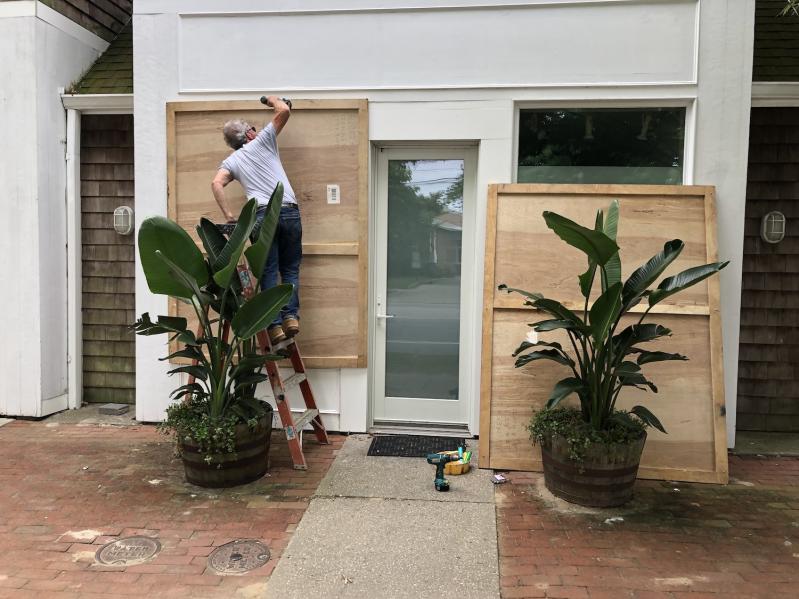 ---
Businesses were mostly closed Sunday morning. Some had plywood over their windows, including an East Hampton Village insurance agency, Dayton, Ritz & Osborne. Tree limbs had already fallen in some places, but there was very little sign of property damage.
At shortly before 9 a.m., PSEG-Long Island was reporting a minor power outage in the Devon area of Amagansett, where 178 households were without power.
Winds were forecast by the National Weather Service to increase during the day on Sunday, shifting to come from the northwest at around 45 miles per hour with higher gusts. Near-hurricane gusts could come in the afternoon as the wind shifts to the west, then southwest at about 1 p.m. The heaviest rainfall should begin to taper off around nightfall, with a chance of rain persisting until about 1 a.m. on Tuesday.