While firefighters are often summoned to help animals in distress, it's a rare day when an aerial truck comes to the rescue. But that's what happened on June 25, when Montauk firefighters were called to help rescue a seagull caught in a power line near the Dock restaurant. 
Valinda Valcich, a wildlife rescuer, set the wheels in motion when she arrived at the Dock after receiving a call about the seagull. "There was no way I would have possibly been able to get it," she said.
Mitchell H. (Mickey) Valcich, the chief of the fire department and Ms. Valcich's husband, asked a crew to come to the scene with the aerial truck. 
The restaurant was packed, Ms. Valcich said, and the crew had to relocate cars to get the truck in. They maneuvered the aerial ladder through the wires, and a crew member cut the wires as Ms. Valcich grabbed the seagull. She kept the gull in her bathroom -- which she refers to as the nursery -- before taking it to Dr. Jonathan Turetsky at the Veterinary Clinic of East Hampton for a health check. The bird then went to the Evelyn Alexander Wildlife Rescue Center in Hampton Bays for rehabilitation.
The last time the aerial truck was required on an animal rescue was over the winter when a dog fell into Fort Pond, Ms. Valcich said. "The fire department is there to rescue, whether it's an animal or person," she said. "And they do."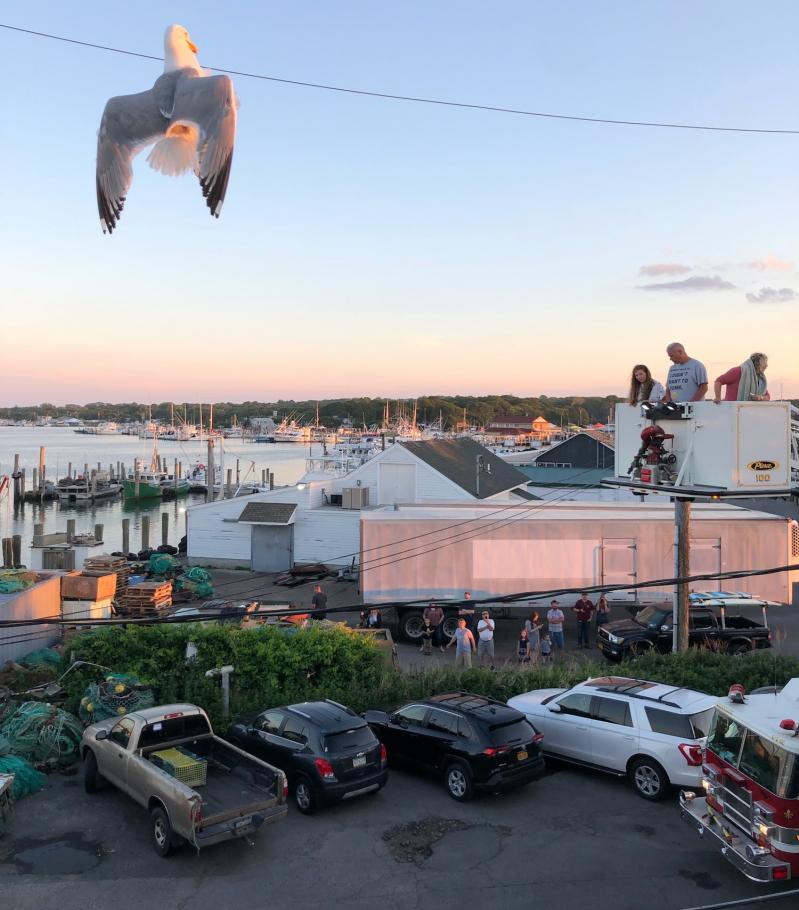 Ms. Valcich has been a volunteer wildlife rescuer for around 15 years, and in Montauk. During that time, she said, wildlife rescues have increased. She attributes this to the elevated population; there are "more people that live in the country from the city that don't want animals in their backyards," she said. The impacts of increased human habitation lead to improvised habitats for animals: With fewer trees, for example, more animals nest in houses, and more fenced-in properties lead to more deer rescues as the animals get stuck or try to jump over and get gouged.
Rescues are highest in the summer. More deer are hit by cars, more people find animals in their houses, there are more people to spot injured birds like the gull by the Dock. But finding a rescue volunteer can be difficult, said Ms. Valcich, who is one of just three working in Montauk. 
Ms. Valcich and her family own Mickey's Carting Corp. and Mickey's Lawnscapes, but wildlife rescue is basically a "full-time job" for her right now, she said.
People who spot an animal in distress should call the police or reach out directly to the Evelyn Alexander Center at 631-728-WILD. The center is volunteer-run and funded by donations. It has around 200 birds in residence, according to Ms. Valcich, as well as untold numbers of squirrels, raccoons, and deer.