"The camaraderie is the best part of this whole thing," said Miriam Soto-Quinones, a veteran who participated in the Wounded Warrior Project's annual Soldier Ride the Hamptons on Saturday. "Connecting with the other vets, there's nothing like it."
Veterans, volunteers, and supporters gathered Saturday morning at American Legion Post 419 in Amagansett for the kickoff of the ride, which had its first starting line 17 years ago in Montauk. Forty-some cyclists riding regular bikes, hand cycles, and recumbent bikes cruised the nearly 22 miles from Amagansett to Sag Harbor and back again in an event marked by a sense of strength, support, and connections.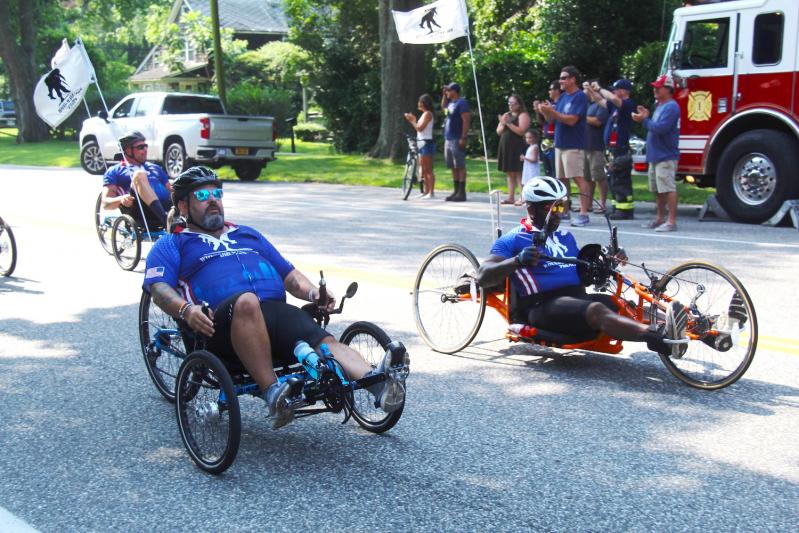 For many participants, the draw of the Soldier Ride is connection with fellow veterans. "For me, it's just an ability to represent my brothers and sisters, being able to carry them," said John Perez, a participant whose first Soldier Ride was in the Florida Keys. Angelique Williams, another participant and former Navy sailor, agreed. "I came here to ride, was given a jersey. . . . It was amazing," said Ms. Williams, a Wainscott resident. "It was one of the greatest feelings of the year to ride with my brothers and sisters."
Michelle Newman, a volunteer, was there to support the community. "I'm a D.A.V. [disabled American veteran] myself," she said. "It feels good to give back." She was joined that morning by her boyfriend and a close friend, who were also volunteering.
Soldier Ride began in 2003, when employees at Amagansett's Stephen Talkhouse planned a biking fund-raiser for John Fernandez, a Long Island native, double amputee, and one of the earliest casualties in the war in Iraq. They called it Soldier Ride, and the next year in Montauk -- less than 13 miles away from this year's starting line -- the first biker, Chris Carney, began to pedal. In eight weeks, he biked from Montauk to San Diego, aided only by Tek Vakaloloma, who drove a support vehicle. "It was the right thing to do and still is the right thing to do," said Mr. Vakaloloma, who was there bright and early at 9 a.m. to cheer on this year's cyclists, despite getting off work at 3:30 a.m.
On the second Soldier Ride, this time from California to the East Coast, Mr. Carney was joined by two veterans, both amputees. He said the ride "snowballed" from there: On the way back, the cyclists were invited to the White House. Mr. Carney is "tremendously proud of it," he said at Saturday's ride. After the success in 2005, the ride's focus transitioned from fund-raising to rehabilitation for veterans, and the Soldier Ride is now a signature program of the Wounded Warrior Project, an organization that provides critical support for veterans. The program "helps with getting back to a new normal" after returning from war, Mr. Fernandez said.
The Soldier Ride is one way the organization fosters community and support: "It's not about the war, it's not about religion, it's not about politics, just about wounded warrior service and honoring that," Mr. Fernandez said.
Soldier Rides on the South Fork have enjoyed overwhelming support, with community members swelling the number of cyclists to the hundreds. Saturday's ride was smaller than normal, due to concerns over gathering restrictions. This year, there were far fewer. The Wounded Warrior Project provided participating veterans with helmets and bikes. Two policemen on motorcycles led the cyclists, followed by two emergency medical services vehicles, and firefighters and volunteer emergency medical technicians greeted the riders along the route.
According to Nick Kraus, an organizer of the ride, it will again be open to community members next year. 
Riding or not, community enthusiasm was still high. A small group of supporters and volunteers cheered as the cyclists biked out away from the Legion. 
"Thank you!" yelled one cyclist as they biked past.
"No, thank you!" Ms. Newman yelled back.