This document is a photostat of the notes Sag Harbor's William Wallace Tooker (1848-1917) made titled "Fragment of the Montauk," which attempted to record some of the words used by the Montauk Indians. The spelling appears to be somewhat phonetic, as evidenced by more familiar words like sachem, "seaunskq" for sunsquaw, and "seaump" for samp. Other words appear a bit garbled, and "squashes" is probably an attempt to transcribe sounds, as other sources indicate that young girls were not called squashes.
Tooker was an early anthropologist with a strong interest in indigenous people, particularly those who spoke Algonquian languages. He is probably better remembered as a photographer, but he wrote widely about indigenous people, and often referred to himself as an "Algonquinist." His interest in indigenous people developed from things like projectile points and other artifacts he found as a child. It is worth noting that by the 1860s there were no longer any recognized native Algonquian language speakers in the area to teach Tooker, and he was not a formally trained linguist.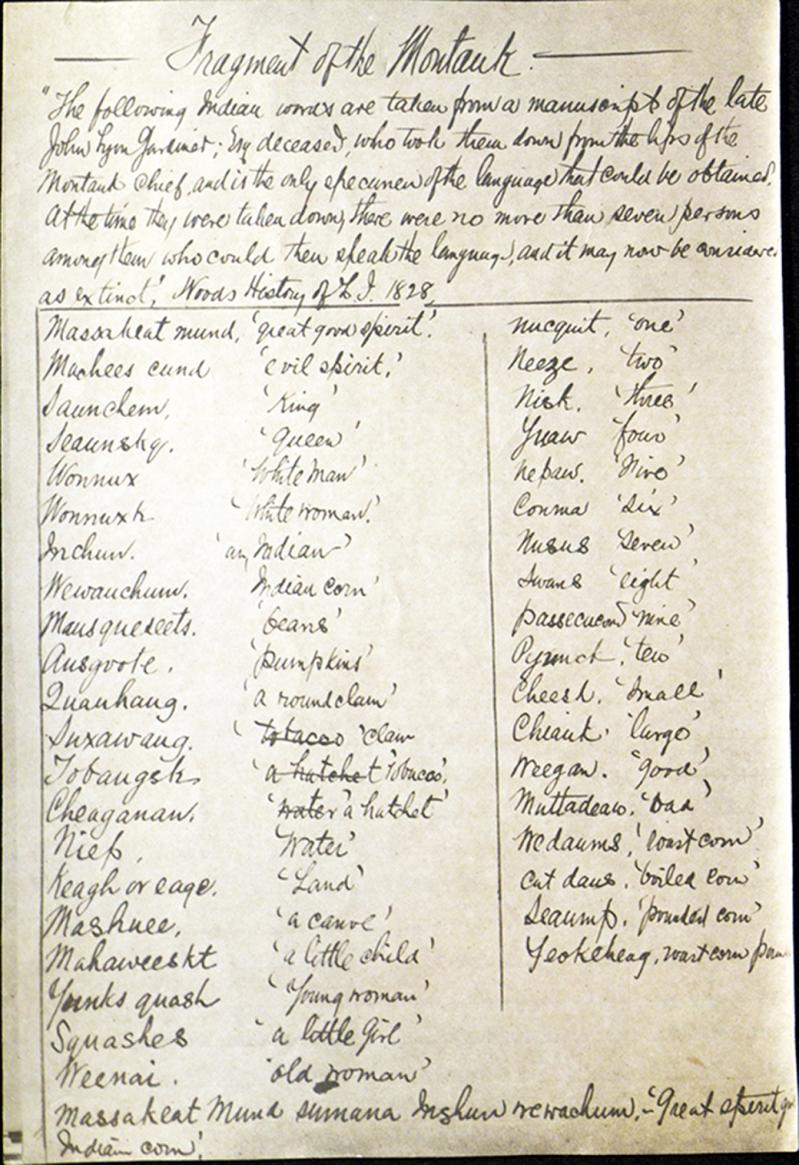 So where did these words come from? In the descriptive paragraph at the top of the first page of this document, Tooker notes that some of his vocabulary came from John Lyon Gardiner (1770-1816). Gardiner was a bit like East Hampton's own Thomas Jefferson, a keeper of meticulous notes and records with an ability to engage on any topic. Gardiner, in turn, supposedly got his information from George Pharaoh, a Montauk Indian.
The actual Thomas Jefferson was probably another one of Tooker's sources, as he compiled a list of known Algonquian words when he visited William Floyd in Mastic. Tooker also worked with records from other indigenous people nearby, in places like New England and New Jersey.