Just west of the Bridgehampton Presbyterian Church on Main Street, where the checkered flags once went up for the Bridgehampton auto races at the turn of 20th century, now stands a new historical marker. 
On Friday, Southampton Town officials unveiled the marker, which recognizes the historical significance of the Bridgehampton Fire Department's annual carnival and motor races, Southampton's first organized street racing.
Julie Greene, the Southampton Town historian, said that after working in Bridgehampton for 15 years, at the Bridgehampton Museum and its ar­chives building, she looked for a way to promote its rich history. 
"Bridgehampton now has become a pass-through for traffic heading east, but there is remarkable history in the hamlet. The automobile racing is a unique part. Nowhere on the East End of Long Island had organized motor races at the the turn of the 20th century," she said.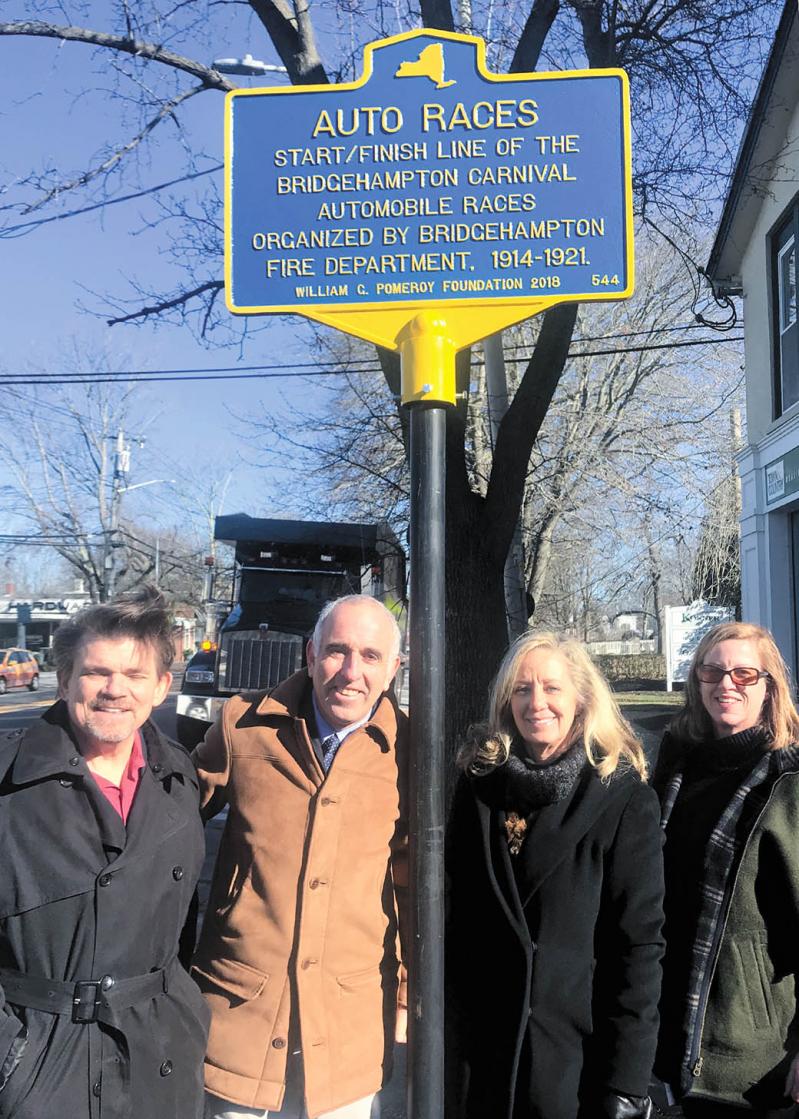 The Bridgehampton Fire Department, which was founded in 1895, held its first Firemen's Fair, later known as the annual carnival, a fund-raising effort, in 1911. 
In 1914, on the heels of the 1904 Vanderbilt Cup Races, the first major international road race in the United States, the department began sponsoring automobile and motorcycle races at the carnival's close. Two high-speed, 35-mile races were held for 30-horsepower cars with both wealthy sportsmen and local men, such as John Ambrose, Moosie Thompson, Court Rodgers, and Norris Hopping in homemade and modified cars, taking part. Races began on Main Street and followed a course around the scenic farmland. 
The races stopped in 1921. Ms. Greene said that according to news reports at the time, the races became too expensive, and, after World War I, the focus was for proceeds to go toward the building of the Community House, which would include a fire station. Earlier proceeds from the carnival allowed firefighters to buy their first motor truck in 1919.
The historic division of the office of the town clerk received funding for the marker through the William G. Pomeroy Foundation, a grant program that has helped fill a gap in state funding for the historical roadside markers. The program commemorates people, places, and events from between 1740 and 1919. Since 2006, the foundation has funded more than 600 markers in 53 New York State counties.
Racing would once again be held in Bridgehampton in 1949, though it would  last only until 1953, when open-road racing ended in New York State, according to the Bridgehampton Museum's website. The Bridgehampton Race Circuit opened on 500 acres in Bridgehampton in 1957, and soon became one of the best circuits in the world. The last major event was held there in 1970, though the circuit stayed open for amateur racers for 20 more years. 
The Bridgehampton Museum keeps the hamlet's racing history alive with a road rally for vintage sports cars, held annually each June since 1993.  
Ms. Greene, who always looks to educate people on local history, said she hopes the marker will "add to what makes Southampton, and particularly with this marker what makes the hamlet of Bridgehampton, historically significant." And, she said, perhaps it will be a reminder to "slow down and take in some history."