Lovers of the oceans and the life within them have just a few days left to experience "Science and the Sea," an exhibition of photographs by the marine scientist and explorer Gaelin Rosenwaks at the Montauk Lighthouse Oceans Institute that includes video from an expedition to the Bering Sea that documents the role of seasonal sea ice on the ecosystem, photographs focused on exploration of deep-sea corals in the Gulf of Mexico, and a series on bluefin tuna. 
The exhibition is but a glimpse into the life of an inveterate adventurer, an academic scientist turned storyteller whose career -- which on a given day may see her swimming with blue sharks off Montauk, or hammerheads in the Bahamas, or 45-ton sperm whales off the island of Dominica -- was determined very early in life.
As a toddler, Ms. Rosenwaks, who now lives in Montauk, was among thousands keeping daily vigil at the boat basin at Robert Moses State Park on Fire Island, where a young and ailing sperm whale had been towed after attempting to beach itself at Coney Island and again at Oak Beach on Jones Beach Island. Physty, as the 25,000-pound whale was named, had pneumonia. After 10 suspenseful days, marine biologists had cured the leviathan with penicillin and guided it back to the open ocean. 
"I wasn't even 2," the New York City native said last week, "but my mom would take us to visit him every day. My dad was a professor at Stony Brook at the time, so we lived right in Dix Hills. What do you do with your two toddler children when you're an ocean lover yourself and wanting to see it? It really made a huge impression." Physty (pronounced "feisty," a name derived from the sperm whale's scientific name, Physeter macrocephalus) fascinated Ms. Rosenwaks's family "and so many people on Long Island," she said. "Anybody who saw Physty really was touched by that experience."
Last year, Ms. Rosenwaks was featured in a cover story in Outside magazine, which documented her up-close encounters with sperm whales. That expedition "was completely magical," she said, "and we dove right in. I've now spent many, many days in the water with sperm whales. It's absolutely incredible to be in the water with these animals. But the story really is about where Physty should have been, as a 5-year-old sperm whale." 
As matrilineal animals, with males remaining with the group only until their teens, Physty should have been in the care of his mother and grandmother, said Ms. Rosenwaks, whose own mother, Stacy, often accompanies her on expeditions, including in the water. "Instead, he was taken in by this incredible community of people that rallied around him. And not just the people in the water working on him, but the tens of thousands of people who came to visit."
The largest toothed predator on the planet, the sperm whale has the largest brain. "They're super smart," Ms. Rosenwaks said. In the water, "That's what I always keep in mind. I do feel that any of their actions are intentional toward me. What their motivation is, I couldn't tell you. But I have a weird thing when I get in the ocean: Any anxiety I may have about jumping in with whatever animal it is melts away as soon as I'm in that moment. For better or for worse, I suppose." 
Forty years after Physty's rescue, Ms. Rosenwaks remains enthralled. She has since earned her master's in coastal environmental management from Duke University, become a fellow of the Royal Geographic Society and the Explorers Club, a member of the Society of Women Geographers, and founded the company Global Ocean Exploration to bring "cutting-edge expedition science to the public through photography, writing, and film." 
"Where would Physty be as a 45-year-old, fully mature sperm whale?" she wondered. As a photographer and filmmaker she is now exploring the question in "Finding Physty: A Story About Whales and Family," a film in development. "This is my journey," she says in a teaser for the film, "to reconnect with sperm whales, and to help an entire species."
Because, she added, "Sperm whales were obviously hunted to near-extinction in the whaling days. They are doing better than right whales, but they are not seeing a huge increase in their population. There are sperm whales in the ocean and healthy populations of them, but just like all whales, they don't reproduce quickly. They're facing a lot of dangers."
Gazing at the vast Atlantic Ocean from outside the Oceans Institute last week, she urged a holistic view of the ocean in relation to the wider world, and to ourselves. "We need to stop thinking about it as something that's separate from us. We need to start thinking about everything inclusively, so that when I'm making any sort of choice, I'm thinking about the ocean more as my neighbor, as opposed to something that's completely separate, because it's not. We're sitting here feeling this ocean breeze, breathing in the salt air. It's very much a part of who we are right now, and it's important to remember that."
She defines her work as "trying to understand what scientists are doing to understand problems. What we do know unequivocally is that change is happening." And it's happening precipitously, as seen in warming waters, melting glaciers, and ocean acidification. "We are changing at a very rapid pace, so what can nature do to keep up? Unfortunately, what we're doing as people, regardless of, say, warming, is we're putting all of this additional pressure on our ecosystems to make them less resilient to any natural changes. Unless you've got a very healthy system, any additional stress could be the tipping point."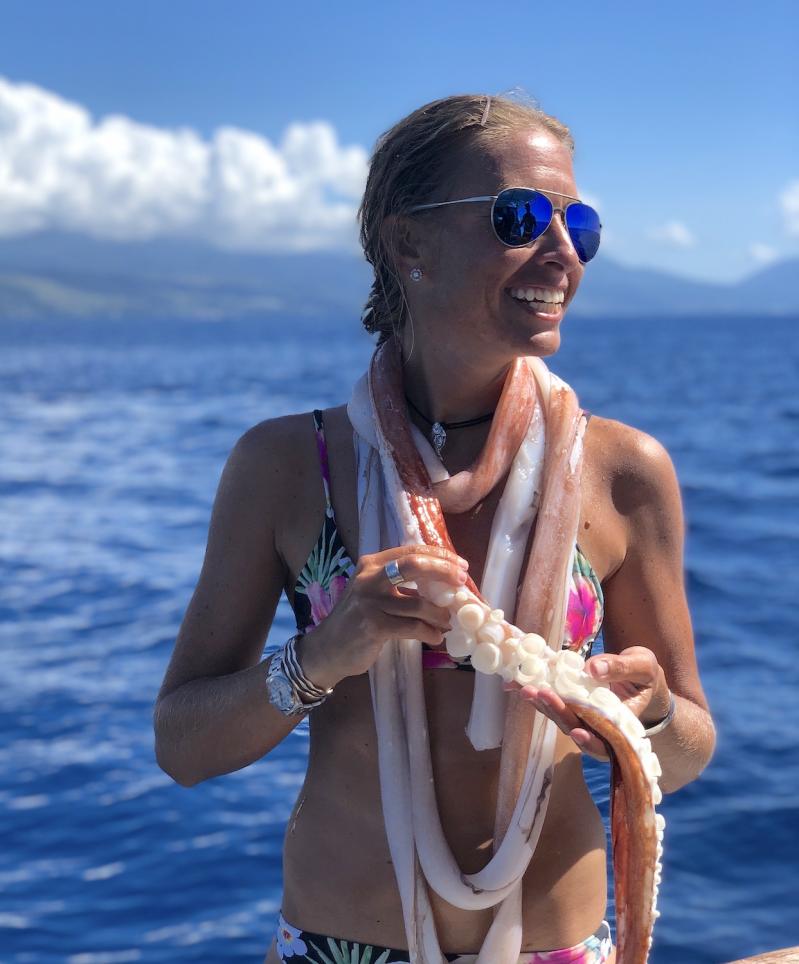 "As humans, 'what can we do' is always the question. Can we stop these massive global-scale things? Hopefully we can slow it down. But we can stop plastic pollution. We can make better choices as individuals and then as societies to impact our oceans and our natural world in general." 
There are examples of positive change, she said, observing the waters churning with baitfish, just a few hundred feet from the Lighthouse. "When we do put even small conservation measures in place, it makes a huge impact." The recovery of the menhaden population "has been instrumental in restoring striped bass, whales, dolphins, bluefish, coastal sharks, predatory fish, seals, and seabirds," according to a 2019 statement that accompanied New York State legislation prohibiting commercial fishing of menhaden, also called bunker, with industrial purse-seine nets, which can encircle an entire school of fish.  
"There aren't these huge commercial catches of them that used to happen, where they would be rendered down for fertilizer and fish oil and all sorts of things," Ms. Rosenwaks said of menhaden. "These fish aren't being purse-seined up by the tens of thousands of tons. Instead, we're seeing this rebound because they were protected, and we're seeing an increase in these baitfish, which is fantastic, and in turn we're seeing everything else." 
Likewise, whales have been protected, with only Japan and Iceland continuing to hunt them. "It's taken decades, but many of the whale populations have come back," Ms. Rosenwaks said. "The right whale has not come back for many different factors, but the humpbacks certainly have, and it's just so wonderful that now, when we go to the beach here in the Hamptons, or even as close to the city as the Rockaways, you can see whales lunge feeding and breaching. As a kid growing up on Long Island, I certainly never thought that would be a possibility."
Ms. Rosenwaks will talk about her work at the Oceans Institute on Tuesday at 6 p.m., the exhibition's last day.