Dustin Reynolds has traversed much of the world alone in his 1983 Bristol 35.5c sailboat and arrived in Montauk for the first time on Friday. To say he has made the journey single-handedly is at once literal and figurative. Mr. Reynolds lost his left arm and his left foot in a 2008 motorcycle accident, caused by a drunken driver, that nearly claimed his life.
"I'll never know if this happening to me is going to be a positive or negative thing," he said this week. "I knew my life was going to change, but that it doesn't have to change for the worse. I think being put on this path was a blessing."
A Sacramento, Calif., native whose home port is Kailua-Kona in Hawaii, he has documented his so-far six-year voyage on his website, thesinglehandedsailor.com. 
A motorcycle enthusiast, he was driving his Honda RC-51, the fastest bike he had ever owned, late on the night of Oct. 18, 2008, when he was hit head-on by a drunken driver who left the scene, returned, denied hitting him, and blew a .28 on a breath test when the police arrived, more than three times the legal limit.
At the time of his accident, Mr. Reynolds had a comfortable life. He had a carpet cleaning business, a commercial fishing boat, and a gig as a bartender. After the accident, that all changed. His medical bills arrived: He owed $440,000 because the guy who hit him did not have adequate insurance. Mr. Reynolds said he descended into bankruptcy and debt and yearned for a simpler way of life.
He happened to stumble on a now-defunct website for the Slocum Society, a community of people who compete for world sailing records. "I realized there was no double-amputee on that list," he said. "I sold the carpet cleaning van and fishing boat for about $12,000 collectively, and bought a $12,000 sailboat." 
The boat was a 35-foot 1968 Alberg sloop that had seen better days. It was called Rudis, a name that recalls the wooden swords used by gladiators who had earned their freedom in ancient times.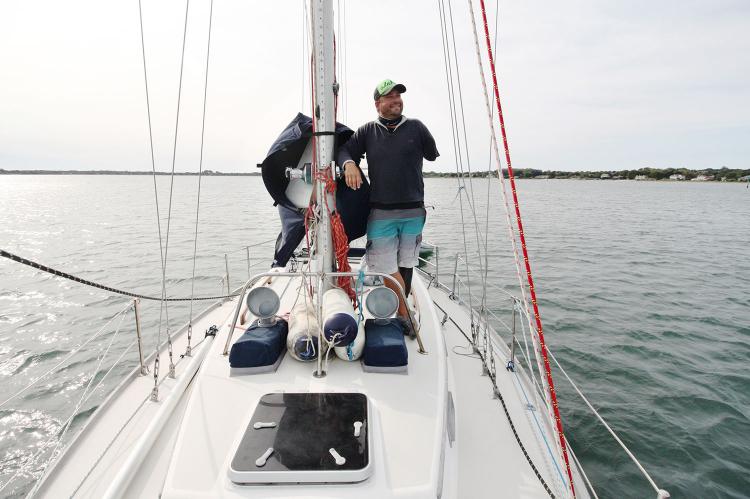 His new boat is called Tiama. "I think it means 'freedom' in Polynesian? I haven't been able to verify that that's true," he said. If it is, it's appropriate.
"There are definitely things that are more difficult" for someone with one arm and one foot, Mr. Reynolds said.
"I think in sailing I've gotten pretty good, especially on my own boat, that I'm really comfortable sailing by myself," he said. "It's different if I go on a new boat or do a yacht delivery. It can be awkward. Everything just takes longer. There are so many things that are not designed to be done with one hand -- even a laundry basket."
Dropping anchor at Montauk's Star Island Marina was a necessity because of Covid-19 -- many of the places he has planned to visit are closed to visitors because of the virus -- but it turned into a fortuitous landing. 
At a dinner party given by gracious hosts in Barnes Landing on Tuesday night, Mr. Reynolds fielded question after question from captive, curious local sailors. 
What's the longest stretch you've ever been at sea?
"Twenty-four days. Twice."
What's the biggest fish you've caught out there?
"A 200-pound tuna" off the coast of Papua New Guinea, which took him three hours to reel in, and which he ultimately "shared with the sharks."
How do you make ends meet?
"My monthly expenses are about $150." And he has a GoFundMe link on his website.
If you hadn't had your accident, would you have gone on this voyage?
"Probably not."
Sam Forelli, an 85-year-old Coast Guard veteran who lives in Springs and Lloyd Harbor, was a guest at dinner on Tuesday. He gauged the extent of Mr. Reynolds's on-the-water skill with questions only true sailors could answer. Mr. Reynolds passed the test.
"As a lifelong sailor, I am really impressed at what Dustin has done, especially with his disability," Mr. Forelli said. "He is a very special guy. He comes from days of iron men and wooden ships."
And Mr. Reynolds's stories! Like all good seamen, he has one for every place he's ever docked. In Sri Lanka, a police officer caught him speeding on a rented scooter.
"In Sri Lanka you can't get a driver's license if you're disabled," Mr. Reynolds recalled. "In Thailand and Indonesia you can kind of run police checkpoints, and if you just avoid eye contact they won't come after you. I ran a police checkpoint in Sri Lanka and he ran me down, and I got this really stern talking-to by the officer. But the fine was only $14 -- the speeding ticket was $7 and eluding the police officer was $7. He was pissed that I was eluding him but he was also a human being and a nice guy who said, 'You shouldn't be doing this!' "
In a cove off the coast of Madagascar, he encountered pirates. Actual pirates. Mr. Reynolds said he pointed a spotlight at them after they began swimming toward him, and he shouted, "I have a gun!" He didn't, but the ruse worked. He spent all night awake, anticipating the pirates' return, and then got stuck in that same spot for two more rotations of the Earth 'round the sun. The pirates never came back.
On Tuesday, a guest told him about a 21-year-old sailor from Arizona who ran afoul of the shore near Shadmoor State Park in Montauk almost exactly a year ago today. The kid had barely started a new life on the South Fork when he decided to skip town after local authorities tried to recover fees for salvaging and towing the sunken boat, which he had bought for $700 on eBay. No one here has heard from him since.
Mr. Reynolds laughed and acknowledged that he himself didn't have much sailing experience when he set off from Hawaii six years ago.
"I learned off of YouTube and books," he said. "Hawaii is actually some really tough sailing. There are wind funnels between mountains. The mountains in Hawaii are huge and the trips between islands are tough. It was really good training."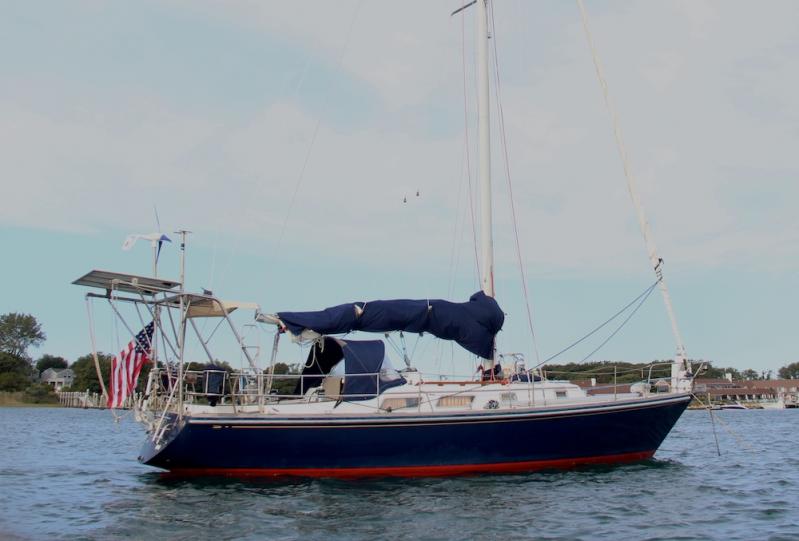 Mr. Reynolds said he plans to sail to Sag Harbor Thursday, then leave for Port Washington, and head from there to Bristol, R.I., home of the Bristol Marina, which is a sponsor of his journey. After that, he has set his sights on North Carolina and eventually the Caribbean, depending on what the Covid-19 circumstances are.
Sailing has been restorative, Mr. Reynolds said.
"I usually enjoy having this reflective time to myself, like anyone who has things going on in their life. Usually after an ocean crossing I'm re-centered. There's no outside influence -- no internet, no TV. You're kind of alone with your thoughts and it's something I've really grown to like."