This article will be mostly about double-crested cormorants, but it starts with the writer fleeing a porta-potty.
The industrial hum of the Hamptons isn't often referenced in real estate ads, but it's real. Outside my window, a portable toilet was being sucked dry on a dirt patch in a construction zone that was once a quiet stand of oak trees. The man operating the pump stared into his phone, and through the open door of his truck, the worst sort of music spilled out.
Yes, the world is on fire. Big problems abound. But I can't do anything about the Gaza Strip, the Republican speaker race, or Travis and Taylor. I couldn't even do anything about the construction next door. I could leave my desk and go look at birds though, and so I did.
Skip to the part (ignoring the drive past the excavator truck, illegally parked, a man riding a massive lawnmower, dozens of yellow pesticide signs, etc.) where I enter the beach at the Elizabeth Morton Wildlife Refuge. Sand, water, yellow beach grass, sky with clouds.
Jessup's Neck, the key feature of the refuge, is a mile-and-a-half-long peninsula that, viewed on Google Maps, looks like a finger (since it's Halloween week let's call it a bony witch's finger) pointing across to Southold. It separates Little Peconic Bay from Noyac Bay. Double-crested cormorants routinely fly over the thin peninsula.
My plan was simple. Walk the neck and let the cormorants pass bay to bay, over my head, and at the tip of the neck, eat fish with them (I had packed a tuna sandwich). Feel something different.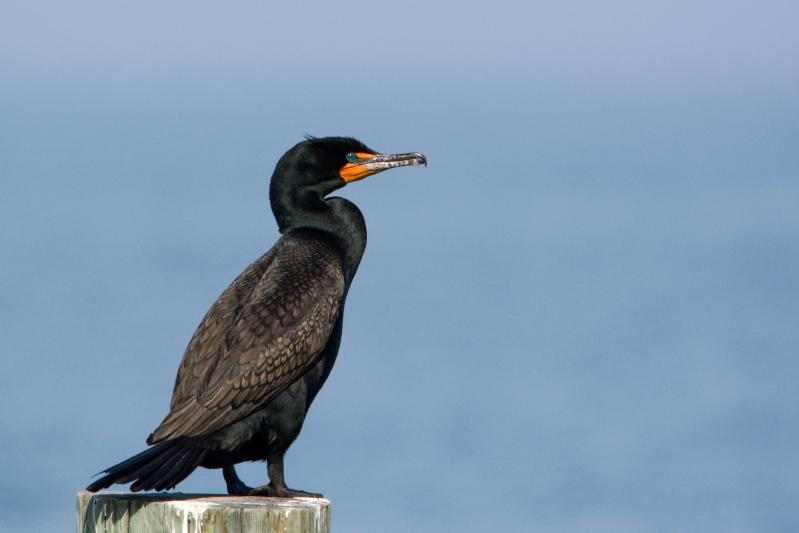 There is something creepy about cormorants. From most distances, they look black, with long thick necks, tails, and wings. In flight, they appear like black crosses, at least if you're in a dark mood. No one would accuse them of being, say, Santa's bird. Let's stick with Halloween. Against a cormorant, fish have no hope. The tip of their orange bill is hook-shaped, a perfect tool to capture over 250 species of fish, according to allaboutbirds.com.
Usually, babies are cute. Not so with double-crested cormorants. "When first hatched the young are naked and look like little, animated, greasy rubber bags," wrote T. Gilbert Pearson in his 1905 book, "Birds of America." Cuddle that.
Sometimes if I'm taking a rare walk, I expect to see a rare bird, but that didn't happen on Jessup's Neck. It was just me and my dumb plodding thoughts. On my left, the water; on my right, cliffs. Bank swallow burrows in the bluffs, raccoon prints in the sand, hunks of horseshoe crabs, billions of scallop shells. Not long ago I took a shortened version of this walk with my eldest daughter who collected flame-colored scallop shells and arranged them in the sand. On a beach with a billion shells, she refused to take any home, afraid she would somehow disrupt the ecological balance. I looked, but her pattern had been washed away.
After an hour's walk, I reached the end. On the spit itself, no recent human tracks, but perhaps the largest deer prints I have ever seen. I sat on a hunk of granite, about the size of car's back seat. A gulp of double-crested cormorants, perhaps five dozen, were tightly packed on what would be the fingernail of the witch's finger, painting it black. In the company of those cormorants, I ate my tuna sandwich. There was no porta-potty here. No blasted leaf blower.
A stiff westerly worked pollen loose from a cluster of groundsel trees behind me. A trail of pollen drifted just over my head and into the bay, suicides. Lapping water, wind. A single distant sailboat. Insects sang a two-noted song: down up-off on-zero one. I relaxed.
The horizon was a dark green band of trees dividing the deep blue bay from a stacked gray quilt of clouds. Farther from the horizon, directly above my head, the sky was clear. I watched as cormorants moved through all zones, some going up, some coming down, landing in the bay to fish. High above me a handful soared.
Soon those single black crosses will join to form sky-wide, shape-shifting patterns as they migrate away. This is my favorite time to see them, when they look like a child's thin line drawing above, a loose V pointing south. Andrew Farnsworth, a senior research analyst in the center for avian population studies at the Cornell Lab of Ornithology, said the primary reason for the formation is "aerodynamic efficiency."
"They do not always fly in perfect V, but you will see them fly that way under certain circumstances to reduce drag and turbulence. Also, you'll see the lead bird switch out sometimes to maintain the most efficient flyer up front — similar logic to planes flying in formation," he wrote in an email.
I finished my sandwich and left, pausing at an opening in the groundsel bushes that looked like a trail. I stepped toward it and the bushes shook with movement. Apparently, I had woken the biggest deer on the South Fork from its midday nap. I backed off and let him have his spot.
Two greater yellowlegs, a type of shorebird, accompanied me for the next half-mile, walking 25 feet ahead where the sand met the water, now on my right. A Mylar balloon stuck high in the wind-blasted bare branch of a cedar tree looked like trash, and it is, but a double-crested cormorant might use one in a nest. Mr. Farnsworth said that cormorants have nesting colonies on Long Island. During nesting season, one might see (I have not) the most surprising feature of the double-crested cormorant, the interior of its mouth, bright blue, opened to attract a mate.
A dozen more cormorants sat atop pound nets, a couple with their wings outstretched to dry in the sun. Cormorants spend more than half the day just resting. They're getting ready to lift up and disappear for a few months. As I stepped back into the woods and was greeted by the growl of another leaf blower, I thought, who can blame them?