Hold on to your sailor hats. Bella Noche, a drag queen who performs as a mermaid, is headlining the first Drag Queen Story Hour at the Children's Museum of the East End on Feb. 15.
"There's a lot of buzz about it, so there's a lot to be excited about," said Bella, whose signature bright blue hair and shimmery mermaid outfit are sure to draw attention. 
Drag Queen Story Hour is just what it sounds like, and it's a nationwide phenomenon intended to promote understanding of diverse gender identities along with a love of reading among children and adults. Bella's reading at CMEE is her first on the South Fork, and is the first official reading backed by the Drag Queen Story Hour organization, which has 40 chapters across the United States
Her story time begins at 10 a.m. and advance registration is required. It is free for museum members and $12 for non-members; registration is at cmee.org. 
The books Bella will read include "Julian Is a Mermaid" by Jessica Love, which communicates messages about self-love, imagination, and individuality. 
Saturday's session will be more like "drag queen activity hour," she explained. In addition to story time, there will be songs, crafts, movement, and an opportunity to ask questions, too.
"The question I get the most is, 'Is that your real hair?' " she said. "A lot of the questions are more about the books. 'Is there going to be another story?' Or, they want to tell me a story. Most of the questions, I think, will be from the parents. 'Is this your full-time job?' 'Have you always worked with kids?' "
When she's not performing, Bella is actually a writer who works in the public relations field under a different name. She moved to Long Island last April from New York City, and her local debut was at AM Nightclub in Southampton last summer.
Drag Queen Story Hour has sometimes drawn controversy. It's not uncommon for protestors to attend the events, particularly in regions where conservative political and religious beliefs are prevalent. On Saturday, in New York's Putnam Valley, dozens of protesters attempted to shut down a Drag Queen Story Hour at a public library, and the local sheriff's department was called in to help keep order. And in the last two years in St. Petersburg, Fla., a nonprofit bookstore and a cafe unexpectedly lost the leases on their buildings shortly after they hosted Drag Queen Story Hour.
About five protesters attended Bella's first story time session last year at the East Meadow Public Library, but they were rather quiet and stood off to the side while she read to the children.
Steve Long, president of CMEE, isn't worried about protesters.
"Look at RuPaul and the Drag Race program on TV. It's a huge ratings success," he said. "We do a lot of different programs. As long as it aligns with our mission to spark imagination and foster learning by providing playful experiences, it seems like such a natural fit. The response and number of registrations we have already indicate that it will be a popular, well-received program."
Museum staff are working out a few logistics, such as where in the museum Bella will read the stories (Mr. Long wants to make sure her fabulous heels don't poke holes in the foam flooring).
"I think it's going to be fun. Kids are going to love the stories, and the arts and crafts are going to be terrific," he said. "It's going to be literally a playful time, and we're all very excited about that."
Bella's story time at CMEE will be somewhat different from another local drag queen storytelling event. A Sag Harbor performer who goes by the name of Naomi has read books and spoken about her own experiences in two different types of events at the John Jermain Memorial Library — one for adults called With My Own Eyes and one for children called Sag Harbor Neighbors Story Time.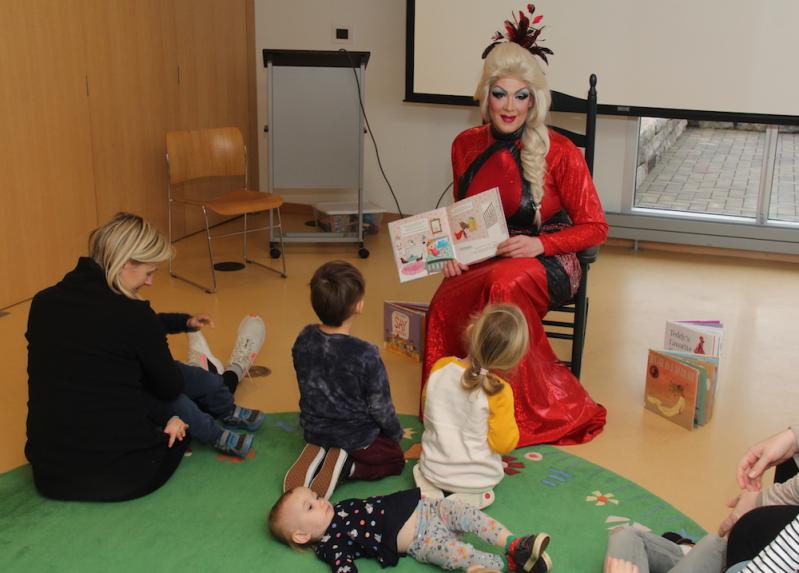 Naomi brought down the house — or rather, library — last weekend with a rendition of the song "Let It Go" from "Frozen."
"It is an opportunity for us to allow the children in the community to experience all of the different stories that are present here. It's a way to share with kids all the different ways of being," said Catherine Creedon, the library director. She noted that the youth event series was the idea of Diana LaMarca, the children's librarian. Next month, Jeff Aubry, a professional basketball player who lives in Sag Harbor, will take a turn reading stories.
In years past, the collection at John Jermain, when Sag Harbor was a factory town with a diverse population, often carried titles in  German, Hebrew, Italian, and Yiddish. "As our community has changed, so too have our offerings," Ms. Creedon said. "Our mandate, our mission, is to provide options for people and a safe place to explore them."