While nowhere near the kind of figures seen in March and April, the daily number of Covid-19 cases in Suffolk County has moved upward over the past 30 days. 
However, the rate of infection with the novel coronavirus on the East End has remained more or less steady, with limited increases in some locations. Shelter Island has lived up to its name, holding at nine Covid-19 cases since June 24.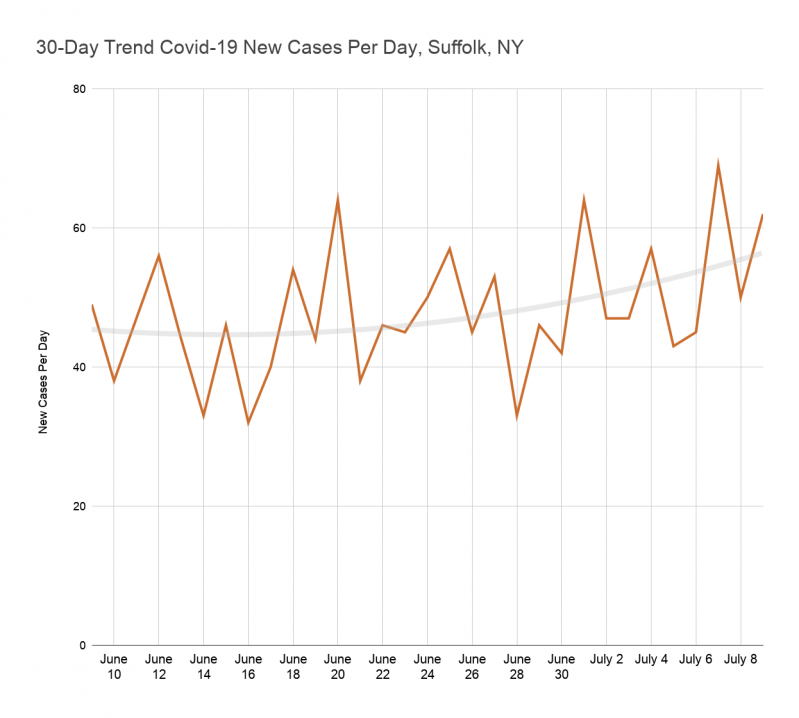 ---
There were 220 East Hampton Town residents with confirmed results, and 1,090 in Southampton Town. In the past week, Montauk ticked up by two cases and East Hampton Village by four. Sag Harbor Village's number remained 18. 
Among some visitors, mask-wearing and social-distancing recommendations were not being universally heeded on Friday evening in Montauk. Families walked from their hotels to dinner in groups. At an ice cream cafe, two women ignored a sign to the effect of "no masks, no service" to order four double espressos over ice to go.
A bachelorette party of more than a dozen women in dresses but no masks in sight and the bride in an identifying sash loudly passed a group of people waiting in a loosely assembled line outside a liquor store. This was just before a sudden downpour sent them scurrying for cover. 
Cases among people whose main residence is elsewhere, no matter where a patient is diagnosed, do not appear in local statistics. So, for example, a Connecticut resident vacationing here and found to have the virus would be listed there and not in Suffolk or one of its communities.
In terms of cases per thousand, an important measure of the severity of an outbreak, the East End lagged well below that of Suffolk as a whole -- 17.5 on the East End and just under 30 countywide. Suffolk's hardest-hit areas were Brentwood, with just over 70 cases per thousand, and Central Islip, which had 66 cases per thousand, according to State Health Department figures reported on Friday.