Sixteen additional Suffolk residents have died from Covid-19, County Executive Steve Bellone said on Wednesday, bringing the total to 69, 25 of whom died in the past 48 hours. Mr. Bellone made an impassioned plea that every resident take the pandemic seriously. 
"That is where we are as we start April," Mr. Bellone said. "We're going to get through this . . . but it is going to get worse before it gets better; it is going to get tougher before it gets better. But here's the thing: You have the power. All of us, we all have the power to . . . make it get better quicker." 
There are now more than 7,600 confirmed positive cases of Covid-19 in Suffolk, Mr. Bellone said, out of 19,600 tested. As of Wednesday morning, just over 5,400 people had been tested at a drive-through test site at Stony Brook University. Mr. Bellone was unable to provide the number of tests conducted at a drive-through testing site in Riverhead, which opened on Monday.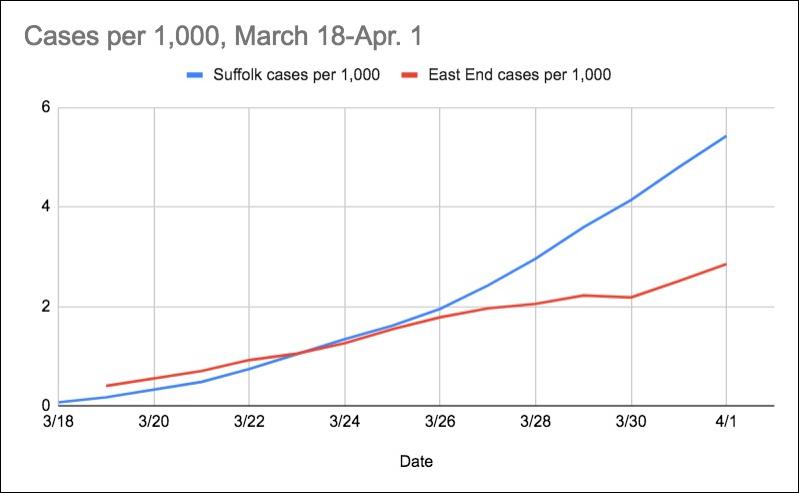 On Wednesday, there were 897 Covid-19 patients in county hospitals, Mr. Bellone said, an increase of 189 since Tuesday. Two hundred and seventy-two were in intensive care unit beds, a jump of 43 from the previous day, he said.
"Of course, hospital capacity is the big issue: The race is on right now to meet the mandate." He said the county is tasked with "basically building an entirely new system in terms of bed capacity, like building a whole new hospital system on top of the one that already exists, and doing that in a matter of weeks." 
There are 2,824 hospital beds, 21 more than there were a day earlier, and 565 of them were available as of Tuesday night. There are 415 intensive care unit beds, an increase of 18 from the day before. Eighty-two were available at the time of Mr. Bellone's remarks. "We've seen more than a 500-bed increase in the last couple of weeks," he said. 
According to numbers release by county officials on Wednesday afternoon, the number of Covid-19 cases in East Hampton Town had increased from 24 the day before to 26.
Southampton had a sharp increase, from 99 on Tuesday to 123 on Wednesday. Other Wednesday figures for East End towns were 142 cases in Southold, 82 in Riverhead, and 1 on Shelter Island.
Mr. Bellone spoke of the importance of messaging in flattening the upward trajectory of Covid-19 infection, particularly in immigrant communities in places including Brentwood, Central Islip, and Huntington Station.
Police and emergency vehicles will visit neighborhoods with high concentrations of immigrants and broadcast messages focusing on "information that can assist in keeping families safe," such as encouraging people to stay home and maintain distance with others when they must go out. Signs will be placed on the larger emergency vehicles, and their lights and sirens will be activated to draw attention to the messages. 
Mr. Bellone also implored residents to complete the national census that is underway, which he said has taken on added importance in the pandemic. "Now more than ever, Long Island . . . is going to need every dollar we can get to recover from this crisis. Census data is used for funding the health care system that is at war with this virus now. It helps fund unemployment insurance, community development block grants, a number of critical things our residents rely on. To the extent we are not counting everyone here, we are not getting our fair share of resources to this region. Every taxpayer has a stake in ensuring we are counting every resident." A failure to do so will mean shortfalls "for the next 10 years. We cannot let that happen, despite the public health crisis we're facing," he said.