Of the many Superstars of 2020, the staff of East Hampton Town's Human Services Department may shine most brightly, albeit quietly. 
The most stark representation of its gallant efforts may have come during the town board's Dec. 15 work session, when Diane Patrizio, the director, showed a series of slides depicting the scale of demand placed on the department's safety-net programs and services throughout the coronavirus pandemic. In March, Human Services served or delivered 1,275 meals to residents over 60. In April, it delivered 5,366, a more than fourfold increase. In October, the number had risen to 6,540. 
At year's end, the department was on track to have provided around 57,300 meals, more than in the prior three years combined. It also makes thousands of wellness calls, coordinates with the Family Service League to provide free mental health counseling, provides virtual activities, and offers a support group via teleconference for those caring for a loved one, all in the service of keeping the town's senior citizens safe, nourished, and healthy. 
The herculean effort is a multifaceted one, requiring budget management, grant writing, purchase orders, and case management along with meal preparation and delivery. Through it all, staff must look after their own health, and one another's.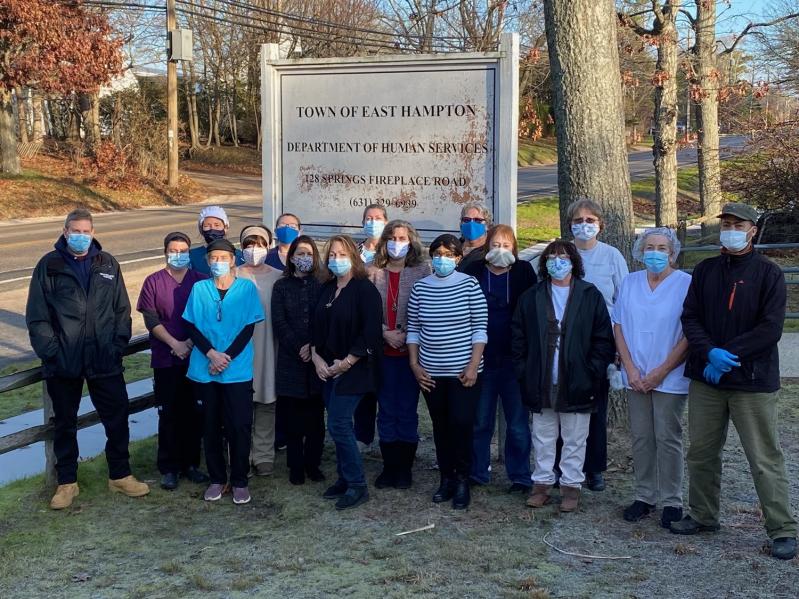 Carol Bennett, Kathy Bennett, Mattie Cherry, Rhonda Daniels, Karin Gosman, Dee Hallock, Terry Harris, Agnes John, Debra Kulp, Isaac Lopez, Holly Miller, Cheryl Moreland, Deborah Morici, Lisa Moscato, Nicole O'Donnell, Michelle Posillico, Sanford Posnick, Liliana Rodriguez, Celina Sizse, Susan Trotman, Stanley Wiencko, Corinne Wizelius, and Alice Zobian comprise "an incredible staff" of "dedicated, caring public servants," Ms. Patrizio told the board this month. 
"It's been an extraordinary effort on the part of the entire Human Services team," Councilwoman Kathee Burke-Gonzalez agreed. 
"You and your staff have gone above and beyond and shown such love and caring for members of our community," Supervisor Peter Van Scoyoc told Ms. Patrizio. "It means so much to them; it means a great deal to us as well."