When I'm asked why I run so much, I usually say, only half-jokingly, "So that I can eat whatever I want."
I am a runner. I just happen to go ultra-distances. Long races, hundreds of miles, sometimes over days. The other answers to that question are more serious: I run to stay fit and, more recently, to stay sane during insane times.
But running has also proved to be an excellent way to experience less traveled places and oftentimes, create unpredictable, magical memories.
A recent trip to Dublin, Ireland, produced one such indelible moment. My wife, Monica, and I were there in December and the weather was unsurprisingly overcast, in the 40s at night and about 10 degrees warmer during the day. Pubs drive the culture in Dublin. You can't make it down any street without finding one public house across the corner from another. One might offer Guinness, the other Beamish or Murphy's, and locals show their allegiance to one and typically not the other.
Over the course of a few days, Monica and I hit several pubs as well as some solid farm-to-table restaurants, like L. Mulligan, where I had the most delicious fish and chips. We had breakfast at Hubbard Brothers -- wonderful huevos rancheros -- and even did a tour of the Guinness Brewery, complete with a quick pint at the bar upstairs, offering great views and the freshest Guinness.
On our last evening, we stopped at Lincoln's Inn, an original Victorian pub. I opened with a pint of Guinness as the waiter put freshly baked soda bread and butter on our table that didn't last long. I then ordered a garden salad and a traditional Irish stew, while Monica had a chicken pot pie. We drank a bottle of cabernet sauvignon. It was a very enjoyable dinner, fresh, delicious, nothing fancy, very reasonable. We felt satisfied as we walked back to our hotel a few blocks away, where I ended the day with a Woodford Reserve double and Monica with some Prosecco.
It was only 9 p.m. and I still had tons of energy. After finishing my bourbon I threw on my running shorts, shoes, a long sleeved shirt, and a windbreaker, and headed out for a run. It was a drizzly, chilly night.
I know what you're thinking: After all that food, wine, and bourbon, how can you run? Well, you just need to start moving at a slow pace, allowing your surroundings to energize you -- the chilly air, a fine mist, the raucous noise emanating from the pubs, couples walking hand in hand and smiling and chatting -- until you feel lighter and your body reacts to the stress and somehow speeds up the digestion so you no longer feel bloated. And the next you know, you're running.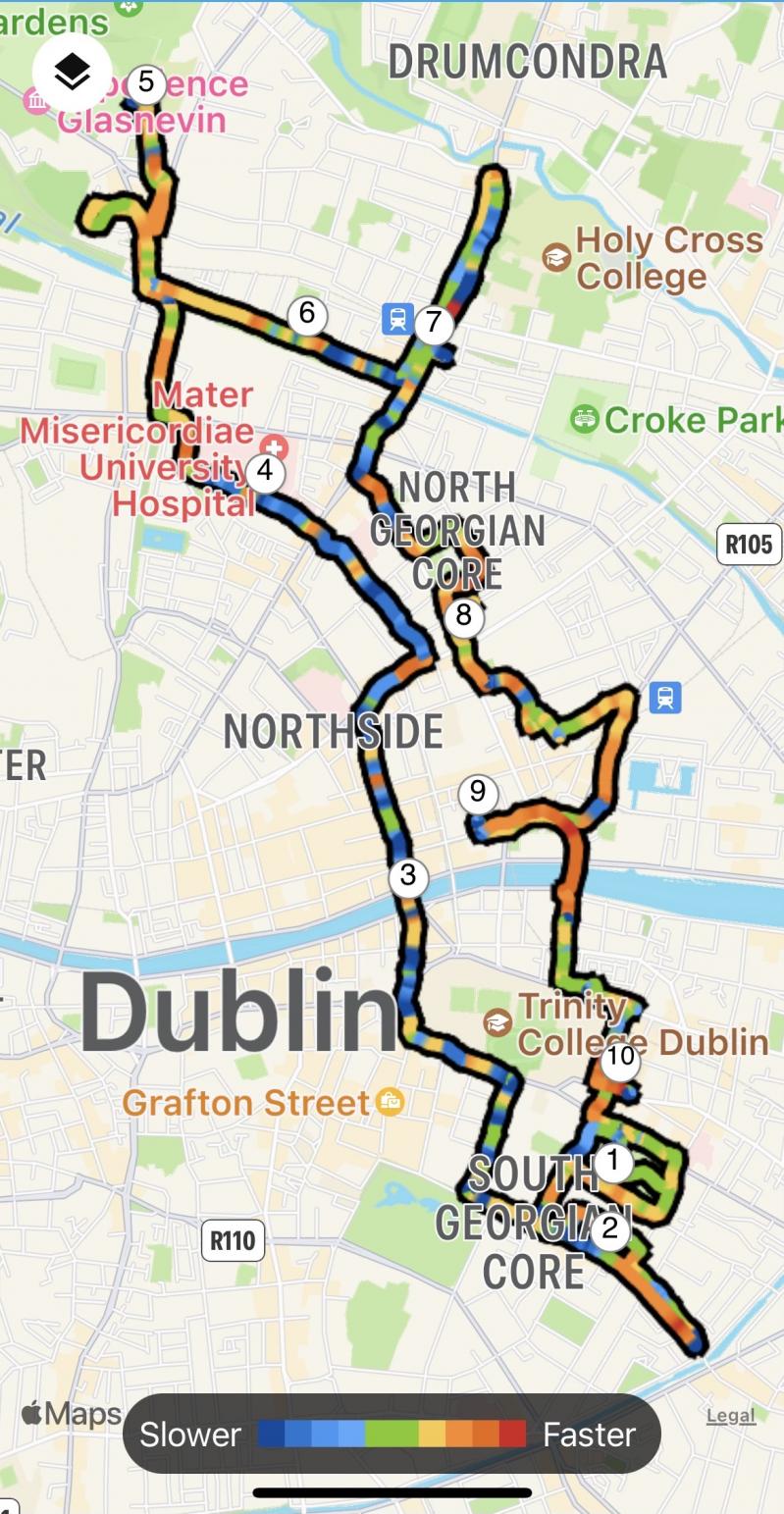 I was headed towards Glasnevin Cemetery, a Victorian garden cemetery that covers 124 acres and contains the largest collection of Celtic crosses in the world. I programmed the destination into my iPhone, put in my earbuds to listen to a podcast, and started out. Within a few blocks I came to Stephen's Green, where a huge Christmas light show had been set up. Admission was by ticket only, but as they were just about to close up for the day, the groundskeepers allowed me to run through this magical wonderland. Later, I read that this Christmas light show comprises more than one million LED light bulbs -- that's 2.5 miles of lights -- that are spread out over 30 streets. Apparently, it takes an army of people six weeks to erect the full show, which remains switched-on for 1,000 hours before being dismantled in January. It was magnificent.
I finally arrived at the graveyard only to find a locked gate with a sign saying "open dawn to dusk." Too bad. Well, right next door was the famous Gravediggers Pub, so I decided to stop in there instead.
A group of locals eyed me, not menacingly, simply inquisitively. There was a grizzled-looking man with kind eyes, who looked to be in his 60s. Next to him, a couple in their 40s, and two other men standing against the wall of the pub. All of them were comfortable in the chill air, holding pints in one hand and cigarettes in the other.
"What are you doing out in a pair of shorts in this weather?" the older man asked, in a lilting Irish accent.
I explained that I ran five miles from the center of town wanting to see the graveyard.
"Why?" another asked incredulously.
I tried to explain. Traveling is all about looking for experiences, right? And if one night you overeat and drink, feel restless, and squabble with your partner, then why not just get out and do something fun? It's not that I'm obsessed with running, only with creating memorable experiences, and for me, running is the vehicle.
They got interested and wanted to know more. So, one of them bought me a pint. They told me about Ireland and how the area has changed over the years. We exchanged Covid news and they asked about various details in the United States. They wanted to know if I ran a lot and I told them that I ran across the U.S. in 2021, with my dog Lucky, which took us four months. That spurred many more questions, and lots more laughter, on that cold, drizzly night, until closing time, around 11:30.
With a small buzz courtesy of the Guinness, I ran the five miles back to the hotel, showered, and crawled into bed. The sheets felt fresher, the quiet of the room was an almost magical sound, and I could feel my heart beating slowly. Sometime around 1 a.m., I fell asleep.