We may all be grounded at the moment, but that doesn't stop our minds from wandering. Here are the places our regular travel section contributors say they can't wait to revisit, or discover, when life returns to normal. Enjoy these armchair adventures and stay safe at home, as we are.
Paros, Greece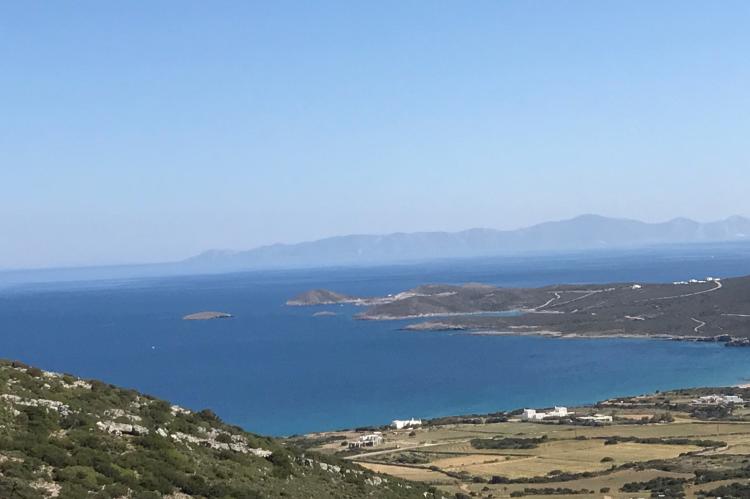 By Judy D'Mello
I was to go to Greece in June. To Paros, an island in the heart of the Cyclades group, a few hours away from Athens by ferry, and one that I've never visited. It's been decades since I holidayed in this Aegean dreamscape, when I went island hopping from Mykonos to Santorini, and to remote Anafi. That was long before they became clubbing hot spots. Ironic, really, because those were my clubbing days.
But now, I'm all about tranquillity and slow travel. And if there's one thing that weeks of isolation have taught me, it is to never again travel in a hurry. Go slowly and with curiosity. The entire world will be healing itself soon so let's really slow down and savor that sensation. Who knows when we'll be traveling again, but until then, this dreamed-up version of unspoiled island life on Paros plays on a loop in my mind -- my one shiny needle in the corona haystack.
I'll be staying in a stone-floored villa, of course, with olive trees in the back and a brick patio out front, whence I can gaze out to other islands on the horizon and bobbing boats in the water. A walk down the steep streets, strewn with bougainvillea petals, leads to a nearby village with a tongue-twisty name. It's mostly car free, with a couple of blue-domed chapels and a cafe where paunchy men smoke cigarettes and play backgammon, while a no-nonsense matriarch nags them to vacate the tables so that tourists can sit instead. A series of whitewashed houses -- in various stages of ruin and restoration -- tumble down to the azure sea. This being the land of Aphrodite, the evening air is naturally tinged with the scent of cypress, rose, jasmine, and honeysuckle. Stray cats seem to outnumber the locals, who are seated outside their homes drinking ouzo.
As I wind my way down to the picturesque fishing harbor, the lumbering clip-clop of donkey hooves on the cobblestone streets and its master's cluck-clucking are very much part of the soundtrack. So, too, an occasional goatherd's whistle in the distance.
Down at the harbor, there's a taverna, with octopus hanging to dry outside. It's a family-run joint, where the proprietress is unapologetically grumpy. From your table you can toss your olive pits and fish bones directly into the sea. More cats are slinking around everywhere. Definitely kittens, too. The menu at this taverna, or any other one for that matter, offers tzatziki, taramasalata, dolmades, moussaka, souvlaki, keftedes, stifado, Greek salad, calamari, and a spinach and feta phyllo pie. There's nothing nouvelle or "Mediterranean inspired" about the food. Perhaps not even inspired, but the Cretan oil used liberally is exemplary. The only wine available is local and worryingly cheap.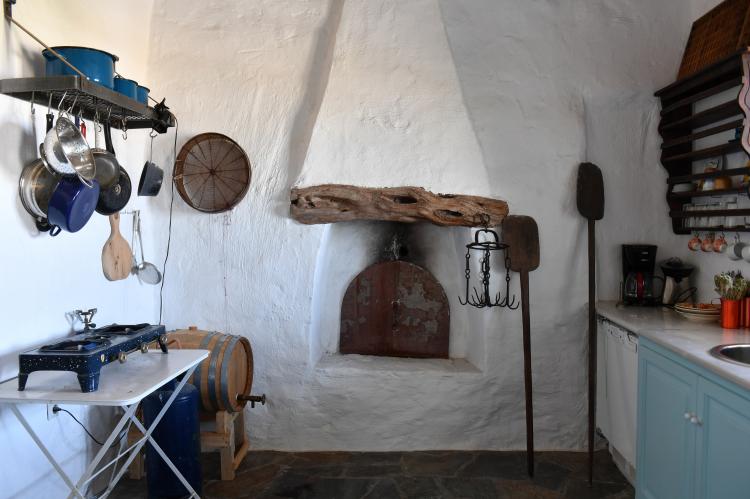 I generally dislike going to museums when on vacation -- they're too full of tourists and selfie-takers. So, if there are museums on Paros, I'll bypass them and opt instead for a stroll through the many beautiful, crumbling monasteries found on the islands, and where a black-robed monk will undoubtedly douse me in holy water in exchange for my small donation.
And then there are the beaches. Long, with icing sugar sand, backed by pine-covered green hills, or pebbly and mostly unvisited, but always lapped by unfathomably turquoise waters. After an afternoon of lounging here, the walk back up will only stoke the appetite for dinner.
Fantasizing about Paros will sustain me through the coming weeks and months of enforced nontravel. But when I do make it there -- and I will -- I'll write and let you know if the reality lived up to my dreams.
Judy D'Mello is the editor of The Star's travel section.
Death Valley, California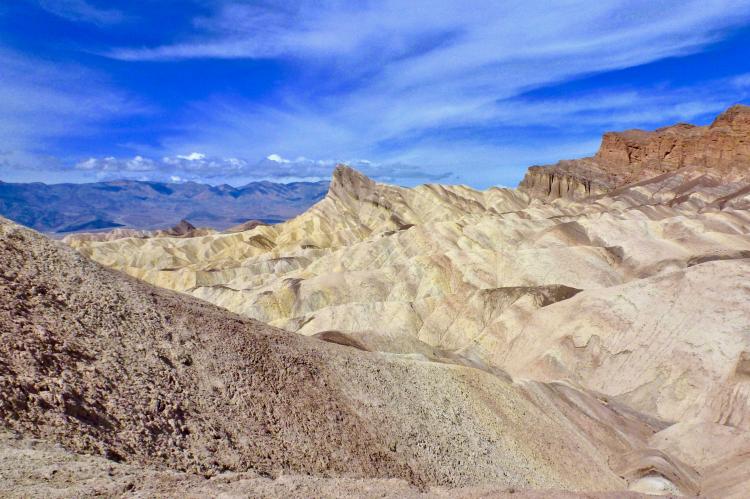 By David Gibbons
Sitting here entering the third of what will be at least six weeks of "sheltering in place," like many people who love to travel, I've spent a good deal of my extra free time catching up on editing photos from past trips while intermittently dreaming of future ones.
A weekend visit to the Abhayagiri Monastery in Northern California, a three-hour drive from our winter home in San Francisco, where the monks maintain the ancient traditions of Thai forest Buddhism, scheduled for this March, had to be postponed for another year. Also near the top of our list was a trip to see the desert bloom in Death Valley.
The centerpiece of America's largest national park outside of Alaska, Death Valley is the hottest and one of the driest places on Earth; in July and August, temperatures hit an average daily high of 115° Fahrenheit. The time to visit is spring, not only to avoid such scorching, and potentially dangerous, heat but also perhaps, if one is lucky, to catch one of those explosions of wildflowers they call a superbloom.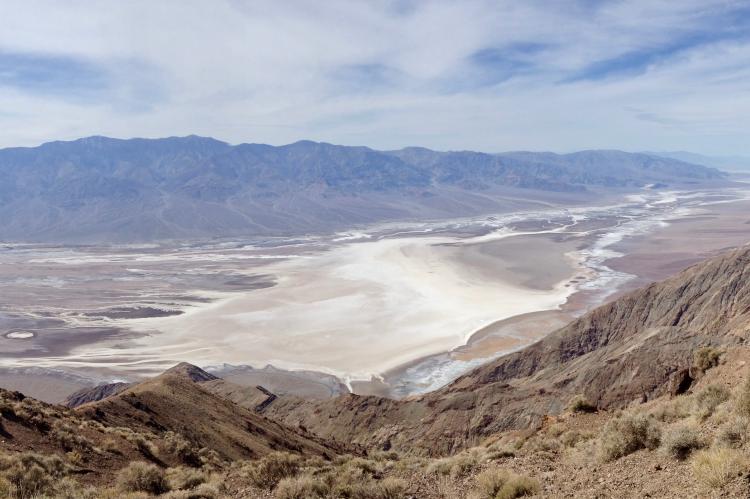 Given the right fall and winter conditions, including just enough steady, soaking rain and not too much harsh wind, the seeds that lie dormant on the valley floor start to burst into flowers in mid-February, blanketing barren lunar landscapes in waves of gold, pink, purple, and red. Climbing up the foothills and into the surrounding mountains, the blooms can continue into May and June. In 2016, there was a superbloom, which happens about once a decade; this year, there was a bloom but it wasn't exceptional.
Death Valley National Park's Furnace Creek Visitor Center is a 120-mile drive from McCarran International Airport in Las Vegas and 270 miles from LAX, the two closest major hubs. Skirting the California-Nevada border, the park is roughly 150 miles long from its southeast to northwest corners and about 50 miles wide.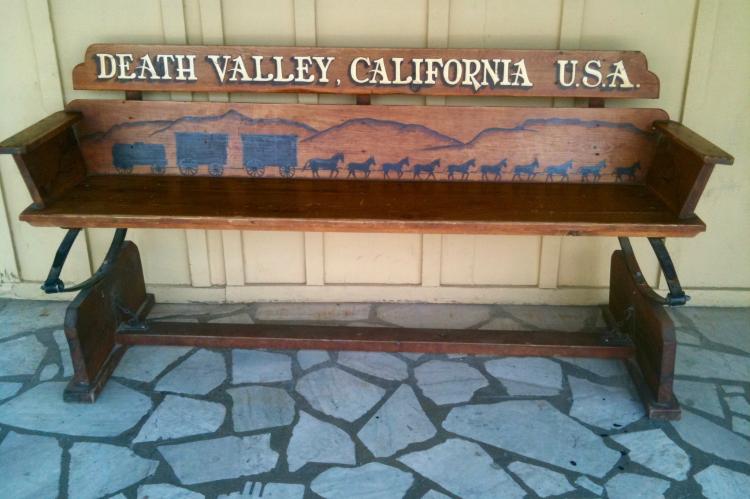 Among Death Valley's must-see sites are Badwater Basin, 15 miles south of the visitor center, a surreal salt flat that's 282 feet below sea level, the lowest point in North America; others include Artist's Drive, Dante's View, Mesquite Flat Sand Dunes, Ubehebe Crater, and Zabriskie Point. For more adventurous drivers in high-clearance vehicles with off-road tires, there's The Racetrack, a remote dry lakebed with mysteriously moving rocks.
The park has nearly 800 miles of roads, paved and unpaved, as well as many excellent hiking and biking options, both on and off the beaten paths. And I've been told that nighttime stargazing, particularly during a new moon, is superb. 
So, while we stay home and pray for a coronavirus vaccine, now's the time to book for 2021 and hope for another superbloom. 
David Gibbons is a former sportswriter and book publishing executive who has coauthored six books on food and writes the cheese column for Wine Spectator. He lives in Springs and travels as much as possible. Among his hobbies are skiing, cycling, and photography.
Portugal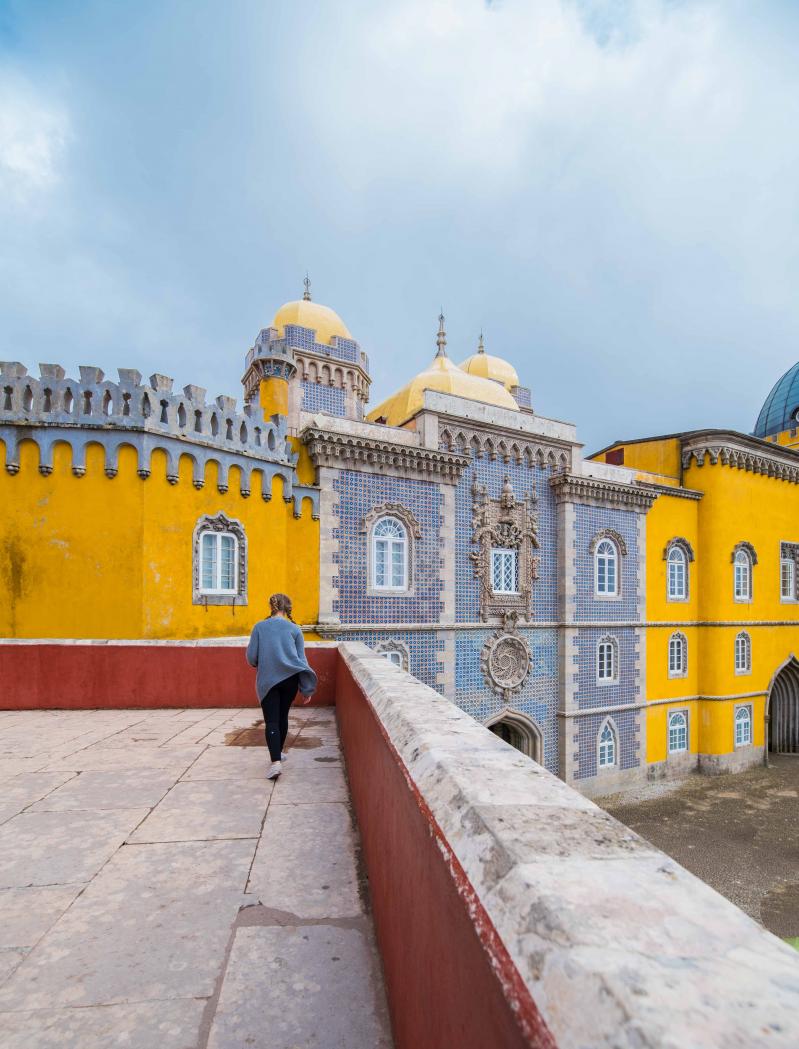 By Sutton Lynch
Ever since my last trip to Portugal, two years ago, I've been longing to go back. Although the pandemic has halted travel and I've been cooped up in my home, life will ultimately resume. And when it does, Portugal is where I want to go. Historical castles and churches scatter the country, idly placed on cliffs and isles. Our days were spent traversing the coastline, stopping in every little village, town, or "bourg" we encountered. After our third lunch of the day, we'd pass our time meandering through the winding streets, admiring the quintessential towns and villages perched above beautiful beaches, following the cobblestone paths down to the water's edge. Often we'd get lost, ending up in a cafe or restaurant eating something unfamiliar or drinking something new and refreshing. The cork forests and vineyards were beautiful, but even more alluring were the renowned surf breaks. Blue waters and empty waves behind every headland and jetty. 
There is no doubt I'll return, it's all just a matter of time.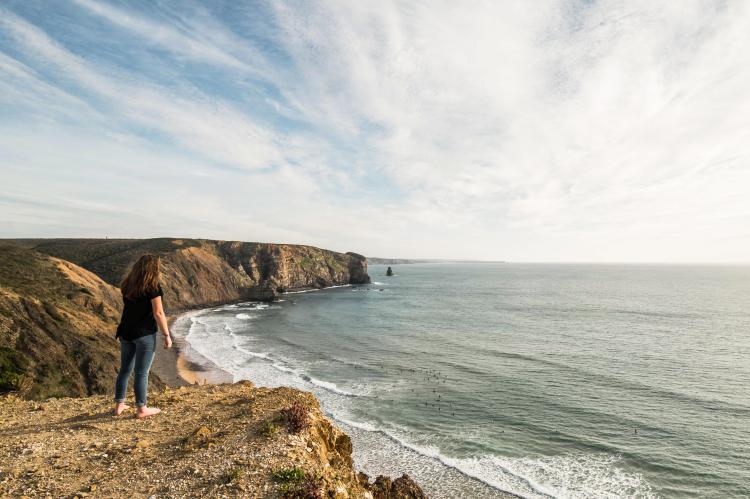 Sutton Lynch attends Colorado College where he is studying environmental photography. 
Swedish Lapland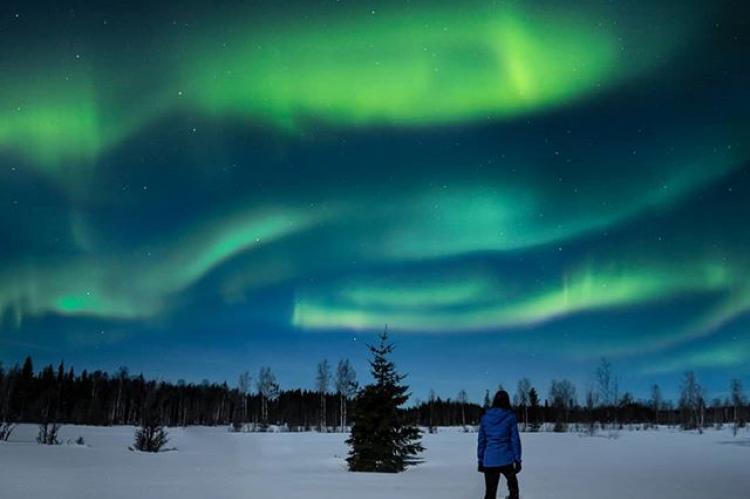 By Patricia Garcia-Gomez
Is it okay to dream to right now? I say yes. Dreaming is curiosity in forward motion. And when we all do it together, it changes everything. I'll start . . . 
My fantasy right now is the Treehotel in Swedish Lapland. However, the fantasy gets really specific when I look at these beautiful tree rooms perched way up (between 12 and 30 feet high), with views of the Lule River valley, miles of virgin pine forest, and the powerful river. I want to be in a sauna suspended in the high pines and breathe the air of the virgin forest, in the company of my dearest friends. 
Here, you will be immersed not only in nature, but the best of nature-luxe Swedish design. Every aspect of the experience is about creating a minimal footprint and a responsibly decadent stimulation of the senses. I would happily stay in any of the uniquely designed treehouses on offer but looking through the hotel's website -- my dream source -- I've selected these two as my top choices (in addition to the sauna):
The 7th room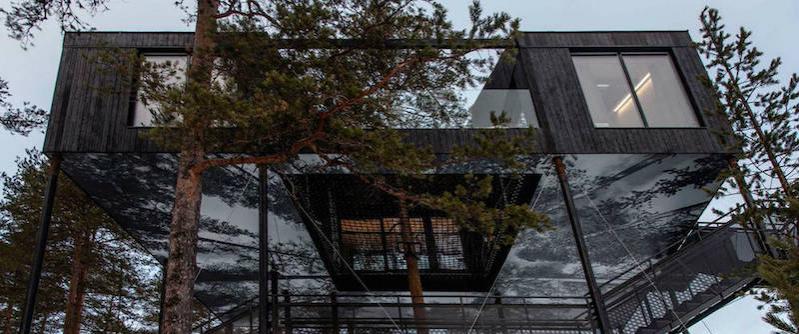 "As you near the seventh room from below and look up at the sky, the entire underside of the building is covered by a life-size photograph of the treetops as they looked before the room was put in place."
The Cabin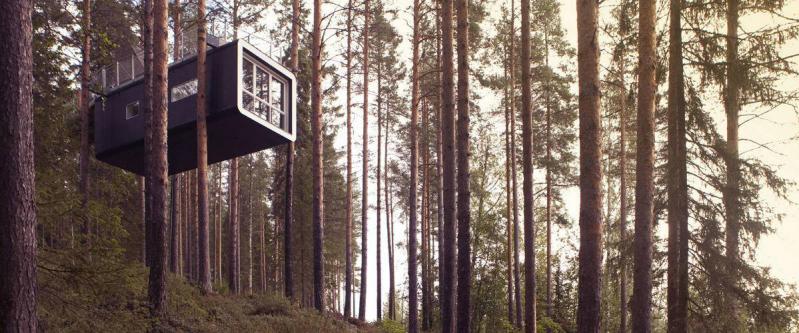 "The Cabin is one of our most romantic rooms. This double room is shaped like a capsule, on view amongst the trees as you walk up the trail from our main building. Its location has been chosen so as to create a platform at the top of a steep slope overlooking the Lule River valley."
The Treehotel is located near the village of Harads (population of only 600), in the Arctic region of Sweden's native Sámi people. This ancient indigenous group, and the way they live, are integral to your experience, not separate from it. You can go on reindeer safaris, dog sled, fish in the icy waters, hunt for the Northern lights, and dance with the Aurora Borealis. You can celebrate this wonderful world with a feast of Swedish delicacies, such as wild game, fresh home-baked bread, hand-picked berries from a secret location. 
Wildly nourished. Together. Let the dream begin.
Patricia Garcia-Gomez is a Mexican-American writer and artist working with visual media and sound. Originally from Brownsville, Tex., she now lives in New York. She is the founding editor of Travel by Ageist and a contributor to the Discovery Channel, Travel Channel, Tricycle, and The Private Journal in Europe. Her work is also part of the permanent archives of the Tate Modern, the Museum of Arts & Design in New York, the Buhl Collection, and The Harwood Museum in New Mexico.
Barbados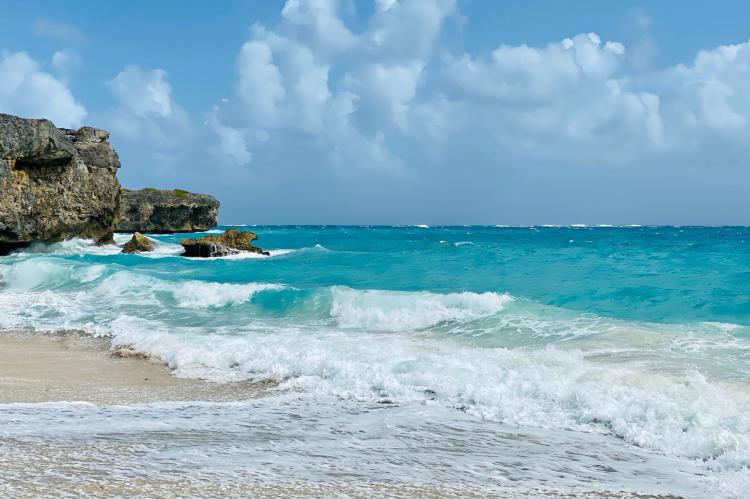 By Tabitha McQuade
If I could turn back the calendar to early January, before we all became intimately familiar with the word coronavirus, I would happily return to the carefree island of Barbados.  
 
Gateway to the West Indies and known for its many beautiful public beaches, Barbados offers more than just fun in the sun -- especially when you head inland. Because of its climate, Barbados is bursting with flora and fauna. I visited several botanical gardens that would astound any horticulturalist. A walk through a tropical forest gets you up close and personal with the native green monkeys, or, depending on the season, you might even spot four different species of nesting turtles along the coastline.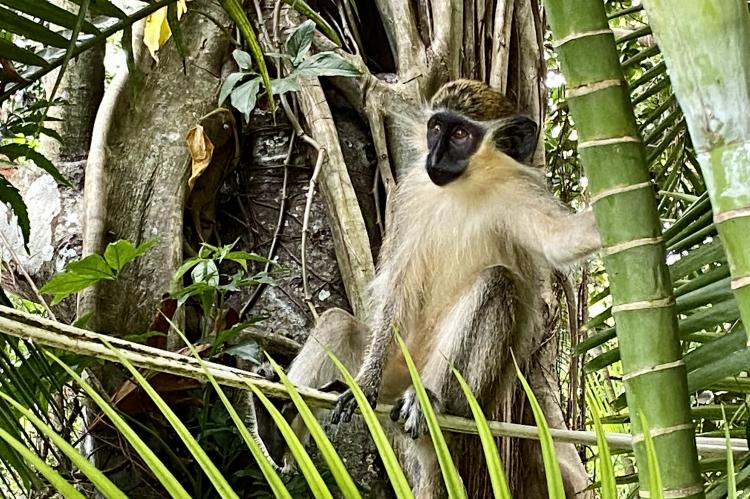 Bajans like to boast that Barbados is the birthplace of rum, and it's certainly been a part of the island's history for more than 300 years. Naturally, I sampled some small-batch craft rum at various distilleries but also loved hitting up an off-the-beaten-path rum shack for a drink with the locals. A good base to soak up that rum: a giant piece of macaroni pie, the traditional dish of Barbados, which is served everywhere. Another staple is the cutter, a fish sandwich served with or without cheese. 
 
There are a few meticulously restored sugar plantations around the island, a reminder of the country's brutal history of colonialism and slavery, which also serve as excellent museums that are educational and informative.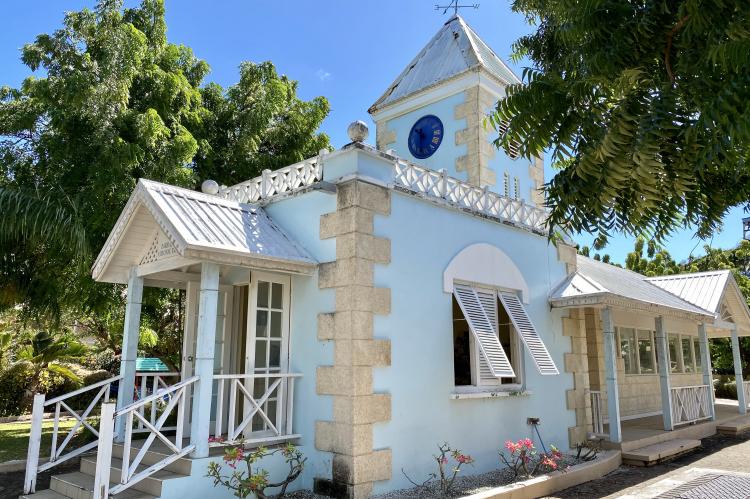 But which is the one memory of this idyllic island that I find myself dreaming about the most these days? A sunset cruise on a catamaran while sipping on a rum punch.  
 
Oh yes please, take me back to Barbados!
 
Tabitha McQuade of TabiTravels is a passionate explorer and photographer who enjoys sharing her adventures and connecting with Instagrammers from around the world. Based on the North Fork, Tabitha is also a food and wine enthusiast. 
Lake Como, Italy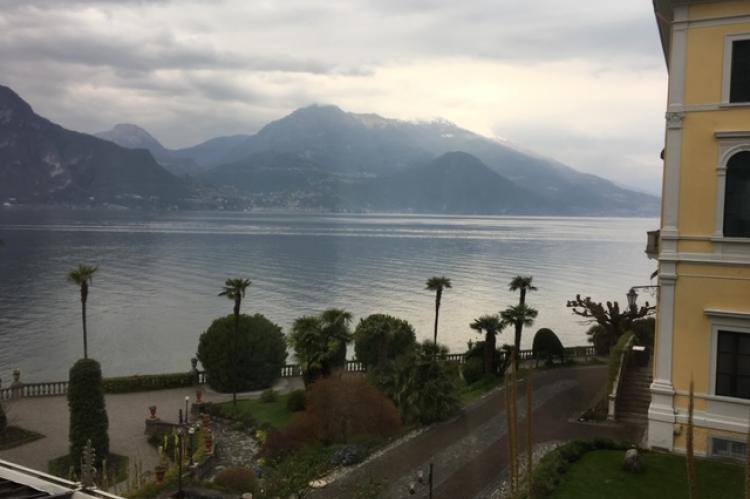 By Barbara Barrielle
One of the casualties of this pandemic was a dream cruise through Burgundy with stops at famous chateaus. I'm sure I'll get there in the near future but right now Italy is on my mind. (Oh Italy, how we love you and feel for your people!)
Quarantined in Northern California, I've used my downtime to restore a 1967 Airstream, bake like a madwoman, and learn Italian. As I hop around the kitchen cutting butter and measuring flour, I repeat after my online teacher: "Io capisco un po Italiano," or, I understand a little Italian. I'm determined to speak Italian and return to Lago di Como, or Lake Como, when I am finally able to travel. 
A couple of years ago I spent a magical three days at the Grand Hotel Villa Serbelloni in the quaint lakeside town of Bellagio. The quiet elegance of the resort has stayed with me. I went to Bellagio as a solo traveler and yet it was one of the most romantic resorts I had ever experienced. Tragic. But I walked and traversed the town, indulged in local restaurants, and had a memorable meal at the Michelin-starred Mistral Restaurant where I was treated to seven decadent courses served with flair found only in Italy.
The Grand Hotel Villa Serbelloni has been in business for over 150 years. Open from April through November, it's a bastion of elegance, standing regal on the shores of Lake Como. Rooms are huge and beds comfortable with the finest linens, while service is complete yet never intrusive. The hotel has been a respite for celebrities, politicians, and public figures, as well as those needing the kind of peace that a balcony perched over a lake with boats puttering from port to port can offer.
Lake Como can be accessed by car but, once there, the ferry is your best bet. Small towns dotted around the lake include Menaggio, Varenna, Dongo, Gravedona, Cernobbio, Mandello del Lario, Lecco, and the anchor town of Como. Boats regularly take a series of routes between these destinations and the views alone are spectacular. What an indulgence to have lunch in one village, dinner in another, with shopping in Como in between! 
Quarantine has meant I have not seen my longtime boyfriend -- the one who introduced me to the Hamptons, where his family has a home -- because we live in two California cities seven hours apart. I would love to return to the elegant and romantic Grand Hotel Villa Serbelloni with him and show him the magic of this stately property and the lake she sits on. He claims to speak a little Italian but it won't be necessary. I'll be fluent before long.
Barbara Barrielle is a regular contributor to the East Hampton Star Travel section. She is also is a longtime publicist who loves to travel, explore wines and local cuisine, and write about her adventures, which have been chronicled in newspapers and magazines across the U.S.
 
Soneva Fushi, The Maldives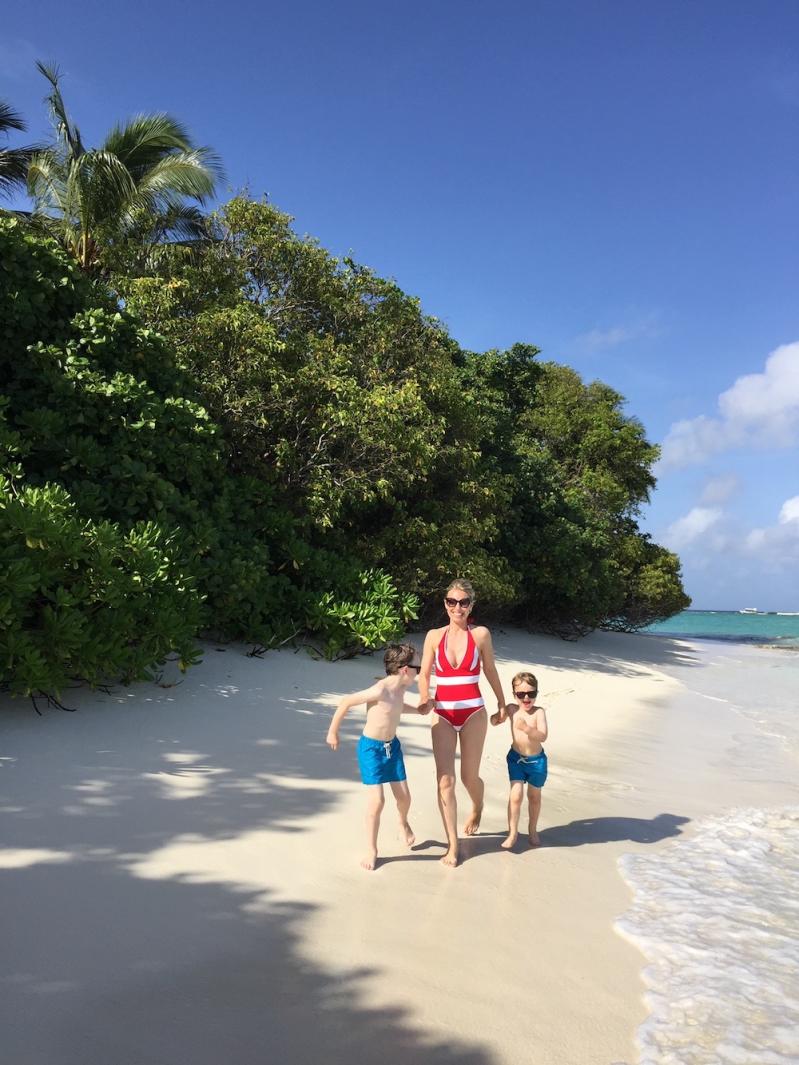 By Mia Ljungberg Nevado
Writing this helps me dream myself back to Soneva Fushi, a hideaway paradise in the middle of the deep, blue Indian Ocean, and a place with no news -- a true luxury right now.
This island resort is one of over a thousand green and turquoise gems that make up the Maldivian archipelago, about 500 miles east of Sri Lanka. Arrival is by seaplane or speedboat and the resort's motto -- "No shoes, no news" -- takes effect upon landing as footwear is whisked off your feet, stored in a bag, and returned when you depart. Each guest gets a bicycle, with cushioned pedals for your bare feet, and a wooden license plate with your initials -- if you're a returning guest as most are. There are 57 uniquely designed villas, some with private pools, and all located directly on the beach with either sunrise or sunset views. Inside your villa is the only place you'll find Wi-Fi service. All public areas remain blissfully free of digital distractions.
With several organic gardens and dining options, the emphasis is on healthy, tasty, colorful, and hyperlocal food. Out of the Blue, connected to the island via a long wooden walkway, is my favorite for a sunset dinner. Sitting on stilts over the water, there are sun beds, a library, and even a slide to deposit you directly into the turquoise ocean. There's also Once Upon a Table, where highly acclaimed visiting chefs cook once-in-a-lifetime meals. During our last stay here, the three Michelin-star chef Kenji Gyoten wowed us with an artfully prepared Japanese dinner. Another favorite is Fresh in the Garden, an open air restaurant high above a vegetable garden that's a perfect perch for cocktails or a glass of wine while the kids learn about the stars and planets at the observatory next door.
My kids, 7 and 9, think of this place as one big playground to explore and enjoy. My older son learned to bike here while his younger brother's birthday wish came true on the island: to see dolphins in the open water.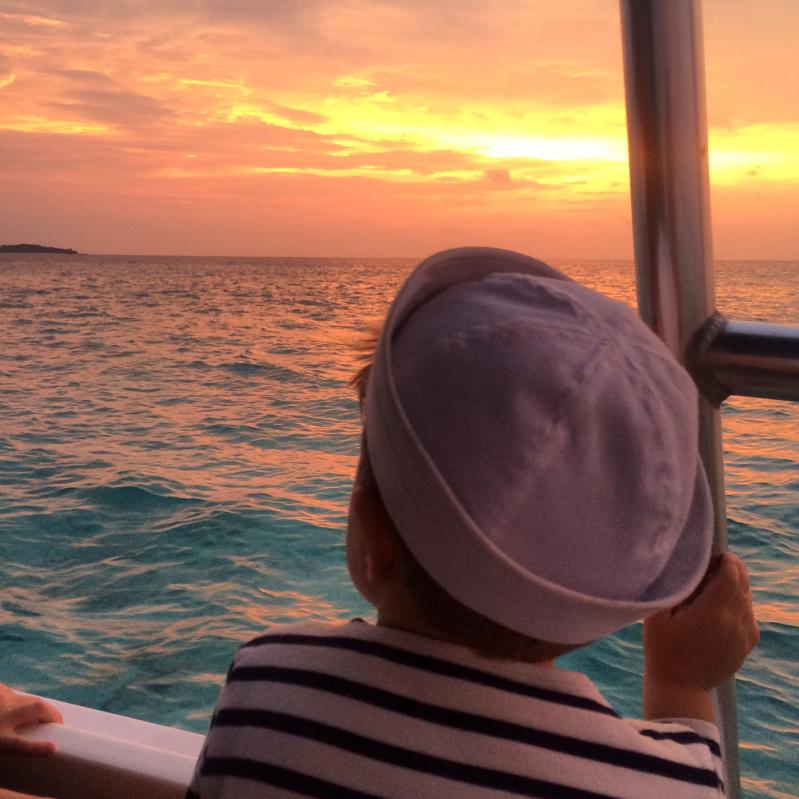 Soneva Fushi strives to be the role model of a fully sustainable resort. Entirely plastic-free and adopting a strict recycling program, it has its own water filtration system that supplies the hotel with purified water and nearby islands as well. The resort's founders, Eva Malmström and Sonu Shivdasani, live on the island and have succeeded in creating an experience so unique it stays with you long after you leave.
Somehow the "No shoes, no news" philosophy seems more relevant than ever today. How I long to disconnect from the news for a while and detox from my devices, and to reconnect instead with nature and humanity.
Mia Ljungberg Nevado is the luxury editor of Family Traveller U.S. She lives between Stockholm and Sagaponack with her family and her specialty is luxurious travel with children.
Tandil, Argentina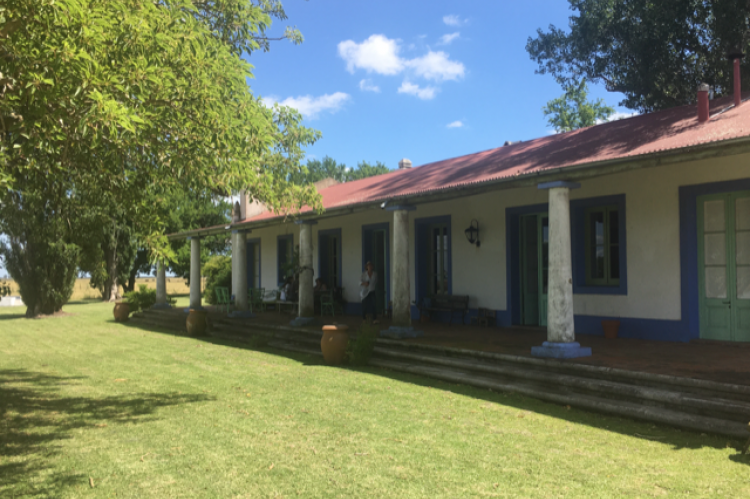 By Luke Burke
As soon as I am able to travel again -- free from the shackles of online learning and our current situation -- I would like to return to Tandil, a small Argentine city nestled at the northern edge of the Sierras de Tandil, a 2.5-million-year-old mountain range, about 200 miles south of Buenos Aires. My all-too-brief visit in December was truly remarkable. I stayed in a French-style estancia surrounded by centuries-old trees and immaculately groomed gardens. The food was no less impressive. The red meat, which Tandil is renowned for, was especially appetizing. So too was its famous cheese and salami. Appropriately, the rolling fields of Tandil are dotted with cows as far as the eye can see. 
As well as being an exceptionally beautiful place, Tandil is something of a mecca for tennis. Six top-100 professional players, the best known being Juan Martin del Potro, hail from this town of only about 130,000 residents. Several of the players came through Tandil's youth program led by another Argentine Marcelo Gómez. I was fortunate enough to take a tennis lesson with him in December. It was a lot of fun and I would go back for the tennis alone.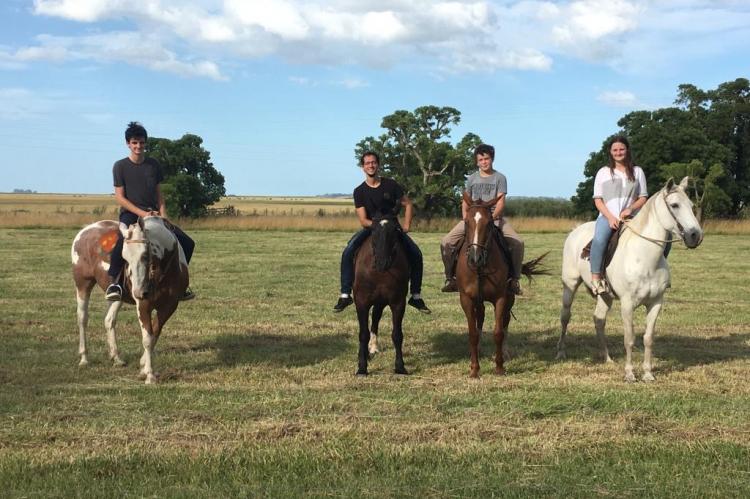 The town is also the home of many polo players. I tried my hand at polo but, unfortunately, it was not as successful an endeavor as the tennis had been.
    
More than anything else, Tandil is a true Argentine city. Yet most tourists visiting the country rarely make it here. What a pity for them as this culturally rich city is safe, walkable, full of great restaurants and architecture, while the surrounding countryside is known for its natural beauty. 
    
I hope it won't be too long before I return to Tandil. Or, for that matter, to life outside of my house.
Luke Burke is an intern for The Star's travel section and a high school junior.
Rome, Italy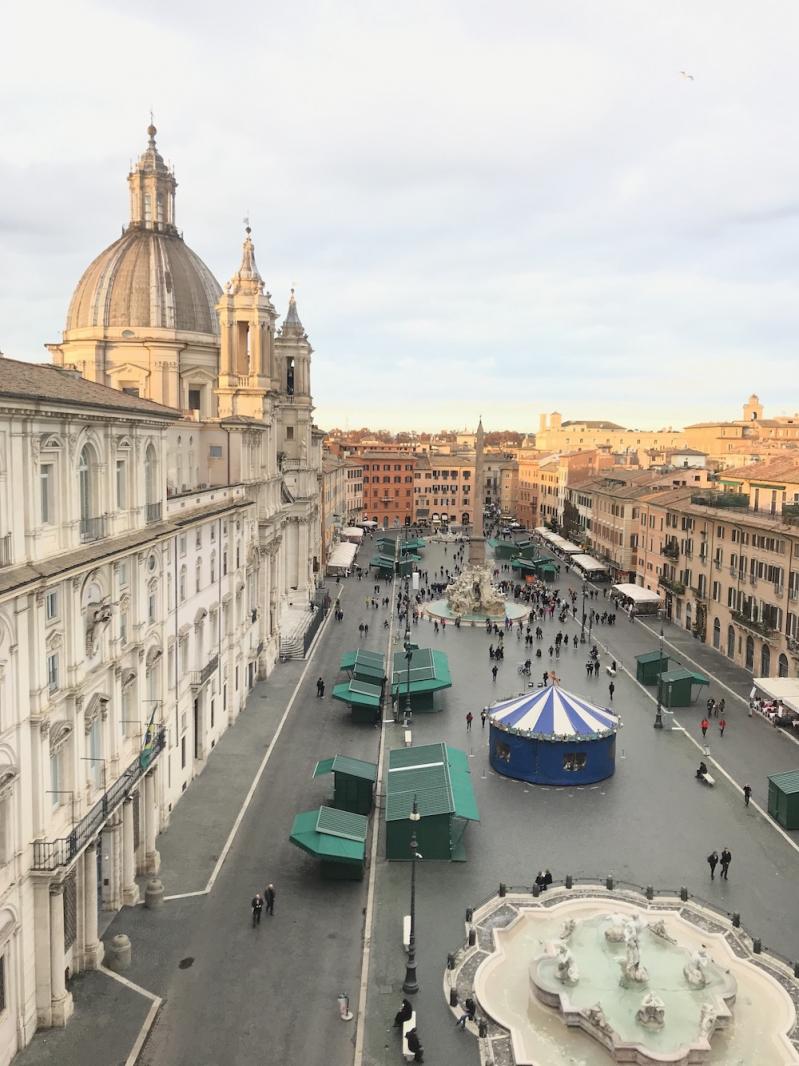 By Cornelia Channing
Earlier this winter, I had what I believed at the time to be a great idea. It was a dreary cold December in New York City and, hungry for some warmth, I picked up a copy of Frances Mayes's "Under the Tuscan Sun," a meandering and evocative memoir about the American author's travels through Italy as a young woman. Holed up in my Brooklyn apartment, I was transported by the lush descriptions of olive groves, ancient stone architecture, and slow-simmering summer afternoons along the river Tiber. Eager to set my sights on sunnier horizons, I began planning a trip to Italy myself. Specifically, to Rome, a city I have dreamed of visiting ever since I first learned about the gladiators in the Colosseum in elementary school.
For me, interest in the city was personal as well. My mother was born in Rome in the early 1950s when her father, a lawyer for Pan Am, was stationed there working on opening an international airport. The family moved back to the U.S. when my mother was 2, but despite speaking no Italian and having spent the majority of her childhood in Connecticut, my mother has always identified with the city of her birth. She attributes various aspects of her personality -- in particular, her fierce love of pasta puttanesca and preternatural ability to roll her "Rs" -- to the early influence of the Roman way of life.
Around Christmastime, I shared my budding plan with my mom and she immediately signed on. It was settled. We would go in early June, just before the summer crowds descended, for her birthday. What better place to celebrate the occasion than in her birthplace?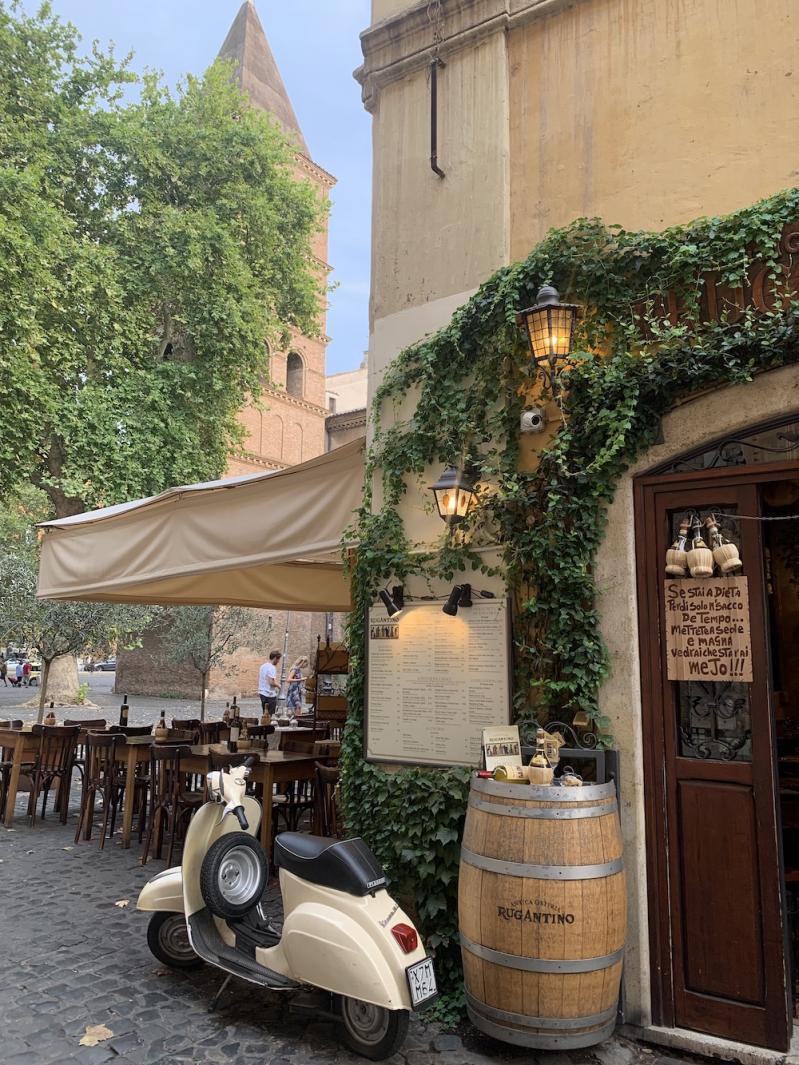 I spent weeks researching and plotting our course, using Google Maps to virtually traverse the winding, arcaded streets of various neighborhoods -- the Trastevere, the Parioli, the Isola Tiberina. I planned time for day trips to Florence and Umbria by train and a tour of the coast by boat. We would visit the hospital where my mother was born in a southern section of the city, wander through the ancient salt-battered bath houses of Caracalla, lose ourselves in the matrix-like gardens and courtyards of the National Museum, and tilt our chins toward the sky to gaze in awe at the illuminated figures on the Sistine Chapel ceiling. I daydreamed of strolling down long sunlit piazzas, drinking wine in crowded trattorias, and buying olives by the bagful at open markets. 
Enthusiastic cooks and even more enthusiastic eaters, we delighted in imagining the gustatory wonders of fresh-baked focaccia, cured salamis, handmade mozzarellas, and gelatos. The food alone is reason to go to Rome and nothing was going to stop us from eating our way across the city. And then, of course, something did stop us.
Just days before I planned to buy our tickets, a friend forwarded me an article that changed everything. And over the following weeks, my mom and I watched as the city we had been dreaming about was transformed into a nightmarish landscape as it became the epicenter of this devastating pandemic. Needless to say, we canceled our plans.
That was several weeks ago. Mercifully, the infection rate in Italy has begun to slow. Now, back at home with my mom and stuck inside, I have returned to the planning stages -- leafing through the pages of travel books and wandering the streets of Rome virtually -- imagining all the things we will do and see and eat when we finally go. Because we will go. Maybe not this year. But some day. And in this dark moment, my sights are set on that sunny horizon.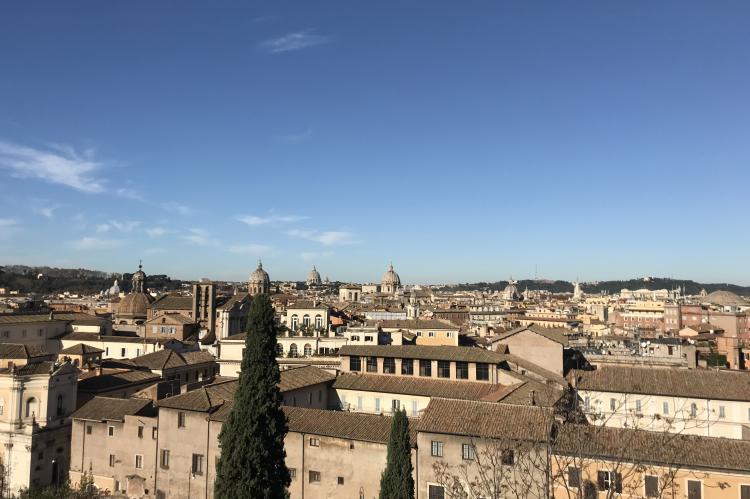 Cornelia Channing is a writer from Bridgehampton. Her work has appeared in The Paris Review Daily, EAST, Black Book, Slate, and elsewhere.