In a 2014 "Simpsons" episode, Homer, with Bart and Lisa at his feet, spins a globe, points to Uruguay and emits that heh-heh-heh trademark laugh before exclaiming, "Look at this country -- U R Gay!"
    A typically sophomoric Homer Simpson joke notwithstanding, South America's second smallest country is definitely unlike others in Latin America – and that's a big positive. While historically the country has taken its share of knocks, today it stands like a beacon of progress and hope, wedged between two giant egos, Argentina to the south and Brazil to the north. Progressive, safe, egalitarian, and economically sane, Uruguay is a country that seems to be at ease with itself (although in October a conservative government was elected after 15 years of leftist rule). Abortions became legal in 2012, same-sex marriage in 2013, and the then-president José Mujica, who drove a VW Beetle and refused to live in the presidential palace, also shepherded a bill to legalize marijuana, while heavily curtailing cigarette advertising in a successful bid to cut smoking rates. In 2015, Uruguay grabbed international headlines by announcing that 95 percent of its electricity was being harnessed from renewable energy resources. Football (soccer to us) is widely considered the national religion; Uruguay is the only Latin American country in which church and state are officially separated.
    But beyond this healthy social ecosystem lies Uruguay's true charm: colonial towns, gaucho countryside, excellent vineyards from the boutique to the positively micro, and miles of south Atlantic coastline along which pampas grass is abundant and North American visitors are rare. No wonder travelers often fall in such greedy love with Uruguay (properly pronounced as Oo-ruguay).
Montevideo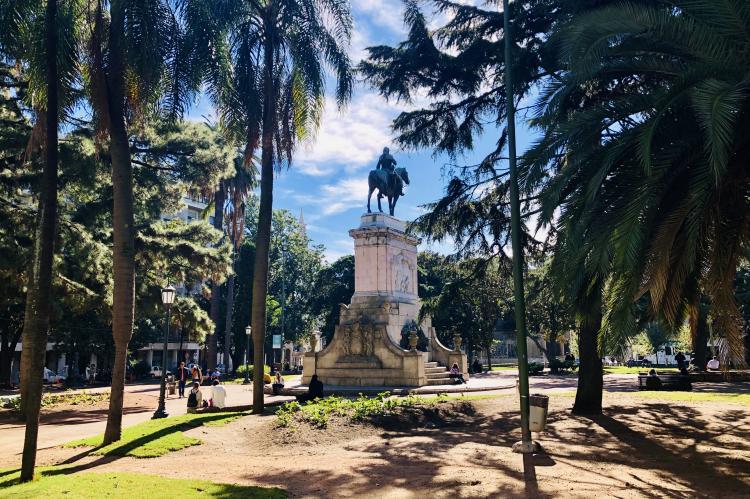 The capital lies about 4,500 miles directly south of Miami, only an hour ahead of Eastern Standard Time (or two, during Daylight Savings), so jet lag is minimal after a 10-hour overnight flight. The country's socialist bent is immediately noted during a stroll through the compact and sleepy Ciudad Vieja, or Old City, of Montevideo. Street art and graffiti in Latin America is a feature often encouraged by municipalities, and the walls here are like a gallery of political manga and graphic bon mots, including drawings of Donald Trump burning at the stake and $100 bills up in flames.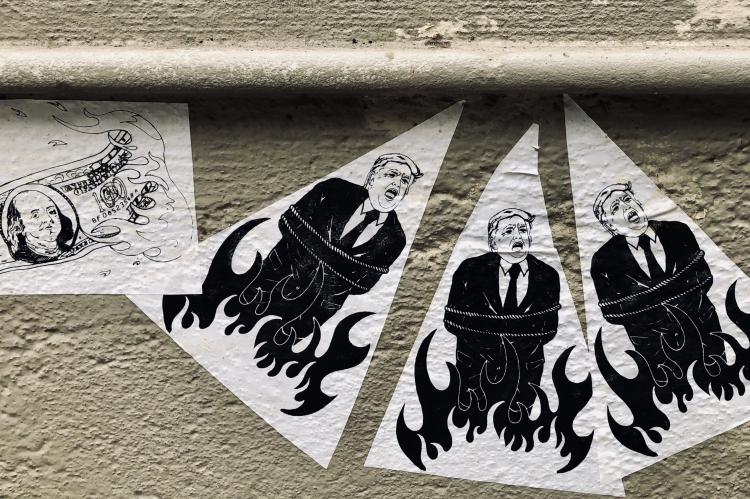 A better option for disposing of your dollars is to book a room at the lovely Alma Histórica Boutique Hotel, owned by an Italian art collector, who turned a 1920s townhouse into 15 individually decorated rooms with various 19th and early 20th-century antiques and curios. The townhouse faces Plaza Zabala, one of the oldest and prettiest squares in Montevideo, and across which, in the pedestrian precinct, you will find the restaurant Jacinto. Lucía Soria, an Argentine chef and ex-student of her acclaimed countryman Francis Mallmann (also known as the fire master), serves her signature freshly baked breads, seasonal, locavore meals, and mostly Uruguayan wines in this sun-filled neighborhood fixture. Interestingly, Ms. Soria used to be the part owner and head chef of Station, a restaurant in East Quogue that closed in 2015. 
    For lunch, try Estrecho -- meaning "narrow" in Spanish -- an outstanding sliver of a restaurant, popular with Montevideo's office crowd. The seating stretches down a long, stove-side counter, from where diners can watch the chefs whip up daily specials.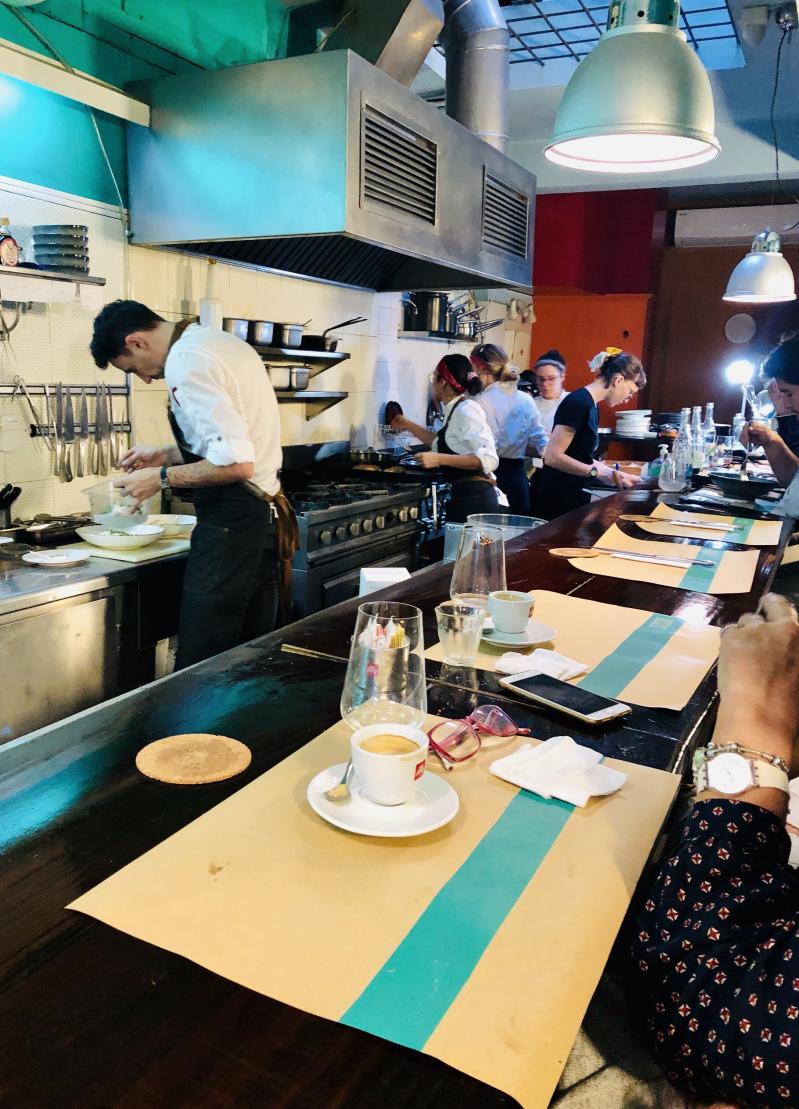 If you happen to be in Montevideo on a Sunday, don't miss the Feria de Tristán Narvaja street market for a jaw-dropping carnival of fruitarian wonder. Make the most of this pedestrian-friendly city and stroll along La Rambla, the 13.6-mile waterfront walkway, passing fish stalls, cafes, and spectacular views.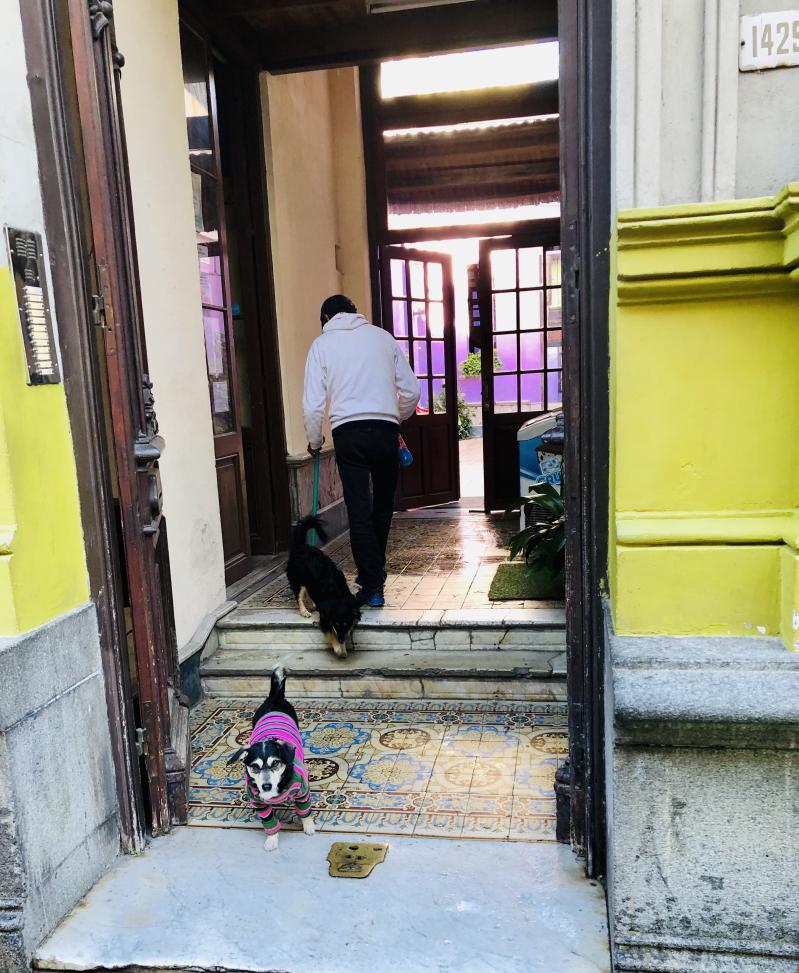 Punta del Diablo
    In Uruguay, the intrepid are rewarded -- literally. Rental cars, when paid for with a foreign credit card, receive a 22 percent discount. Take advantage and head northeast from Montevideo (all roads are in excellent condition), on Ruta Nacional 10, along the coastline to Uruguay's other punta: Punta del Diablo, the less glitzy, infinitely more charming sister of Punta del Este, Latin America's soulless version of Saint-Tropez, all high-rises (including a Trump Tower!) and high glamor quotient. Punta del Este lies about 90-minutes from Montevideo, but drive on, past the yacht clubs and polo fields (in season it's essentially an Argentinian enclave), another two hours north up the eastern coastline, beyond Jose Ignacio (a picturesque, Montauk-like, surf-chic town that's worth a visit), and watch the scenery turn wild and more deserted.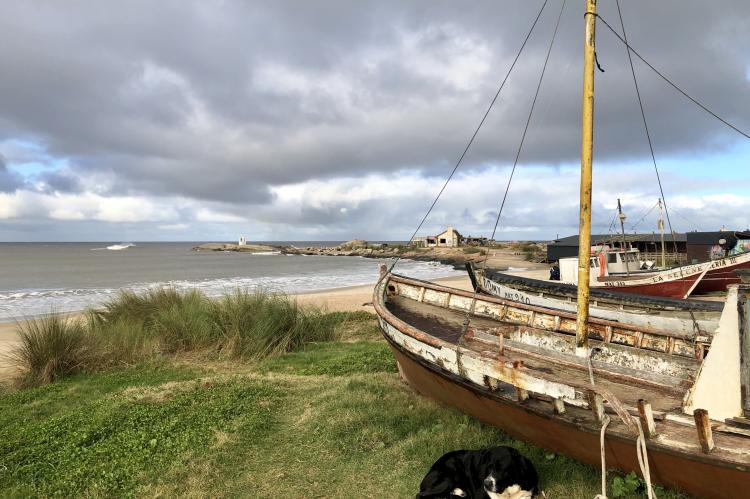 The shores are populated mostly by colonies of sea lions, and about 30 minutes from Brazil's southern border is the lovely fishing village of Punta del Diablo. Its name, which translates to "the devil's point," must surely have discouraged travelers for years, and perhaps that's why much of its sandy coastline is blissfully empty. But more recently, word has gotten out about this bohemian, low-key surf town and its stunning shoreline. A grid of hard-packed dirt roads threads through the town, dotted with tiny thatched-roofed cottages and colorful cabins. At the main beach in town, fishermen, clutching canisters of yerba mate, pull their brightly colored boats -- looking more like bathtub toys -- onto the shore to unload the catch of the day at the indoor seafood market and the restaurants that line the waterfront.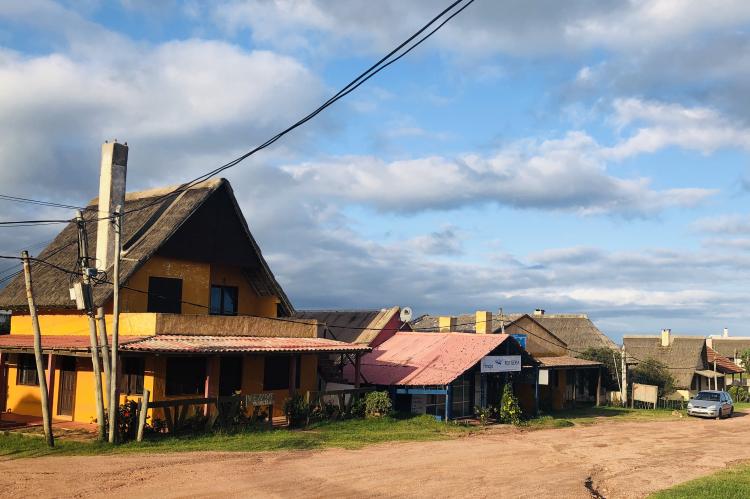 The empanada stand in town is excellent for a quick snack, and Il Tano Cucina, on the waterfront, serves  delicious homemade pastas, like ravioli filled with local seaweed. This is the fanciest of restaurants in town but still wonderfully relaxed and unassuming. A bit of advice: If you're here in the off-season, bring plenty of cash; A.T.M.s are only available in the summer months, and not every place takes a credit card.
    In 2018 Markie Hancock, a longtime East Hampton weekender, visited Punta del Diablo and was so taken by its charm and Uruguay's progressive politics that she bought the boutique hotel at which she had stayed. Remanso del Diablo (loosely meaning "the devil's place of rest") opened in September, offering nine large rooms, each with an oversize hot tub and unobstructed views of a two-mile stretch of beach with rolling sand dunes resembling a lunar landscape.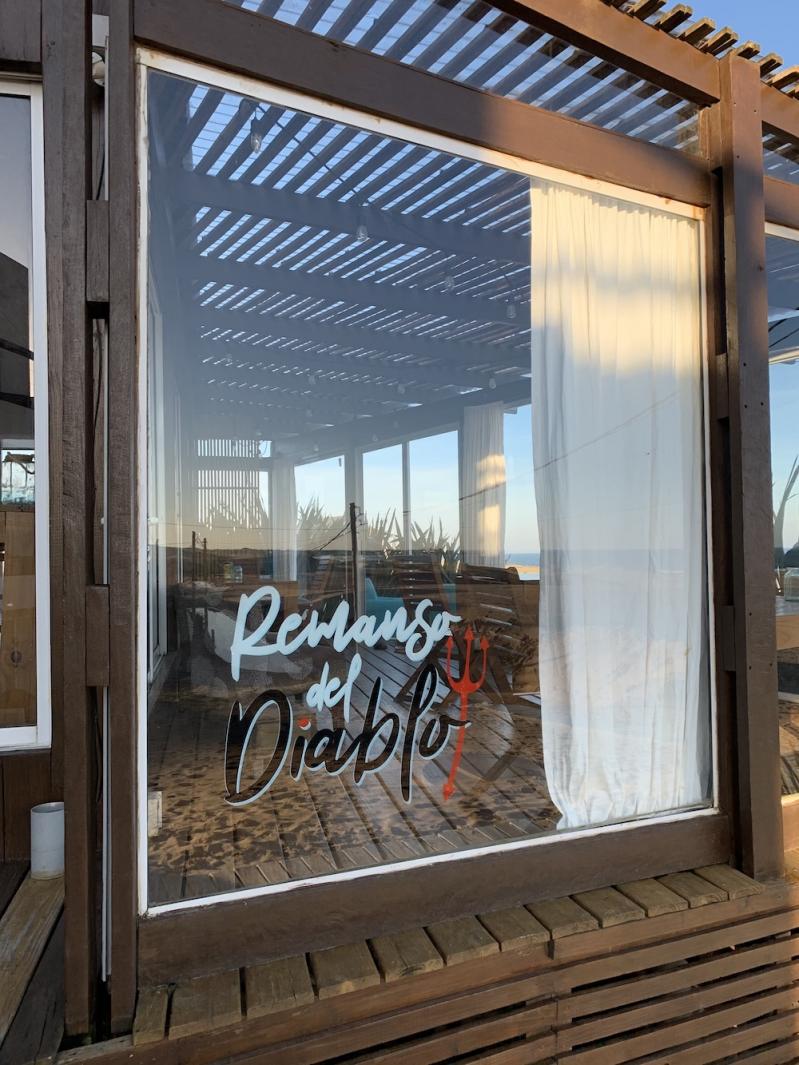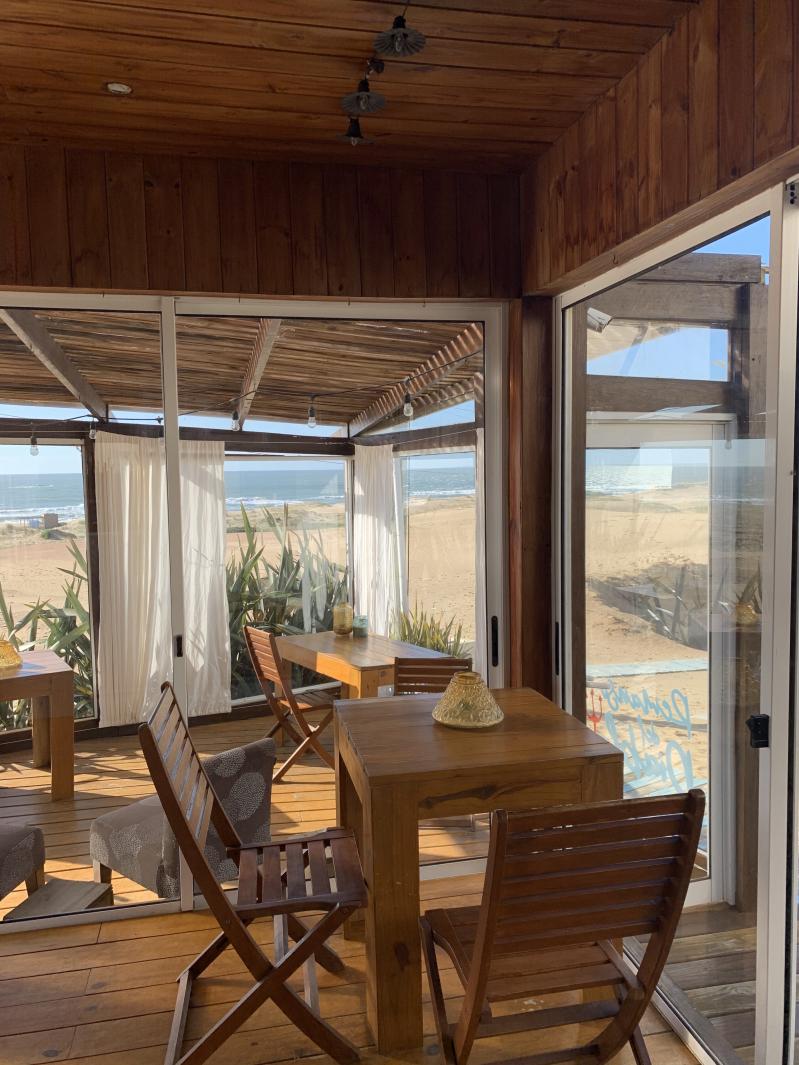 I stayed at the hotel early this year, before it changed hands. Sitting on the deck outside my room, looking out across the Atlantic as the dipping sun caused a riot overhead -- as it does so photogenically almost every evening -- I sipped some excellent small-batch Uruguayan red and realized with a shock that the next land mass out there is the Falkland Islands . . . and, beyond that, Antarctica.
    One morning, I strolled out from the hotel, along deserted Playa Viuda (the Widow's Beach) for about a mile and a half, to a rocky point, above which sits a sprawling mansion that has a lighthouse and an airstrip. Mystery and local folklore shroud this lonely outpost, said to have once been occupied by a wealthy Argentine widow, escaping her country's brutal regime during the mid-20th-century. 
    The emerald water around me was rough but clear, crashing against the rocks and sending the sea-spray shooting up above my head. A couple of surfers nearby caught a few small waves, while long-legged sea birds ran through the white foam that licked the shore. How glorious, I thought, a place that, for once, actually feels as good as the photos look.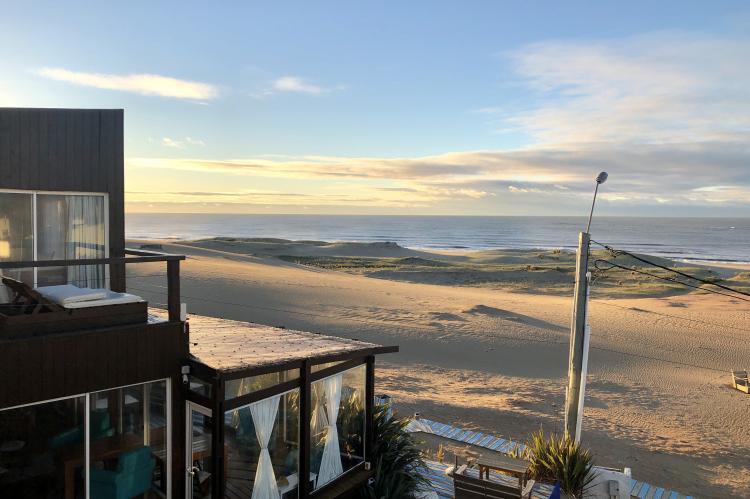 Garzón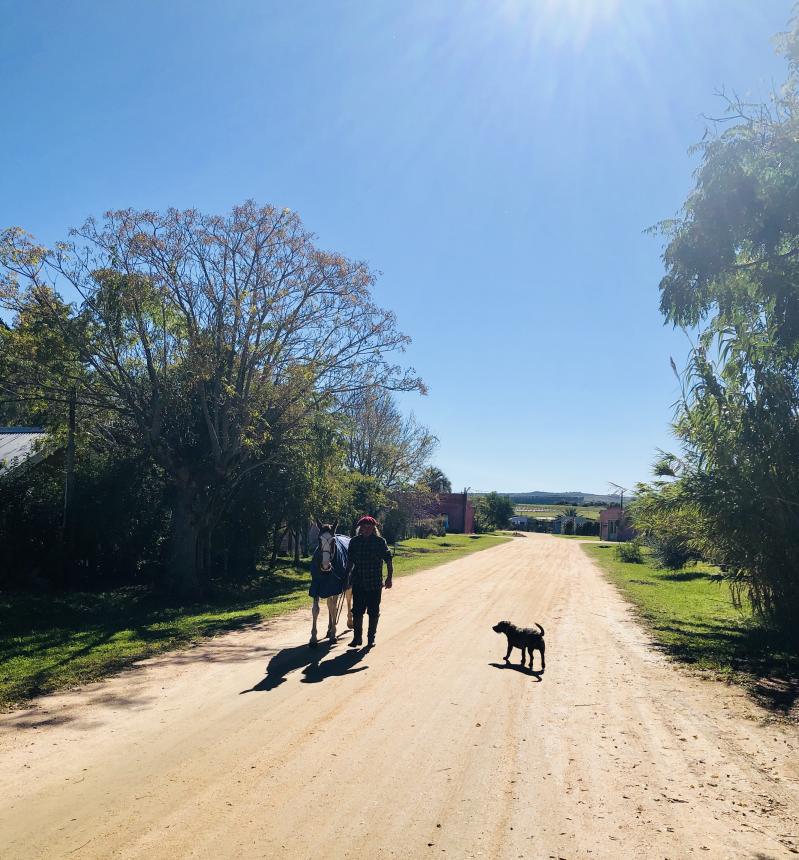 About an hour and a half inland from Punta del Diablo, a perfect stopover en route back to Montevideo, is Pueblo Garzón, which offers a taste of the South America of days past — the days when gauchos roamed on horseback amid rolling, grassy hills that stretch inland. Only, that's the way it still is. Because remote, wild, and beautiful Garzón and its environs, which could easily be mistaken for a Hollywood set, are still the natural home of the gauchos.
    But Garzón is also a bona fide foodie destination. In 2003, Francis Mallmann, the superstar Argentine chef, transformed this tiny pueblo, once a thriving railroad town that languished after the government decided to decommission the railway here around the mid-20th-century. On a corner of the main plaza, in the renovated 150-year-old general store, Mr. Mallmann opened his indoor-outdoor restaurant El Garzón. His trademark technique of using an open-flame, wood-fire to bring out the natural flavors of locally caught meat, game, and fish, as well as produce, produces dishes that do not disappoint. Nor do the wines produced from Uruguay's signature varietal, Tannat, cultivated nearby in the Bodega Garzón vineyard and production facility. Back in Pueblo Garzón, the general store's former storage vaults now serve as a five-room hotel, with black-washed floorboards, white walls, and rustic-chic furnishings. But because of its remote location, only the most serious travelers end up making the trip.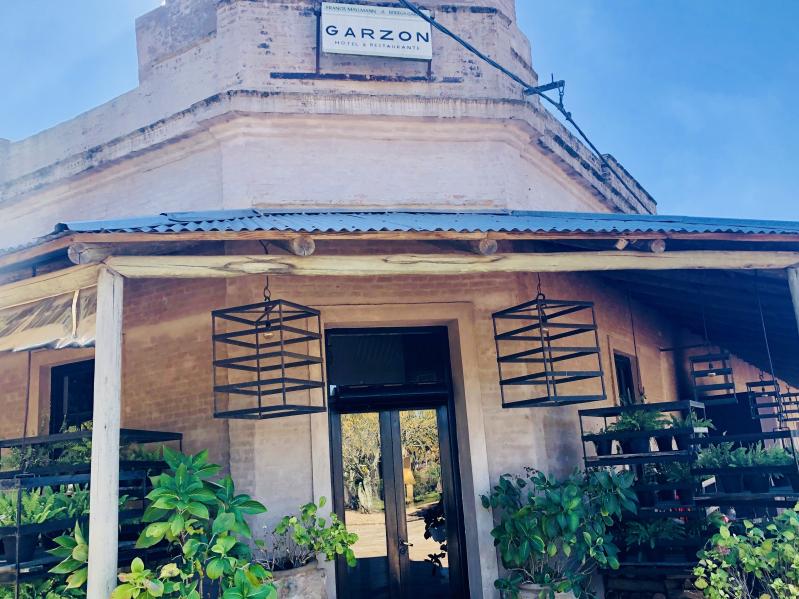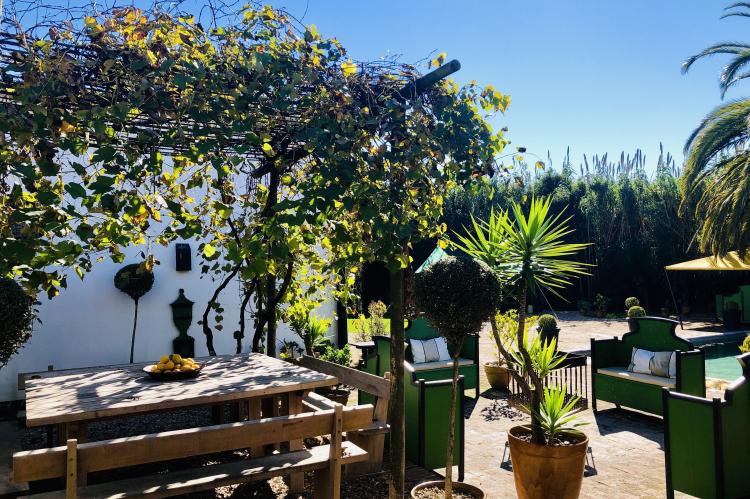 Do try and stop here, either for a transformative lunch (expensive) or a peaceful overnight stay (outrageously expensive, but all meals are included). Sometimes you come across a place so enchanting it might as well have a sparkling halo surrounding it, a permanent northern lights aurora.