The weather was fine Monday — and the coronavirus, if anything, a mere afterthought — as East Hampton High's teams — boys and girls track, girls lacrosse, baseball, softball, and boys tennis — and their coaches engaged in inaugural spring practices.
Vinny Alversa, the varsity baseball coach, was pitching to his hitters from in close, behind a screen, Annemarie Cangiolosi Brown, the softball coach, and her assistants, Melanie Anderson and Nicole Fierro — all of whose achievements are cited in plaques in the dugout — were hitting fungoes to a flock of outfielders, Ben Turnbull, the boys track coach, was having his charges run up and down the bleacher steps as the girls were high-stepping over a series of hurdles, Jessica Sanna, the girls lacrosse coach, was rolling balls toward the goal for which pairs of players vied, and Kevin McConville was lamenting the fact that a promising eighth grader wasn't deemed strong enough yet to play varsity tennis.
Not to worry, or not to worry too much: McConville will have two other promising eighth graders, and a ninth grader, Max Astilean, in his top three singles slots, and his doubles, led by Matthew McGovern and Miles Clark, in their second year playing together, would, he said, be strong.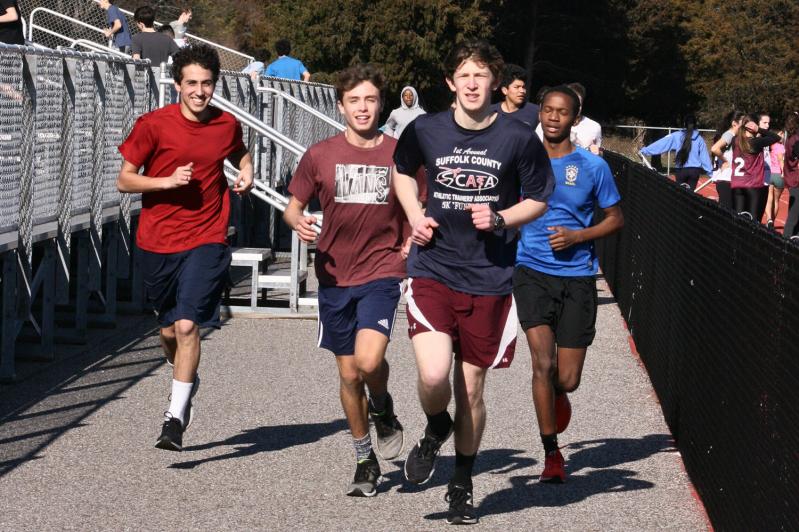 Everywhere, it seemed, the numbers were good — it looked as if Brown had enough for four teams, and 75 percent of them, she thought, were playing travel ball throughout much of the year. Sophia Swanson, who had been one of her starting pitchers, will not play this season, though Alyssa Brabant and Caroline DiSunno are ready to go.
Brown added that her father, Jimmy Cangiolosi, who built the dugouts, would power wash their brick fronts soon, and she had it in mind to replace the weathered 14 player plaques in the home dugout and add at the far inside wall a list of all-state and all-county players along with their years of graduation, as her alma mater, the State University at Cortland, had.
As for boys lacrosse, whose participants from here have been playing for the Southampton High School-based South Fork Islanders the past several years, the team will play out of Southampton through the spring break that ends in mid-April, and out of East Hampton for the remainder of the season, Joe Vas, East Hampton's athletic director, said during a conversation last week.
The new sharing arrangement may have persuaded players from Montauk to stay with the program, Vas said, adding that, numbers-wise, "there should be 20 or so, about the same number as last year."
The middle school boys lacrosse program is based here, with Steve Redlus and John Yager coaching the team, which is augmented by junior high players from Southampton, Sag Harbor, Springs, and Montauk.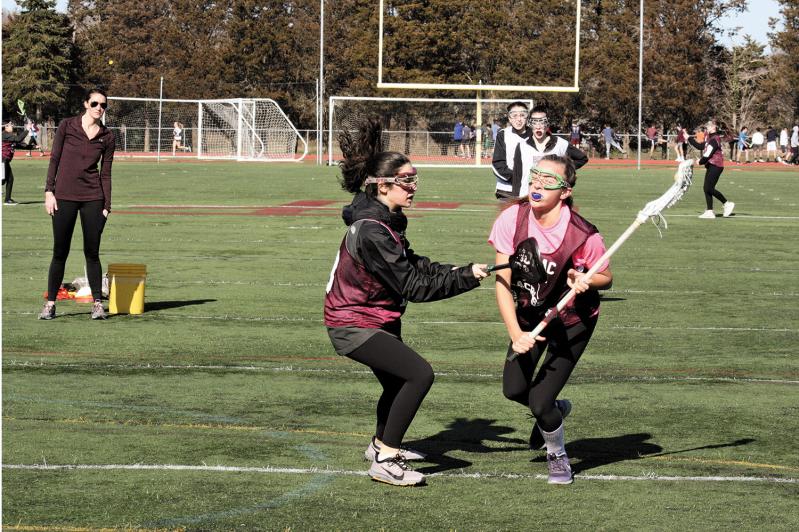 He was well pleased with all his spring coaches, the A.D. said, as he was with the numbers. As for the coronavirus, a looming concern that if not stemmed might possibly lead to school shutdowns, "We're all in this together. All we can do is use common sense and do what we can. Wash your hands frequently, stay home if you're not feeling well. We have to be safe and smart. There's no problem yet — all systems are go at the moment."
Woody Kneeland, Pierson High's softball coach, was indoors Monday, coaching Pierson's girls basketball team, which was vying with East Rockaway at Newfield High School in Selden for the Long Island Class C championship. East Rockaway went on win that game 54-43, though the Whalers, thanks largely to three 3-pointers by the senior point guard, Chastin Giles, in the fourth quarter kept it close. The Whalers trailed by 4 points with 2:47 left, according to an account in Newsday, after which the Nassau team went on a 9-2 run that capped the win.
Giles, who earlier in the season joined Pierson's 1,000-point club, led Pierson with 22 points. Her opposite number, Hunter Vertuccio, finished with a game-high 27.
Back to East Hampton, the boys tennis team is to play a mandatory nonleague match at Half Hollow Hills East Tuesday, and in girls lacrosse Center Moriches is to scrimmage here Wednesday at 4:30 p.m. A three-way girls lacrosse scrimmage and a mandatory nonleague boys tennis match with Commack are to be contested here next Thursday.