The East Hampton and Pierson High School boys and girls basketball teams met in scrimmages this past week, with the Sag Harborites arguably getting the better of it in both cases.
Each of Pierson's teams look as if they'll do well, East Hampton's boys, should they do better on the boards, could surprise, and Bonac's girls, challenged a bit when it comes to putting the ball in the basket, are playing hard at both ends of the court.
East Hampton's boys, coached by Dan White, had two scrimmages under their belts as of Monday, one at Hampton Bays last Thursday and the aforementioned one, with Pierson, here Saturday morning.
After that day's scrimmage, White said he thought his charges, with the 6-foot-6-inch Charlie Condon, Liam Leach, Logan Gurney, and Jeremy Vizcaino and Luke Reese at the guard positions largely constituting his first group (though Nick Esquivel's 3-point shooting was notable), had played well over all, "though we can handle the ball better and do a better job in transition."
With Condon a presence under the boards, "we can be long in our zone . . . we can keep the other teams out," he added.
The Bonackers are playing host to the Kendall Madison tournament Friday. Junior varsity games are to be played at the high school at 12:30 and 2:30 p.m., with varsity games — Southampton versus East Islip and Greenport versus East Hampton — at 4:40 and 6:30.
On Saturday, the jayvee championship game is to be played at 2:30, the varsity consolation game at 4:30, and the varsity championship game at 6:30.
Kendall Madison died of heart failure at the age of 21 at Southampton Hospital on Jan. 23, 1995, following complications that had arisen from stab wounds inflicted after he'd intervened to stop a fight at a holiday dance he'd played host to at a Three Mile Harbor night spot nine days before.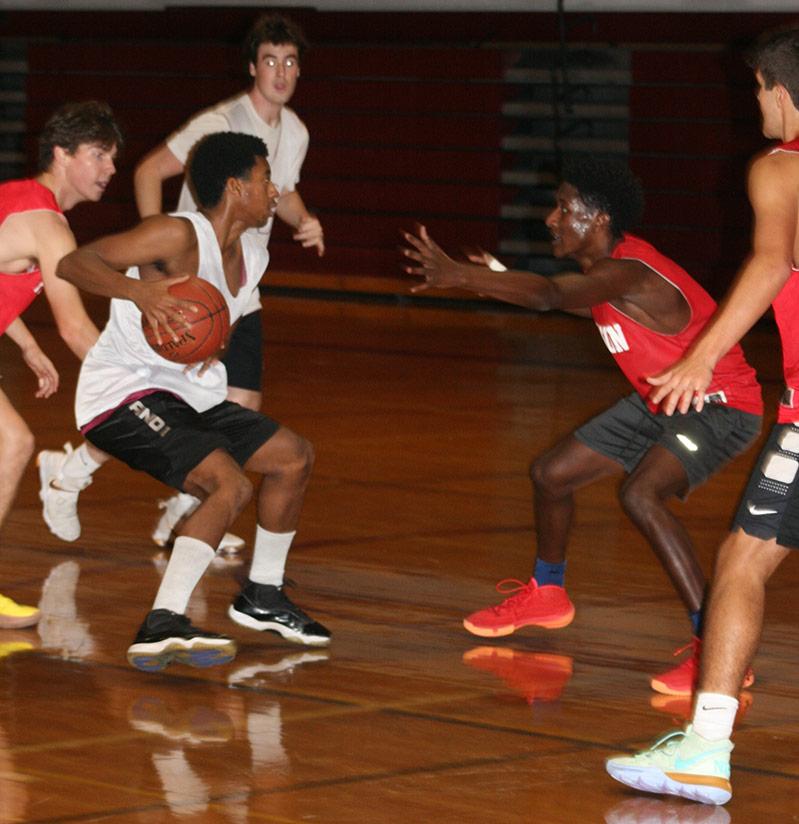 Saturday would have been her son's 46th birthday, his mother, Sharon Bacon, said in bringing a tournament flier to The Star Friday afternoon. The foundation annually provides an East Hampton High School senior boy and girl with four-year college scholarships requiring that they mentor youngsters here, as Kendall Madison, described as an exceptional, uplifting, and vibrant person by those who knew him, would have done.
Tickets each day will cost $5.
As of Monday, East Hampton's girls team, coached by Krista Brooks, had scrimmaged twice and had played two nonleague games, with Greenport and Riverhead, scoring around 25 points, she said, in each of those contests.
It would be a tough season ahead, said the coach, given that East Hampton has been moved up into a league with such teams as Kings Park, Half Hollow Hills, and Hauppauge. The good news, she added, is that the numbers are good. There are 12 on the varsity and 14 on the jayvee, which is being coached by Nick Taylor.
The varsity has its two top scorers from last year, Paige Cordone, the coach's daughter, a junior, and Emma Silvera, a senior, back. Other seniors are Alden Powers, Tia Weiss, Kailey Marmeno, and Emily Brewer, and all of whom were on last year's varsity, as well as Ashley Peters, who's up from the jayvee, and Armani Gordon, who did not play last winter but did as a freshman and sophomore.
The roster's rounded out by Eva Woj­tusiak, a junior, and three ninth graders — Claire McGovern, Baye Bogetti, and Caroline DiSunno.
As for the jayvee, there are two sophomore returnees, Emma Stein and Nora Conlon, to go along with a host of freshmen.
The girls, said Brooks, can be expected to move the ball swiftly on offense and to shoot a lot, while putting pressure on the ball defensively before dropping back into a zone. "We'll have to use our speed this year," she said. "They'll come together . . . it takes time."
Her team is to play its first league game on Friday, Dec. 6, at Half Hollow Hills West in Dix Hills, the same day that Hills West's boys are to play White's team here, at 6:15 p.m.