The wrecking ball is swinging, and the renovation and expansion project for the Lars Simenson Skatepark, on South Essex Street in Montauk, is underway. 
The redesign follows a highly successful fund-raising effort. In January, the East Hampton Town Board accepted a $1.4 million bid from American Ramp Company. The renovation began last month.
The existing park, an inground swimming pool-style structure with multiple concrete ramps, was constructed in 1999 and was renamed in 2010 for Mr. Simenson, a Montauk and Springs resident and skateboarding and surfing enthusiast who died in an accident in 2007, when he was 18.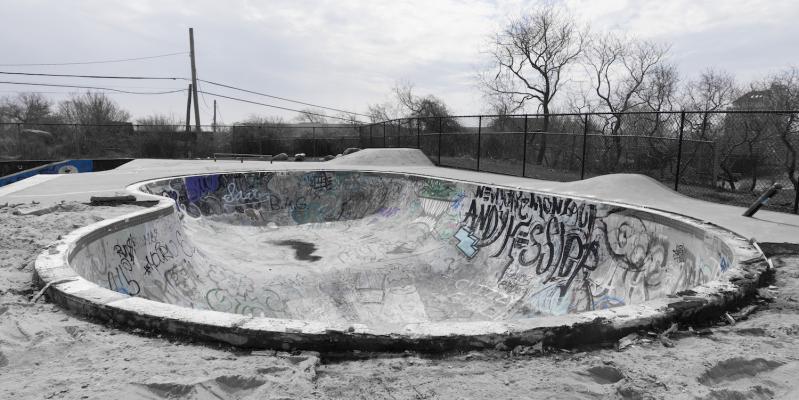 The park's original design was by Andy Kessler, a legendary pioneer among New York City skaters, who died near Montauk in 2009. Though a re-envisioning and expansion was first discussed shortly after Mr. Kessler's death, it wasn't until 2020 that the town established a fund for its renovation. 
"This current rebuild project," said J.J. Veronis, a member of the Montauk Skatepark Coalition and longtime friend of Mr. Kessler's, "essentially started in December 2020" at Townline BBQ in Wainscott, "over beers and pulled pork" with Councilman David Lys and John Britton, another member of the Coalition and a significant donor to the cause. "We started off with modest renovation plans of about $175,000 and watched it rapidly expand with enthusiasm within the local skater community and families of Montauk." 
Momentum began to build last year when the town accepted an engineering proposal for the park's expansion. The town bonded for $250,000 in March 2021. 
The coalition registered as a nonprofit organization in September. A June "skate day" at the park and an art auction together raised $95,000 toward the renovation, while three other skateboarding events at the park, including competitions and a skate day for girls, raised more. A Labor Day weekend fund-raising event at the Surf Lodge in Montauk brought in more than $30,000. 
More than 335 individual donations, small and large (some of them very large), put the effort over the top. Two hundred and twenty people donated through a GoFundMe campaign, and around 70 people bought more than 110 pieces of donated artwork. A vintage truck was raffled, and by September $1.3 million, including $280,000 allocated by the town, had been raised, enough to proceed with a bid solicitation for construction. 
Tito Porrata of Pivot Custom Skateparks, another friend of Mr. Kessler's, was hired to design the new park, said Mr. Veronis, with its current budget of $1.4 million, most of it raised privately.
Councilman Lys, who has a background in recreation and fitness and has been the town board's liaison to the project, described the renovation as an effort to update the facility to reflect skate parks being built today, while also making it more welcoming to beginner and intermediate skaters. At the same time, he said, it will maintain the historical attributes of its original design. "Keeping the historical context," is how he described it last week, "but modernizing it in a way that is potentially safer for users, and also more fun for all users -- boys, girls, young, old, beginners. That is a major part of it."  
Once the renovation is completed, which Mr. Lys hopes will happen by mid to late summer but will depend on weather conditions, the coalition will continue to raise money for the park to support its upkeep and programming. 
A portion of a hill between the park and the Hank Zebrowski Fields and Playground, an ideal slope for sledding, has been cleared. Future plans, subject to funding, call for additional improvements, such as a shade pavilion, solar lighting, an area for fitness equipment, and walkways to and from the playground and Montauk's commercial district. A fund-raiser is scheduled to take place at the Montauk Beach House in June. 
"Andy had tremendous spirit and drive," Mr. Veronis recalled, "and is responsible for building the first skatepark in New York City and many others. . . . He could be tough as nails, also incredibly compassionate, always with a wicked sense of humor. Andy was the man, our Artful Dodger." In honor of his spirit and legacy, Mr. Veronis hosts an annual Andy Kessler Day at a Kessler-designed park in New York City. "Always a great day," he said.
"We're looking to create memories, but also memorialize the individuals that were here before us," Mr. Lys said of Mr. Kessler and Lars Simenson. "I feel honored to work within their memories and also with the group that surrounds us. It's been a great project to work on."