They're back. 
It's not quite like the cliff swallows that return to the small town of San Juan Capistrano in Southern California on cue every March 19, but to the great delight of many light-tackle enthusiasts, false albacore, also known as albies, have arrived in East End waters in recent days. 
Their arrival is not as predictable as the swallows. Sometimes it's mid-August; in other years they have arrived around Labor Day or even later into the month of September. But on Monday, Aug. 30, my cellphone exploded with calls and texts from about a dozen people excitedly alerting me to their presence.
The first to let me know was Capt. Merritt White of Gunkholin Charters in East Hampton, a light-tackle guide. White sent me a picture of the first false albacore landed and released that morning by a client on his skiff. "The first of many albies this morning," he wrote. "They are chewing up on large schools of peanut bunker."
A few minutes later, as if on cue, I received a similar message and some pictures from Capt. Tim O'Rourke of Montauk Point Fly Fishing. The savvy captain had put his two fares onto some albies near Montauk. By Sunday afternoon, O'Rourke observed that the fish, while definitely here "are a bit hit and miss, and tough to catch. But it's looking like it will be a very good fall."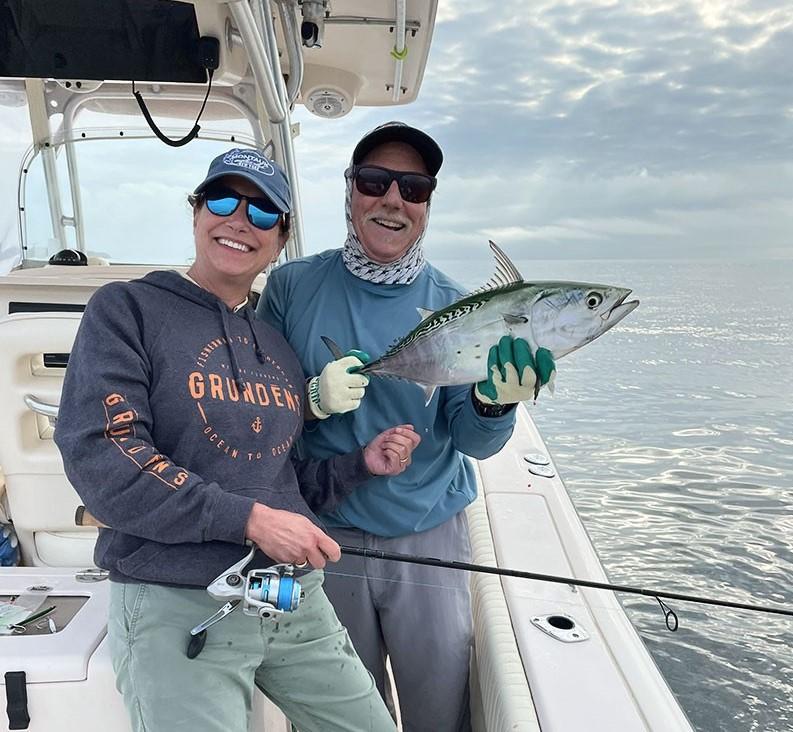 Harvey Bennett, the ever-talkative owner of the Tackle Shop in Amagansett, was next in line. "I told you they'd be here before the big storm," he stressed forcefully in a voice message, referring to the torrential downpours and gusts of wind from the remnants of Hurricane Ida that were to pass 24 hours later. "They are scattered all the way from Gardiner's Island to Montauk Point."
While false albacore is a prized gamefish, it is generally regarded as lousy table fare. Ironically, Bennett is the only one I know who enjoys their overly strong flesh. "I'm one of those who does not mind a fish with a much stronger flavor," he said. "Hey, I remember some old-timers out here who ate bunker when I was growing up. It's all a matter of personal taste."
The veteran dealer of all things tackle suggested that if you decide to try one, it must be immediately bled at boatside. "Keep the fish in the saltwater and let them bleed as long as possible," he advised. "The meat in the belly flap is what you want to eat and by then, it should be a nice pink color. That's the piece you want to use."
Bennett then marinates the belly in a secret concoction that involves red wine, brown sugar, soy sauce, and other spices. "Let it marinate for at least 12 hours and then put it on a hot charcoal grill. It's really good."
As for other species in local waters, Bennett said the fishing has been good. "It's rather typical fishing for this time of the year, as you can pretty much catch anything," he said.  Bennett recited a list of fish, including porgies, kingfish, blowfish, snappers, striped bass, hickory shad, sea bass, and bluefish. For the offshore, blue-water crowd, yellowfin and bigeye tuna, mahimahi, white marlin, and swordfish head up the menu. 
"Fluking, though, has been more of a challenge," he added. "Most are fishing near the windmills near Block Island, or along the south side in deep water. Some guys are doing better than others, but it's been a pick for the most part." Bennett added that he is currently having a storewide sale. "I've got a lot of good deals, so come on in."
"Blowfish and kingfish are doing very well in Three Mile Harbor," said Sebastian Gorgone at Mrs. Sam's Bait and Tackle in East Hampton. "They are both coming in nice sizes, and even a few weakfish are mixing in with them too." Gorgone also heard that some big striped bass have been showing up at the rips over at the north end of Gardiner's Island, and that sea bass fishing has been solid in many areas to the east near Montauk. 
Over in Sag Harbor, Ken Morse at Tight Lines Tackle says that weakfish and porgies remain plentiful in Noyac Bay, even as a slug of rust tide showed up after the heavy rain of last week. "It's a shame to see it, but hopefully it will go away as soon as the waters cool down."
Morse added that small striped bass remain plentiful inside Sag Harbor Cove and near the bridge. "Weakfish too are also mixing in with them. The lights of the boats and docks at night are drawing in some great action."