When I popped into the local supermarket to pick up a few routine items last Thursday, I stopped in my tracks as I noticed a large selection of bagged candy, all packaged for Halloween, a semi-holiday that's almost three months away. Trick or treat? This was rushing the season a little too much.
"Isn't that crazy?" a woman next to me said as I examined a glow-in-the-dark package of M&Ms. "Next week they will probably have stuff on sale for Christmas." 
I guess I shouldn't be surprised. There seems to be a rush to move the seasons along more quickly than ever before. 
That said, I'm glad the fish in our local waters aren't following that logic. Their seasons are rather predictable and rarely deviate. If I catch a blowfish in February, I will be very concerned.
It's now mid-August, and the fishing scene is pretty much holding true to form as expected by the calendar.
"The fluke fishing on the south side was really good this week," said Paul Apostolides, the proprietor of Paulie's Bait and Tackle in downtown Montauk. The veteran dealer of all things an angler would ever require said that action has been hot from the Cartwright grounds all the way westward to Hither Hills. 
Turning to the surf just south of his shop, Apostolides said that striped bass action has been good of late, too. Sharing company with the bass are a variety of sharks, including brown, dusky, sand tiger, and even black tips, which are prevalent in southern waters. A bit farther offshore, makos, thresher, and hammerheads were in residence along with a nice sprinkling of yellowfin, bigeye, bluefin, and albacore tuna for the blue-water brigade. 
"If you want bluefish, they are on the north side for casters," he added.
Capt. Michael Vegessi of the open boat Lazy Bones was all smiles on Sunday afternoon as several buckets of sea bass and fluke racks caught by his fares on its most recent excursion were on display. Also in the catch was a 12.8-pound whopper of a flattie, the largest caught on the boat all season.
"Good action for sure," he said while scrubbing down the stern deck with a mop and hose. "I'm really happy with the bite of late." Nearby, the Ebb Tide II also offloaded a nice catch on its afternoon trip.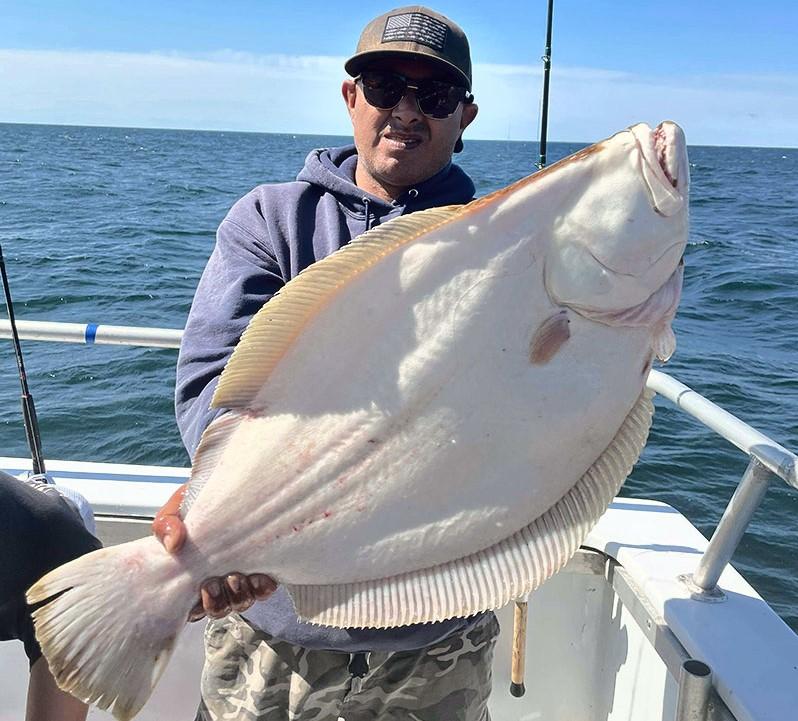 At the Tackle Shop in Amagansett, the owner, Harvey Bennett, was in a jovial mood as he described the local action. "There's good fluke in the ocean and also in the bay near Napeague," he confirmed. "Porgy fishing is outstanding and the snappers are getting larger, too."
"Lots of sharks in the ocean, plus hickory shad are everywhere," he added, while sporting a colorful T-shirt of a smiling Bob Ross, the soft-spoken painter and instructor of PBS television fame. "Someone gave me the shirt. I certainly get a lot of funny comments about it." No word if he'll wear it for Halloween.
Sebastian Gorgone at Mrs. Sam's Bait and Tackle in East Hampton was more sedate in his attire with a simple black shirt. "Oh man, it's been really busy the past week," he said. "Fluking has been good in the ocean, and a few are coming out near Napeague. Porgy fishing is really strong in most areas, and a few blowfish and kingfish are in the harbors." 
Gorgone added that stripers, while most are under the 28-to-35-inch slot size, can also be had for those surfcasting from Hither Hills all the way west to East Hampton.
"I had a fish that was probably a keeper on my first cast from the beach the other day, but I tossed it back," he said. "It was a really fat one, too. There is a ton of bait in the water, so they are taking advantage of the buffet."