After a few weeks of incessant gusty winds, the weather gods who rule from the clouds high above finally provided anglers with a much-welcomed reprieve for several extended days of very fishable conditions, a rare occurrence by November marine weather standards.
It was a huge sigh of relief, and a good time to catch some late-season fish, despite strong new moon tides.
And from many accounts, the fishing proved to be solid, especially for those in pursuit of striped bass, sea bass, blackfish, and porgy. In addition, calamari lovers are still enjoying success, as the strong run of squid in many bays and harbors continues.
Last Thursday, I decided to take advantage of the placid conditions with a trip on my boat for blackfish around Plum Island. The United States-government-owned oblong piece of land located about nine miles to the northeast of my dock has always been a popular location to chase down the tough-fighting blackfish.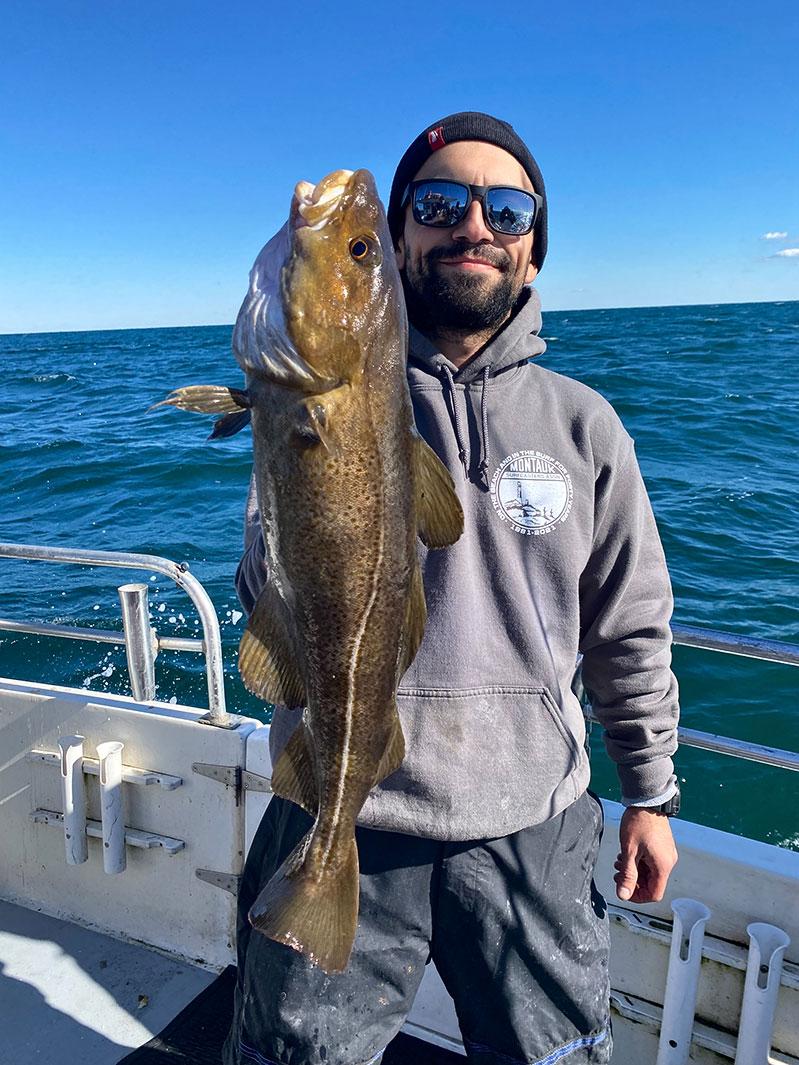 The action was good, but the sometimes-finicky fish were biting light. And once the changing tide moved us off of our chosen piece around noon, we decided to call it a day, especially as the weather forecast looked ideal for another trip two days later to more distant — and we hoped more productive — locations to the east.
Departure time was 7 a.m. on Saturday, and I and three guests were bundled up in the chilly 33-degree stillness of early dawn as we unloaded our gear on board. A thick film of frost had built up on my windshields and stern deck overnight. A spray of fresh water from the rubber hose at the dock near our slip quickly alleviated that problem. It was time to untie the dock lines and go fishing.
"Man, it's a cold one this morning," said Al Daniels, one of my guests, as we backed out of the slip. I could not argue with him. "But it looks like it will be very nice on the water. Let's hope the fish cooperate." It had the makings of a fine day, or so we thought.
That is, until a mile northeast of Cedar Point when I noticed that I was slowly losing speed at the wheel. Pushing forward on the throttle did not help. I was not able to gain any r.p.m.'s from the diesel engine. Something was clearly wrong.
"There's black smoke coming out behind the stern," Daniels announced to us in the main cabin. Turning my head to the left, I could see a heavy cloud swirling in the air, emanating from my wet exhaust pipe at the rear. Not good.
I opened up the engine box in the main cabin to examine my 370-horsepower engine, and noticed that the clamp that secures the large hose between the engine and exhaust pipe was busted. Still, that issue alone was not likely the cause of the problem at hand.
We limped back to port in Sag Harbor at a gentle eight knots on the incoming tide, with thankfully no visible smoke concerns. The mechanic at my marina will check out what went wrong. The early guess is a failed turbocharger or injection pump. Or perhaps something else.
Either way, the repair, providing the replacement parts are even available due to the ongoing worldwide supply crunch, will undoubtedly be expensive. That's the way it is with boats. It was sad to end the day at such an early hour, with the fishing prospects so good.
Most of those fortunate enough to have been out fishing on a fully-functioning boat this weekend were rewarded for their efforts.
"The bass fishing out at Montauk continues to be fantastic," said Ken Morse at Tight Lines Tackle in Sag Harbor. "And the fishing along the ocean beaches has improved as well." Morse noted that the entrances to Mecox Bay and Sagg and Georgica Ponds, were opened last week, and that casters there did well, especially at night.
Morse added that schools of false albacore continue to roam around Gardiner's Bay and along the North Fork, and that blackfish are running exceptionally well at Fishers Island.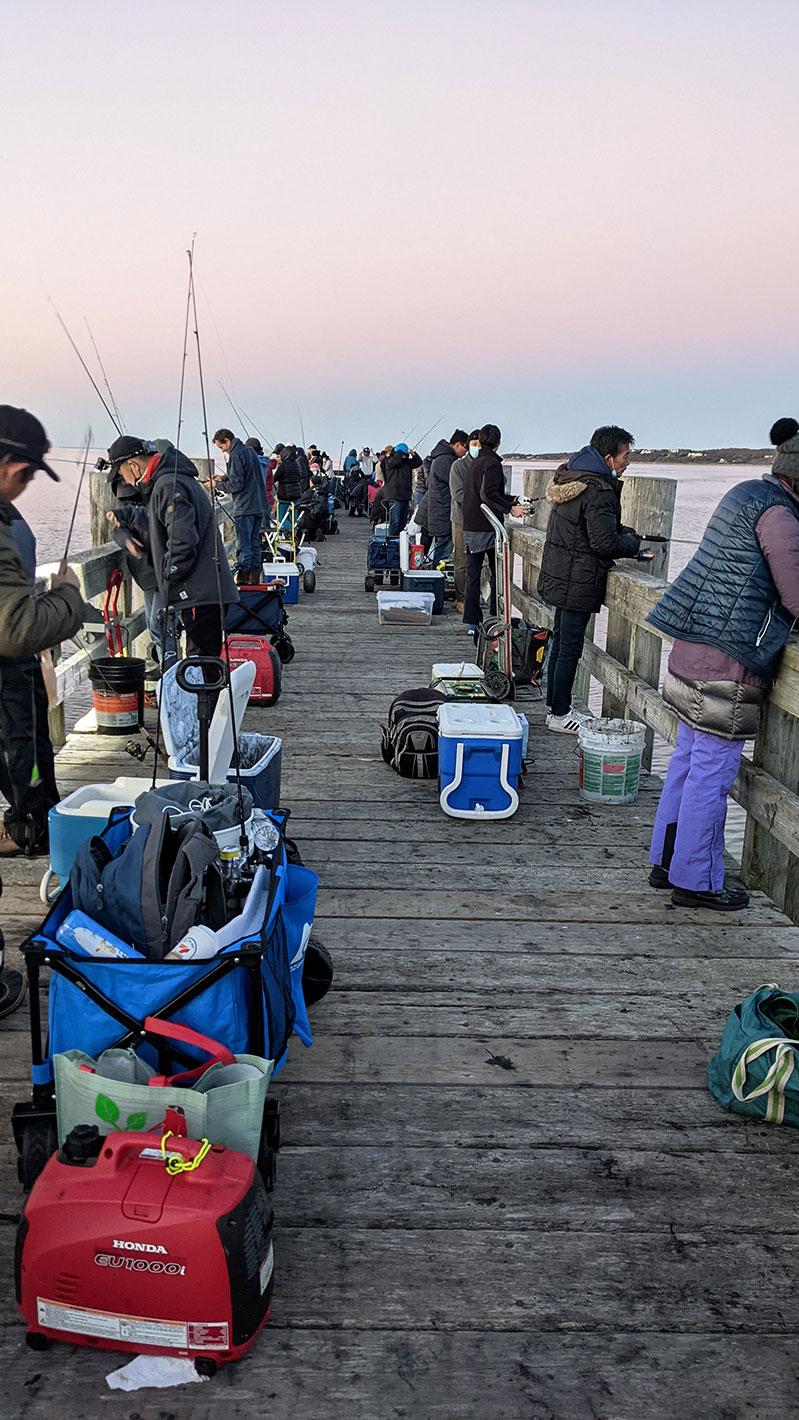 "Plenty of stripers in Plum Gut and at Montauk," agreed Sebastian Gorgone of Mrs. Sam's Bait and Tackle in East Hampton. "Bass fishing has also picked up along the local ocean beaches, and that the run of squid has not stopped at many local docks and piers. It's been an epic run of squid."
Gorgone added that blackfish catches remain strong in the Plum and Gull Island areas, as well as at Fishers Island. "Bigger fish are starting to show up too."
Harvey Bennett at the Tackle Shop in Amagansett also lauded the excellent action out at Montauk. "The bass fishing has reminded me of the great fall fishing we have not seen in many years there," he said. "And even the surfcasters are finally getting some fish now on the beach. The fishing for false albacore has come on strong too, and has been the best all fall. Let's hope this run continues for a while."
Bennett also confirmed that squid are thick in Montauk Harbor, Fort Pond Bay, and Three Mile Harbor. "I had a pile of squid jigs here at the shop and I've sold just about every one of them over past few weeks."
Bennett's end-of-business sale at his establishment along Montauk Highway continues. He's usually behind the counter from Thursday through Saturday, but he can also be reached at 631-324-7770.
Bottom fish fanatics at Montauk continue to enjoy fine catches of sea bass, porgy, blackfish, and a few cod. Capt. Jamie Quaresimo of the Miss Montauk II, a full-day party boat that sails out of the Montauk Marine Basin every morning at 6 a.m., has done well, as have many others, on mixed-bag fishing.
---
We welcome your fishing tips, observations, and photographs at [email protected].