The grounds of the Billie Jean King National Tennis Center, home of the U.S. Open Tennis Championships, which got underway on Monday, are a massive asphalt jungle about two miles from noisy La Guardia Airport and adjacent to the busy Grand Central Parkway. No one would ever confuse it with a fisherman's paradise.
But that does not mean that some of the finest tennis players in the world don't appreciate time away from the court to pick up a fishing rod instead of a tennis racket. For several prominent tennis professionals, fishing brings great happiness off the court as well as providing some tasty dinners.
Lucky enough to once again secure media credentials to cover the tournament, I needed to do a bit of fishing myself to see who is really hooked on the sport. After all, fishermen are notorious for embellishing their catch or repeating the tale of the big one that got away. So, who are the ones that don't mind taking a fish off a baited hook?
Karolina Pliskova, 30, of the Czech Republic, has won 16 titles and is at present ranked 22 in the world. But besides collecting over $23 million in prize money in her career, Pliskova apparently enjoys the peace and quiet of fishing with her father back home and in other environs. She has posted pictures of her adventures on the sea and streams on several occasions on social media.
Standing over six feet tall, Pliskova by reputation has a rather quiet demeanor on and off the tennis court. She is also most likely tired of being asked some of the same questions about tennis at every event.
The former number-one tennis player and a finalist at Wimbledon last year was very patient and polished in her responses to queries lobbed at her after a practice session on Saturday. But Pliskova smiled when I asked her about fishing. She took the bait.
"I enjoy fishing when the time allows," she said. "My father loves to fish and that's where I learned from. It's a relaxing hobby."
Closer to home, John Isner, 37, who has captured 16 titles in his career, also loves to fish as his schedule allows. Currently ranked 48th in the world, the native of Greensboro, N.C., who now lives in Dallas with his wife and three children, often posts pictures on social media with his catch of the day.
High hook so to speak, is Rafael Nadal of Spain, who holds the all-time record of 22 Grand Slam men's singles titles. When not brandishing his colorful Babolat racket and thrashing opponents on the court, Rafa, as he's commonly known, loves to fish in his hometown on the island of Mallorca.
Unfortunately, like bluefish feasting on a massive school of bunker, Rafa was blitzed by several dozen reporters last Friday asking questions on all thing's tennis. I did not have a chance to lure him in. But in an interview with CNBC a few years ago, he said that his favorite meal is the one he catches himself.
"I love fishing and being in the sea with boats," he said. "I normally go with lines or spear guns. I love sea bass. It's great when you are on the boat and catch a sea bass, and have dinner with it. Fish is my favorite, grilled with olive oil."
I hear you, Rafa.
A natural for this column would have been to ask the tennis professional Mardy Fish of Edina, Minn., if his last name was indicative of whether he enjoyed fishing. Sadly, Fish, who had a marvelous career on the court, was not available for comment. He retired from the pro circuit back in 2015.
Perhaps he's out fishing back in Minnesota? After all, the state is widely known as the land of 10,000 lakes. Truth be told, beyond the well-established moniker, there are actually 11,842 lakes in Minnesota. But who's really counting?
Still, it's nice to see a few players of the hard court enjoy some peace and quiet on the water. That's an ace in my book.
I'm not aware of any tennis professionals at the U.S. Open heading out to Montauk to wet a line, but the late summer action seems to be holding up just fine for those with rod and reel in hand.
"Still lots of great fishing around," said Sebastian Gorgone at Mrs. Sam's Bait and Tackle in East Hampton. He spoke highly of the wide assortment of fish in local waters. "I went out the other evening and caught six different fish from shore," he said. His catch included porgies, kingfish, snappers, blowfish, sea bass, and striped bass. "There's a ton of stripers in Three Mile Harbor, but there is so much bait around so they are a challenge to catch." Gorgone added that some up to seven pounds have been landed in recent days and that offshore, tuna and mahimahi are running strong in the warm water.
It's hard to beat fresh tuna for dinner.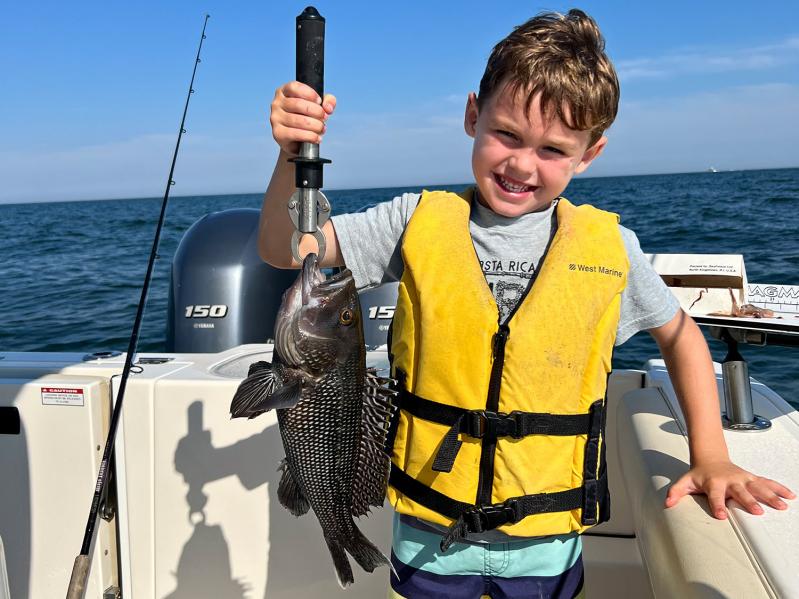 —
Fishing tips, observations, and photographs can be sent to [email protected].