Three commercial fishermen returned safely to East Hampton last week after a scary morning at sea, about 25 miles south of Fire Island.
Capt. Bill Carman was on a routine fluke run with Mitchell Lester of East Hampton and Mike Havens of Springs, all experienced fishermen, when the seas came up in the early morning hours of Feb. 12. Their boat, the New Age, a Montauk-based 50-foot fishing vessel owned by Chris Winkler, stayed afloat, but listed to one side so much they feared it would roll over.     
The men refuted an early report from the Coast Guard last week that they were in the water when help arrived. "The very last thing to do is get off the boat unless you have to," said Kelly Lester, who is Mr. Lester's cousin, Mr. Carman's wife, and a close friend of Mr. Havens. She spoke on their behalf this week.     The trio left Montauk on Feb. 10, a Monday, at around 11 p.m., and steamed to 50 fathoms, about eight to nine hours. They made three tows on Tuesday. Fishing was great, they told Ms. Lester.     
They made their last tow around 4:30 that afternoon. It rained all day, and after changing their clothes they warmed up a bit and grabbed a bite to eat. Captain Carman, an Amagansett resident, plotted a course to Belford, N.J., to deliver the fluke.     
Mr. Lester went down to nap while the captain and Mr. Havens stayed on deck. Mr. Carman stood watch until around 2:30 a.m.; then Mr. Lester took over. No more than a half-hour later, he told Ms. Lester, he woke the captain. The pumps kept running and the lazarette, a small below-deck storage compartment to the rear of the boat, was filled with water.     
Mr. Winkler later explained that the New Age has watertight bulkheads, and when there is water intrusion in one of them, as long as the water doesn't pass to another, the boat won't sink.     
It was pitch black when Captain Carman ran out on deck in his pajamas and short boots. He ordered the crew to get a brand-new bilge pump, but its couplings and some parts seemed to be missing. Mr. Havens ran down with a flashlight and tore apart the two top bunks for a good 10 minutes, but came up empty.     By this time, the water had come up to the fish-hold cover and the lazarette pumps quit altogether. Captain Carman ran into the wheelhouse and sent out a Mayday distress signal, giving his position. Standing on a lawn chair he'd taken from home, he reached the roof and grabbed the boat's emergency position-indicating radio-beacon station, a device to alert search and rescue services.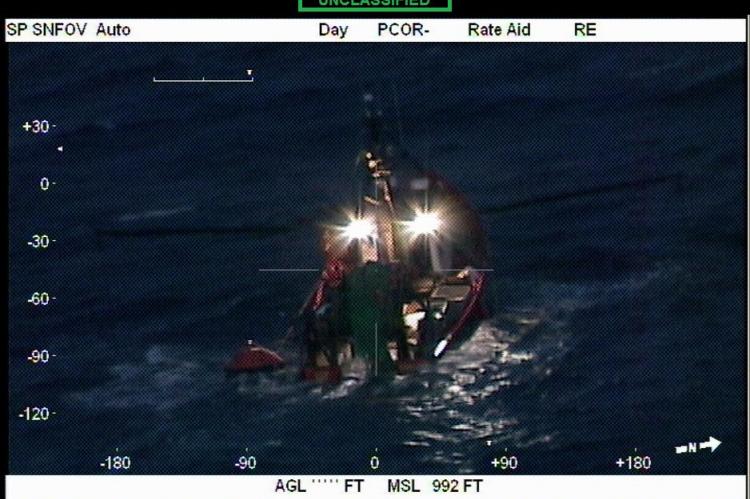 Meanwhile, Mr. Havens was trying to keep the scuppers clear so the water would drain and wash off the deck. Mr. Lester, who is 56, also climbed to the roof and yelled for a knife to cut the life raft off its mount. They almost went over the side when a hard wave hit.     
Captain Carman, 33, told the crew to don survival suits, a waterproof "dry suit" that protects wearers from hypothermia in cold water. They helped each other get into the suits, and found Mr. Lester had the wrong size. Mr. Havens, 49, went below to get the right one, and later told Ms. Lester he was scared the boat was going over while he was down there. Captain Carman put flares and his phone inside his survival suit.     The captain was communicating with the Coast Guard, and the crew were throwing things overboard to lighten the boat as much as possible. When one huge wave crashed into the side, "Mitchell flew across the deck, came down, and landed on his back on the fish-hold cover," Ms. Lester said. "Mitch later said, 'Thank God that steel post was sticking up, it caught me. I thought I was going over.' "     
But he was hurt. He said he could not breathe. He was later found to have several broken ribs.     
They told the Coast Guard the New Age might be going over, and thought about jumping all together into the life raft. They were just about to, when the boat righted itself. That happened several times before a Coast Guard cutter arrived, about an hour and a half after the initial Mayday call.     
A Coast Guard helicopter from Air Station Cape Cod got there first. Captain Carman shot off flares and the helicopter shook its wings, a sign the air crew had spotted them. Mr. Lester jumped into the water; the cutter plucked him out. Mr. Carman and Mr. Havens stayed on the boat, hoping the Coast Guard would send over pumps. When another wave hit, Ms. Lester said, and the boat almost rolled again, "Billy said the Coast Guard yelled, 'You two are going in the water one way or the other' and ordered them to jump." They swam to the cutter.     
Mr. Lester was airlifted to Good Sa­mar­itan Hospital in Bay Shore. Ms. Lester first heard of their narrow escape when Mr. Lester's wife called her, saying the boat had sunk, though it actually had not. She called around to several hospitals, none of which had her husband or Mr. Havens listed, and then called Sector Long Island Sound, which calmed her down. Captain Carman and Mr. Havens were still aboard the Coast Guard cutter, waiting to see if they could get back on the New Age when the winds calmed. "Those were the worst eight minutes of my life," Ms. Lester said.     
The boat was on autopilot, still heading for New Jersey. After a few hours, and several more close calls, the engines died. The Coast Guard deemed it too dangerous to try any longer to save it, and called off rescue operations.     
Meanwhile, the boat's owner, Mr. Winkler, had just landed at J.F.K. Airport after a vacation when he got a call from the Coast Guard. The New Age, which he has owned for 30 years, "was in peril of sinking."     "To the best of my knowledge, at that point, everyone was going to be okay, he said during an interview on Sunday. "That was really my first question to the Coast Guard." He was told he should get a private company to help him salvage the boat.     
"I had to get my own private salvage operation off the ground," Mr. Winkler said. He called upon Matt Fabrizio, a friend who keeps a boat at a Fire Island Inlet marina — the New Age was about 28 miles off the inlet, he had been told. They loaded some pumps onto Mr. Fabrizio's high-speed, 28-foot catamaran, and it took them about a half-hour to reach the New Age.     
The boat was listing to starboard, with some "two tons of ice" on that side. The lazarette was filled with water, but they worked on stabilizing the boat first. "Within 10 minutes, the vessel started righting itself," Mr. Winkler said. After pumping out the lazarette, he was able to get the engine running again.     
The Coast Guard launched a small inflatable, and crew members came over to confirm everything was mechanically sound. Mr. Winkler then headed to Belford to offload the 1,500 pounds of fluke that the crew had caught. The five-and-a-half hour trip was uneventful, he said. The New Age has since been overhauled at a shipyard in Mamaroneck, N.Y.     
Ms. Lester, whose family has made its living on the water for generations, said the three men are heroes. "They looked out for each other," she said, adding that all of then credited good advice from other fishermen. Captain Carman said Dan Farnham and Brad Bowen had sent him to Coast Guard training classes, and "that saved our lives."