On Friday at my well-worn dock where my boat resides, the early morning sun tried earnestly to find a break in the low deck of gray clouds. It was useless, as the air was overly dense in a heavy blanket of humidity. It was going to be another hot day in what has already been a hot summer.
And it wasn't just bad outside. The Amazon forest-like dampness inside the main cabin of my boat also gave off a slight odor of mildew and staleness. It seemed like weeks since the last day when the air was cool, clean, and dry.
Untying my dock lines, I could see the outline of a large blue-claw crab clinging upside down on my innermost piling. The crabs, which are a rather cyclical species that runs the gamut from boom to bust in their yearly appearance, have in fact been very plentiful this season. Gathering enough for dinner in my wire mesh traps near my berth has been an easy chore.
There was barely a wisp of wind on Gardiner's Bay as I headed northeast. It also made it easy to make out the copious schools of bunker frolicking in mass unison just under the surface of the glassy water.
Known also as menhaden or pogies, depending on geographic location, bunker are a vital part of the marine ecosystem. Not suitable for human consumption, their bony and oil-laden flesh are prized by just about every kind of fish from striped bass to sharks, as well as being commercially processed for fish oil and fertilizer. Like blue-claw crabs, for several years now their inshore presence has been abundant. It's been a welcome sight.
While their population has exploded on a local level, efforts have been ongoing for several decades to help protect their stocks on a regional level. In early August, the menhaden board of the Atlantic States Marine Fisheries Commission decided to finally adopt "ecological reference points" for the management of bunker.
The key outcome is that this important forage fish will be managed in a way that maintains its traditional role in coastal ecosystems rather than merely for sustainable harvest. In October, the board will decide on the annual catch limit for the 2021 season.
While the old bunker factories that dotted the shoreline of Napeague almost a century ago will never return, the efforts to protect bunkers' ecological value in the marine food chain are a most welcome development. It took many years of effort, but the result was well worth it for a fish that deserved greater respect.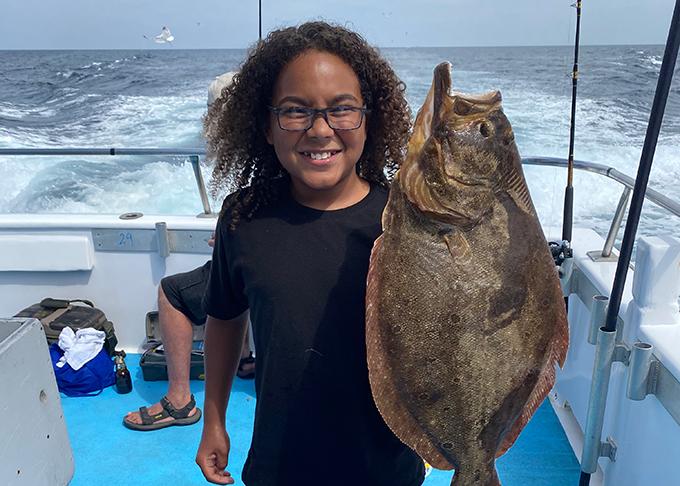 On the local fishing scene, the three-day northeast blow that commenced late on Friday made it hard to find calmer waters. However, fishing should bounce back to normal quickly, and Montauk figures to be the most prominent possibility on where to drop a baited hook.
Those seeking fluke, especially those who traveled to the windmills southeast of Block Island or the Frisbee and Cartwright grounds south of Montauk, have been rewarded with nice catches of late.
Taking advantage of the good weather on Friday, Pat Wallace of Shelter Island took Chase Millwater out for a full day of fishing on the Miss Montauk II. While only 12 years old, the young angler with a big smile certainly proved that age is not a factor by decking his full limit of fluke, including the pool winner — a solid eight-pound flattie.
"He was hot all day," said Wallace, as he retold the story on Sunday morning inside Tight Lines Tackle in Sag Harbor. "And he was fishing with bucktails too. It takes some real skill to do that in deep water, but he has become a great fisherman already. He had a blast and so did I." Other party boats like the Montauk Star, Ebb Tide II, Viking, and Lazybones also reported good catches, with a nice mixture of sea bass thrown in for good measure.
"Fishing was pretty good before the weekend blow," said Chris Miller at Westlake Marina in Montauk. On Friday, Miller and his crew traveled offshore where they boated 11 yellowfin tuna on diamond jigs. The seasoned fisherman said that the Ranger wreck has also been a hot spot of late, holding both yellow and bluefin tuna.
Miller added that sea bass and porgy fishing remains strong in many of the usual summertime haunts and that catches of codfish off to the east have been very productive. "Some really nice cod have come in from Cox Ledge," he added. "It's a long ride, but it's been worth the effort."
To the west, past the sand dunes of Napeague, Harvey Bennett, owner of the Tackle Shop in Amagansett, confirmed that fishing efforts were curtailed by the windy weekend, but that the action should bounce back quickly.
"It seems like every August we get a three-day blow, so this was not unusual," he observed on a sunny and calm Monday afternoon. "I also think it's a good thing, as it ultimately helps the fishing by shaking up the water column. It's a bit of an early harbinger of fall."
Bennett said that fluke fishing has been solid at Napeague, while porgies, kingfish, small bass, and snappers are around in great supply. He also heard that a few false albacore were sighted near Fishers Island.
The 40-year owner of the store was also grateful for the donations of money, and women's and children's clothes for several families in San Francisco de Macoris in the Dominican Republic who were devastated by the recent flooding rains of Tropical Storm Isaias.
"Thanks to all that stopped by," he said. "I could still use some more clothes and money to send to them. They really were hit hard by that storm."