It was an excursion I was looking forward to. Ever since the outbreak of the pandemic, other than checking on my lobster traps and doing a bit of fishing on my boat, I have not ventured far from home. I've been playing it safe. Even with the low price of gas at the pump, I'm only filling up my car's tank every six weeks or so. I've probably used more in my lawn mower. There are very few places I need or want to go to, no matter the distance. 
But last Friday morning was different. I actually had a reason to take a trip to Southold on the North Fork to pick up my oyster seed, better known as spat, from the Cornell Cooperative Extension Marine Center. As the crow flies, it's only a little over two miles from our house on North Haven, but when you factor in the two ferry rides via Shelter Island, and the long and winding road to get to the actual facility at the southern tip of Great Hog Neck, the trip takes over an hour. In hindsight, it would have been quicker to have taken my boat. But it was nice to be on the ferries and let the other captains do their work.
Upon arrival at the multi-building facility, two other people were bent over culling out their allotment of 1,000 oysters in the bright late-morning sun. Hovering nearby was Kim Tetrault of East Hampton, who runs the program, a person whose passion and knowledge of all things oysters runs deep. 
"Great to see you again," he said from behind his medical-grade mask, as we touched elbows in a new gesture of greeting each other. "I've got 500 oysters that are from last spring and the rest are spat that were raised a few weeks ago. You just need to cull them out."
Tetrault sauntered down to the floating dock on the tidal creek and pulled up a five-tiered cage that contained the year-old oysters, then dumped its contents onto the wooden culling board dockside. The oysters were about an inch long and felt heavy to the touch. They were obviously living large on the robust amount of plankton in the healthy waters.
Tetrault then came out from the nearby hatchery building with a small bag containing the other newly hatched oysters. All 500 of them fit easily in the palm of my hand. They were minuscule and equally brittle. I carefully placed them into my cooler for safe storage.
Tetrault said that while the pandemic forced the facility to close for nearly three months, interest from people looking to raise their own oysters has been extremely strong. "People have had more time on their hands and are looking for other pastimes to get involved with," he said. "It's been great to see the increased interest."
In addition, many people have become aware that oysters have a tremendous ecological value: They help purify bays and waterways as they filter the water for their food, which may be the most important benefit they provide (besides being a gourmet treat). An adult oyster can filter as much as 50 gallons of water a day. Pretty darn impressive.
After thanking Tetrault for my oysters and washing down the culling board, it was time to head back home. It felt good to escape from the small bubble of my hopefully temporary new world, if only for a few hours. 
As for the fishing scene, the variety of fish now in our local waters reads more like an extended shopping list. From blowfish to large bigeye tuna, it's hard to find a species not willing to take a baited hook or lure.
"You name it, you can probably catch it somewhere," said Harvey Bennett, the owner of the Tackle Shop in Amagansett. "Some really nice-sized fluke are off of Napeague and the nearby shoals. Blowfish are everywhere, especially in Three Mile Harbor, and shad are at Georgica, with bass all over the ocean beaches."
Bennett added that squid can still be had from the dock in Fort Pond Bay at night, and that big porgies are in residence at Accabonac and Culloden Point.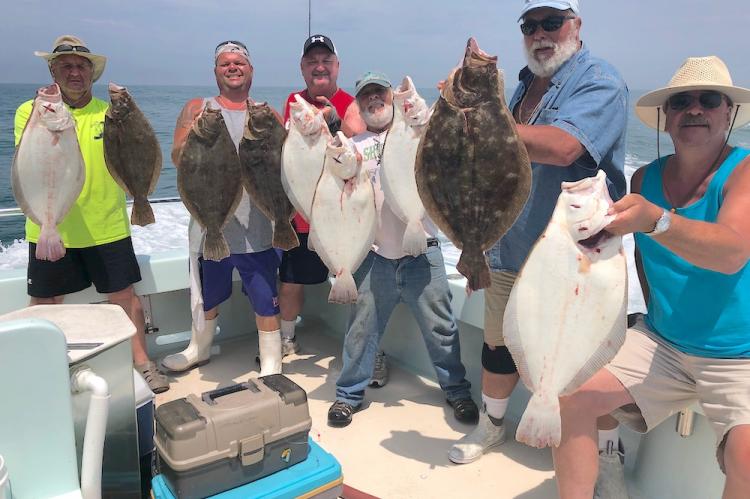 ---
Supersize striped bass have settled in the rips off Montauk Point. Fish from 30 to 40 pounds are commonplace, with several pushing past the elusive 50-pound mark. Alas, many would say they have become a nuisance, as the fish are too big to be retained for the table. New regulations implemented this year allow anglers to retain only those stripers between 28 and 35 inches. 
"Bass fishing has been very solid from the beach too, with a nice amount of fish within the slot size," said Paul Apostolides at Paulie's Bait and Tackle in Montauk. "Lots of bass on the southside and the bluefish are mixed in with the bass on the northside." Apostolides said that that plugs and bait, especially clams, have been the hot choice of late.
"I just had a lady in my store who caught a nice keeper on clam from the beach on her first cast," he said on Monday afternoon. "There's some great fishing going on." 
A number of nice-size sharks were weighed in at the 50th annual Montauk Marine Basin shark tournament last weekend. The largest to hit the scales was a 436-pound thresher taken by Jake Stevens on the Emily Rose. Several makos over 200 pounds were also weighed in, including a 242-pound specimen taken by the crew of the Apelia. Mako and thresher make for excellent table fare.