John Lennon once said that "everything will be okay in the end. If it's not okay, it's not the end." I was reminded of that quote last week, which sadly marked 40 years since his premature and tragic passing.
Given what 2020 has brought for all of us, I'm hopeful that Lennon's words ring true and that 2021 will in fact be okay in the end. Then again, the Fab Four front man also said that "the more I see, the less I know for sure." Good to cover all bases, especially in these trying times.
"It's kind of hard to believe we are at the end of the year," said an understated Harvey Bennett at the Tackle Shop in Amagansett. "Like many others, I'm tired. I hope next year brings better hope and promise. We all deserve it. Let's close the book on 2020."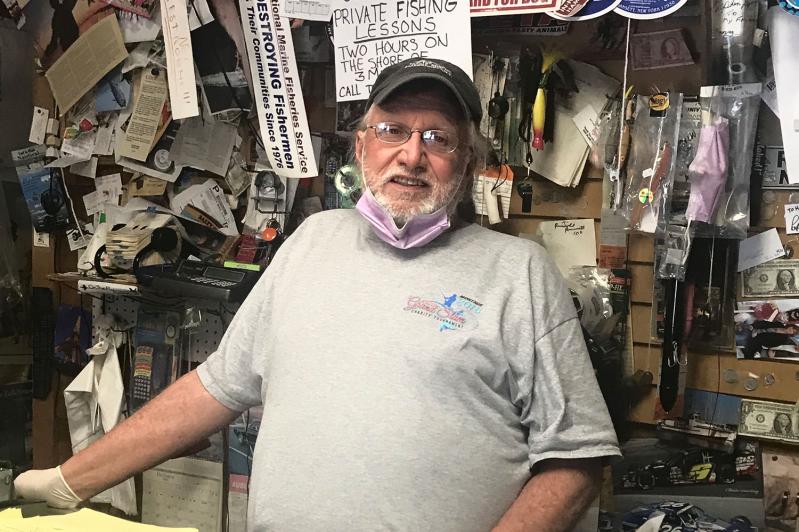 Before finishing the final chapter of the year, Bennett will keep the lights on and door open in his establishment until the day before Christmas for holiday shoppers. Most of his merchandise is on sale for 50 to 75 percent off.
Bennett noted that clam rakes in particular have been a popular gift item this season, as more people have taken up the pastime during the pandemic. Note that it's hard to beat the sweet taste of a clam taken during the cold days of winter.
"I'm looking forward to some downtime this winter," he added about his off-season plans. "I had planned to make a trip to the Dominican Republic to check on some of the kids we've supported the past few years with the donations I've received, but with the travel restrictions, I doubt it will happen. Many are not aware that country has also been hit hard by the virus. It's a sad situation there."
"Fish reports have been few and far between, but there are still a few small striped bass along the ocean beaches," said Ken Morse at Tight Lines Tackle in Sag Harbor. "I think people are now more focused on finding their snow shovels and stowing away their rod and reels for a few months."
While Morse also looks forward to some much-needed downtime during the winter after an extremely busy season, he too is running a holiday sale on many items. The highly stocked tackle shop is open every day until Wednesday. 
"It was truly an amazing, busy season — one for the record books," said Sebastian Gorgone at Mrs. Sam's Bait and Tackle in East Hampton. "So many new faces I have never seen before came into the shop this year. It was really hard to find rods and reels and other tackle items to keep in stock. Many people literally got hooked on fishing this season. It was crazy."
Gorgone is hoping to travel to the Florida Keys in February for a little rest and relaxation, as well as do some well-deserved fishing, but is unsure if that will be possible. "We have a place rented down there, but I'm not certain we will be able to go at this point," he said. "Our fingers are crossed."
Given the recent surge in the virus numbers, Gorgone, a musician too, is also reluctant to start up his weekly jam sessions at his shop. "We're ready to rock, but we know we have to be careful too," he said looking at the drum sitting silently in one of his garage bays. As always, Gorgone's shop is open daily for some last-minute shopping for a variety of fishing wares and supplies.
While the season for striped bass closed on Tuesday, anglers still have until this coming Tuesday to catch blackfish. This weekend, Capt. Tyler Quaresimo of the Montauk charter boat Simple Life put his fares onto a nice pile of late-season blackfish. Capt. Paul Bruno of the Elizabeth II also returned to the dock with a nice catch of blacks, as well as a dozen codfish.
As for black sea bass, the season comes to an end on Dec. 31. After that, codfish will pretty much be the only game in town for the next few months.
Out at Montauk, the Viking Fleet and Miss Montauk II will likely venture forth if the cod are around in decent numbers and if the weather cooperates. Last winter did not offer much in the way of action, but some early signs over the past few weeks indicate that a reasonable number of fish are in residence south of Montauk and to the east in the deeper waters off Block Island. Last weekend, anglers aboard the Viking landed a good amount of cod up to 30 pounds.
Time will tell if the fishing will hold up. But as Lennon also said — "reality also leaves a lot to the imagination."
Tight lines and happy holidays.