"It was 50 years ago today," I thought as I entered the Regal Theater on Main Street in East Hampton this past August to catch the much-hyped 1969 period film "Once Upon a Time in Hollywood." But unlike those who hoped to be enthralled by another Quentin Tarantino epic littered with colorful dialogue and his trademark samurai blood, I went looking for a flicker, a faint reminder of my unforgettable summer, an unforgettable moment, a divine encounter in Los Angeles, where I went to play baseball but crossed paths with a Doll instead.
My youth in Astoria during the '60s was filled with baseball, basketball, football, and more friends than Shea Stadium could hold, living with my mother, father, and brother above my grandparents in a semi-attached brick building on a block with a flood of kids playing stickball, ring-a-levio, and every New York City game popular in those days, but come November I found myself despondent, alone, depressed, very depressed, embracing one dream — to play baseball on Christmas.
One dreary, sleet-ridden January day in 1969, my grandmother made a lavish offer.
"You want to play baseball all year?" she asked, sitting on her plastic-slipcovered couch.
"Of course, Grandma," I answered. "I'd do anything to play in the winter."
"Remember my brother Frank?" she asked.
"He's my favorite," I said. "He always sends me baseball books."
Great-Uncle Frank and Aunt Louise owned Bell's Books on West Seventh Street in Los Angeles, where they landed after hightailing it to the West Coast from the Lower East Side, changing their last name, for reasons unknown to me, to Bell.
"Maybe you can stay with him for the summer and, if you like it, enroll in high school," she continued.
"Move to California?" I stuttered.
"Everyone fears and worries you might do something foolish. You won't be happy unless you play baseball all year round."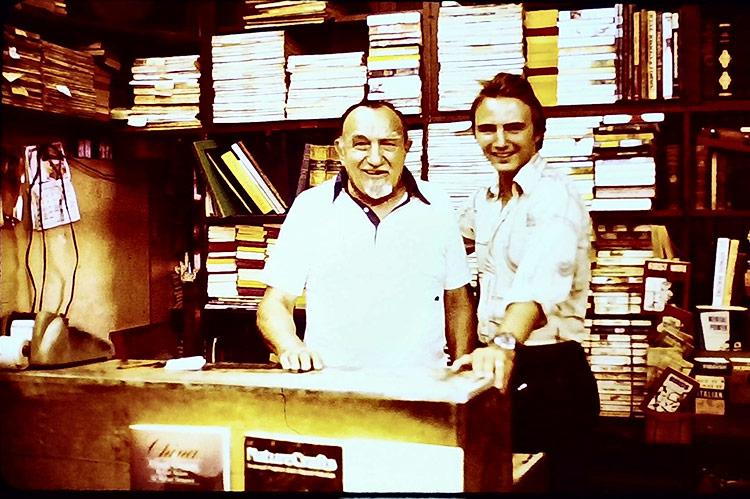 Somewhere around mid-July, I flew from LGA to LAX, where Uncle Frank and Aunt Louise, both in their 60s, picked me up in their 1955 two-tone blue Buick to take me to their hilltop house overlooking Silver Lake Reservoir, where the most important thing was the lemon tree in the backyard.
"Those lemons are my children," Uncle Frank bragged every morning.
The next day, I was put to work stocking shelves in their store at 2009 West Seventh Street, every minute sneezing from the dusty books.
"You'll meet a lot of celebrities here," Uncle Frank said.
"Will I meet Sandy Koufax?" I asked.
"I doubt it," Aunt Louise answered. "Not many baseball players come in looking for a 1920s edition of 'War and Peace.' "
For the remainder of July and the first week of August, I endured French cuisine every night, a trip to Disneyland, lackluster bike rides circling Silver Lake, and a jog to John Marshall High School, where I found a 32-inch Roberto Cle­mente Louisville Slugger sticking out of a trash can near the field.
I slept with that bat for the rest of my stay.
One boring afternoon in the first week of August, while stocking musty Reader's Digest books, a woman more beautiful than any I'd encountered in Astoria, aside from Celia, Suzanne, Barbara, Marissa, Silvana, Lilby, Jennifer, or Mercedes, opened the front door. The sunlight engulfed her in a halo. Even at 14 (my facial hair made me look 15), I was overwhelmed by her beauty, though she was visibly pregnant, her long blond hair and perfect skin hypnotizing me, causing me to lean back into the shelves, knocking over the books I'd unpacked.
"A friend tells me you have everything here," she said.
"I'm, I'm —" I stuttered.
"My nephew, Frankie. He's from Queens," Uncle Frank blurted from behind the counter.
"Hi, Frankie from Queens," she said, extending her hand to shake. "I'm Sharon from L.A. I'm looking for baby books."
I lightly shook her hand, taking in every inch of her porcelain face.
"You won't find baby books here," Uncle Frank said. "Go to Sunset."
She turned away, walked to the door, waved, "Bye, Frankie," and disappeared on West Seventh.
A few days later, noticing how quiet I was, Aunt Louise asked, "Do you wanna stay?"
"It's kinda boring," I answered. "And I'm tired of getting chauffeured everywhere."
"What about baseball in December?" she asked.
"I miss Astoria."
That afternoon, I called my mother for a flight home, hoping to make it back for my dad's birthday, Aug. 9. I thankfully made it, late on Aug. 8, taking the Ditmars Boulevard bus back from La Guardia Airport to my Crescent Street house, grabbing a well-deserved square slice of pizza at Leonard's Pizzeria. 
Back in my Joe Namath, Johnny Bench, and Mickey Mantle-postered room (Farrah would join them a few years later), I pondered two things: playing baseball and the most beautiful woman in the world.
Mid-August, my grandmother called up to me from the first floor.
"Hey, Frankie, Uncle Frank's on the phone."
I feared he was upset that I'd left sooner than planned.
"I'm so sorry I left early —"
"Remember the blond woman you fell head over heels for?" he interrupted.
"D-d-d-did she ask about me?"
"She passed away last week," he continued.
"Oh no! From having the baby?" I asked.
"No, no, it was tragic, very tragic. Your grandmother will tell you everything."
And that night, Grandma told me everything, and so did CBS, NBC, and ABC.
Almost 50 years would pass before I returned to my great-uncle and aunt's Silver Lake, Kenilworth Avenue house, now lacking its lemon tree, when my son Paul tried out as a pitcher for the U.C.L.A. Bruins baseball team in Jackie Robinson Stadium.
Driving up the hilly street, I parked in front of their home, Paul and my daughter, Elizabeth, by my side, unaware of my intentions. I knocked on the door, and a pretty woman with a pretty name, Capri, invited us into a living room I hadn't seen since the summer of '69, when Frankie from Queens dreamed of playing baseball on Christmas, but discovered instead my very own Once Upon a Time on West Seventh.
---
Frank Vespe is a regular contributor to the "Guestwords" column. He lives in Springs.