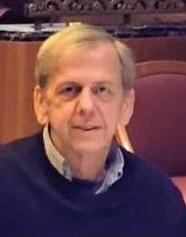 Brian Callahan, a market researcher who as a youth lived on Jacqueline Drive in Amagansett's Beach Hampton, died unexpectedly at home in Hasbrouck Heights, N.J., on Feb. 12. The cause was heart failure. Mr. Callahan was 68.
"Nothing brought Brian greater joy than spending time with his children," his brother Rory Callahan of Germantown, N.Y., wrote. "He will be deeply missed by his family, friends, and all who knew his gentle demeanor, generous spirit, and wonderful sense of humor."
Professionally he held senior positions with AT&T and Lucent Technologies, also conducting market research for the wine-producing countries of New Zealand and South Africa. He lived in and around New York City from 1975 to 2014, when he moved to Hasbrouck Heights.
Brian Kinsell Callahan was born in Suffern, N.Y., on May 14, 1952, to John Peter Callahan and the former Lavina Murray. His father, who for 22 years was a reporter and foreign correspondent for The New York Times, filed dispatches from Pakistan, Afghanistan, and India while based in Karachi, Pakistan. Mr. Callahan and his family moved from Karachi to Brooklyn Heights and then, in 1959, to Amagansett.
Mr. Callahan attended the Amagansett School and the Hampton Day School in Bridgehampton, later earning a bachelor's degree in philosophy from Fordham University in the Bronx and a master's degree from Pace University in Manhattan.
He and Daryl Heller were married on May 3, 1981. They remained close following a divorce in 2006.
Along with his brother Rory, Mr. Callahan is survived by a daughter and a son, Maris Callahan of Chicago and Derek Callahan of Edgewater, N.J., as well as a sister, Lynn Callahan Taylor of Hasbrouck Heights, another brother, Michael Callahan of Manhattan and Sag Harbor, four nieces, and one nephew. Two brothers died before him.
Mr. Callahan was cremated, and his ashes were buried at Oakland Cemetery in Sag Harbor. A private graveside memorial service there has been scheduled for June 12 at noon, followed by a celebration of his life for family and friends.
Mr. Callahan's family has suggested memorial contributions to the Sag Harbor Community Food Pantry, at sagharborfoodpantry.org.