At first, I liked the bamboo.
It was a comforting green wall, separating me from my neighbor's pool. When the wind blew, it sounded like one hand clapping. At the same time, I found myself thinking, "If the revolution comes, I will dig a trench around my house and fill it with bamboo spears."
In the spring, the bamboo runs. It spreads underground via rhizomes that can travel as far as the bamboo is tall. So, a 25-foot-tall bamboo plant could produce a new stalk 25 feet away from the main cluster.
The rhizomes are about the width of a finger, and tough. Every three inches or so, tenacious roots radiate out and grip the soil, making it impossible to simply rip it from the ground.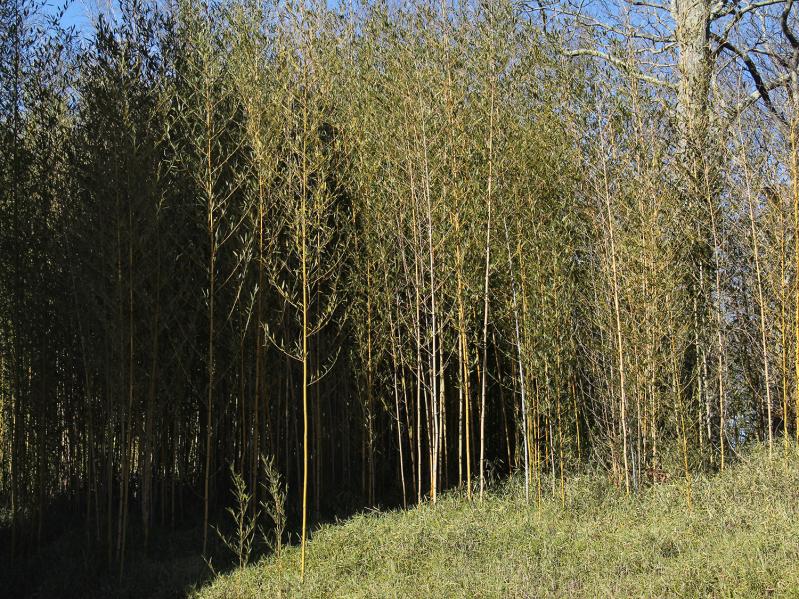 For years, in the spring, I would watch the new shoots emerge before I'd chop them at the base. In the meantime, the rhizomes extended farther until they ran under my driveway, making it into a rumpled gray river. They sliced through the sand under my brick patio, until it looked like it was built on a fault line.
It was time for the bamboo to go. Allow me to share a few tips I learned.
Tools You'll Need
I bought a Fiskars 46-inch steel digging shovel from the TrueValue in Sag Harbor. It has a lifetime warranty. Good thing, because halfway through my project, after uprooting 150 bamboo plants, I snapped a handle. The D'Angelo brothers took it back, no questions asked. Shop local.
You'll also need a lopper. Mine had 18-inch handles. If you have masculinity issues, get one with 24-inch handles. A strong hand shear is another must; I love my Okatsunes.
A big bucket to hold cut roots is helpful, but not essential.
Most of all, you need a strong will. This is a war you are fighting. Take the long view.
The Process
Now for the work. Approach a bamboo plant. Squat. Grasp the plant with one hand, maybe two feet from the ground, and pretend you are strangling it. Say something terrible to it. Now it knows you mean business.
Okay, release your grip. Look around. Make sure no one saw you do that. Breathe.
Get your lopper. Maybe four inches from the ground, cut. Enjoy. Put the big green stalk aside. Later you will use your hand shear to remove all the little branches from it, so you're left with only a satisfying 20-foot bamboo pole. Save it for the revolution.
Take your shovel. Dig around the bamboo stump. Under it is a massive root ball which I took to calling the "bamboo brain." Mine were anywhere from a foot to a foot and a half in circumference and equally as deep.
Brain Surgery
The best way to remove the brain is to dig around it, by stepping your shovel into the earth and proceeding in a circle around it. At some point, you'll hit a hard part, which is the rhizome exiting the brain. Trace it out about a foot from the brain and cut it, but make sure you remember where it is. Now you have the brain isolated. Dig and lever, dig and lever, all the way around it, until you can lever it out of the ground. They are heavy. At least 25 pounds each.
Back to the rhizome. Figure out which direction it's running. You'll dig on either side of it, getting your shovel just below it so you can lever that up as well, loosening the roots that hold it in place. Wait until it's really loose to lift it out. Let the shovel do most of the work. Don't rip at it like a monkey. You'll lose.
Unearth a few feet of rhizome and then pull it out. Pick out the smaller roots and toss them in your bucket. Again, don't be surprised if a single rhizome extends for 20 feet. If they run into a barrier, like the side of a garage, you will find a layer of rhizomes stacked atop each other.
Pace Yourself
Be patient. Hydrate. It's difficult work. It's also very satisfying.
I expect I missed a few rhizomes. They're not getting away with anything. If they're dumb enough to sprout this spring, I'll dig them up.
I've started on a 30-inch deep, 125-foot trench along my property line. When complete, I'll bury a sheet of bamboo barrier.
Perhaps, if I survive, that project will be the subject of a story in next year's edition of East End Garden and Home.