Budbreak — when wine grapes' winter buds open and begin to release their woolly leaves — has unfurled across the East End, perhaps inspiring people to dream of growing wine grapes of their own.
But if you're not well off like the Wolffers or Channings of the world, or not a trained expert like Roman Roth or Anthony Nappa, you couldn't possibly have your own vineyard, right?
"Wrong!" said Steven Scarnato of Jamesport, founder of Long Island Vine Care. "We can install a vineyard on your property with as few as eight vines."
But then what? How can you maintain a vineyard and vinify a decent bottle of wine?
"We can do it all for you," said Mr. Scarnato, "from planting to pruning to picking to bottling."
Which answers a question posed by one local oenophile: "What's a vineyard service going to do, cut the grass?" asked Michael N. Cinque.
Mr. Cinque and his sons, Nicholas and Christopher, planted their front-yard vineyard 15 years ago. As the proprietor of Amagansett Wine and Spirits, Michael Cinque already knew a lot about wine. And though he has fond memories of crushing wine grapes (bought from the Brooklyn Terminal Market) with his grandfather, he was new to agriculture.
"It's work," he said.
The Cinque family home vineyard's neat rows of vines nestled in beds of local stone are gorgeous year round, transforming their Amagansett home into a Mediterranean villa. The 100 vines — 25 each of Chardonnay, Pinot Blanc, Pinot Gris, and Sauvignon Blanc — produce 20 cases of wine annually.
"The first year wasn't pretty," Mr. Cinque said. "Like new rosebushes, grapevines are sticks." During the early years, the thin plants needed bolstering with steel rods and encasing in plastic tubes that provide protection from pests and insulation against cold. Fruit must be removed when it first appears, so that energy is directed to produce strong roots.
But "any home vineyard is a great place to relax, to meet with others, to 'have dinner out,' " said Mr. Scarnato, the professional vineyardist. During the pandemic, his company planted more home vineyards than ever before. "Everyone was home enjoying the outdoors," he says.
It's often said that "no one ever went into the wine business to get rich." That may go double for the wine hobby. Empty bottles run about $3 each with a top, and custom labels might cost $5 each.
Still thinking of planting a home vineyard? Of course you are. You can't put a price on joy. Vigneron Cinque says his late grandfather often visits him in his home vineyard: "It's a spiritual thing."
Plant because you love it. Plant because fussing over the vines — and spending annual weekends picking and crushing and bottling with family and friends — is your dream. Plant because "it will taste like no other wine in the world," Mr. Scarnato said.
It's just one way to drink deeply of life on the East End.
—
Stacy Dermont is co-author, with Hillary Davis, of "The Hamptons Kitchen" (W.W. Norton and Co.), the cookbook and guide that features over 100 of her regional wine pairings. More information is online at StacyDermont.com.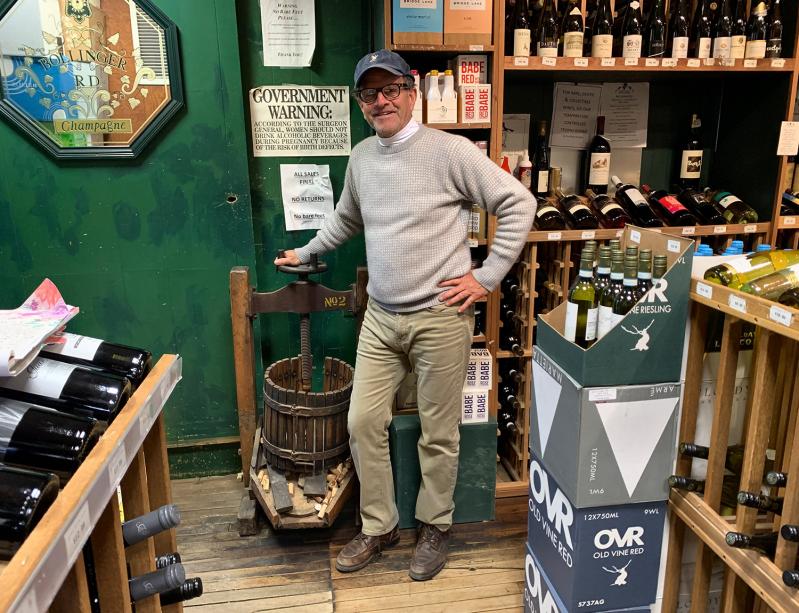 Want to Try It Yourself?
What You Need to Know
As you plant a home vineyard in your head, here are some tips to mull, according to Michael Cinque (M.C.), a self-taught vigneron, and Stephen Scarnato (S.S.), a home vineyard professional.
•
Site your vines in areas that receive full sun. (M.C.)
•
Map it out. Each vine requires about 50 square feet of space. (S.S.)
•
Know what grape varietals that you enjoy are grown and vinified near you. This is where professional advice is key. You may like Oregon Pinot Noirs or California Sauvignon Blancs, but those aren't the varietals to plant on Long Island to achieve a similar wine experience. (S.S.)
•
Price out all your materials so there are no unpleasant surprises. In addition to fencing, vines, wire, earth anchors, wire vices, vine stakes, posts, poles, gloves, and pruning tools, you'll likely need a drip irrigation system, bird netting, raccoon traps, pesticide and its attendant equipment, and harvest crates. (M.C.)
•
Plant wine grapes from April to June. (S.S.)
•
Make beauty for the eye as well as the palate. A rosebush at the end of each row of vines serves the practical purpose of warning of the onset of mildew, but it's also inviting. (M.C.)
•
Take lots of photos. You may be too busy to make notes, but taking shots of the same sample of vines every week in season may tell you all you need to know. (S.S.)
•
Pruning vines produces a lot of kindling. If you don't have a use for kindling, you'll probably want to give it away. Composting it can take years. (S.S.)
•
Before harvesting your crop, arrange one of three options: Buy and store your own winemaking equipment; share equipment with a fellow grower, or engage a service to crush and ferment your grapes. (M.C.)
•
Set up your own wine cellar. Every productive vineyard needs one. (M.C.)