What's a house without a story behind it? Just a structure. So what do you do if you find yourself living in new construction with plenty of character but no history? No story?
Make something up.
That's what Bryan Graybill and Dan Dokos did for their just-completed place on David's Lane in East Hampton Village.
"What was here was this bad late-'50s ranch house," Mr. Graybill said the other day over a cup of tea and a plate of cookies. "This is all new, but we didn't want new construction" — sleek and modern and uninteresting, that is — "so we came up with this faux narrative of a farmhouse and a family that had to sell off the land."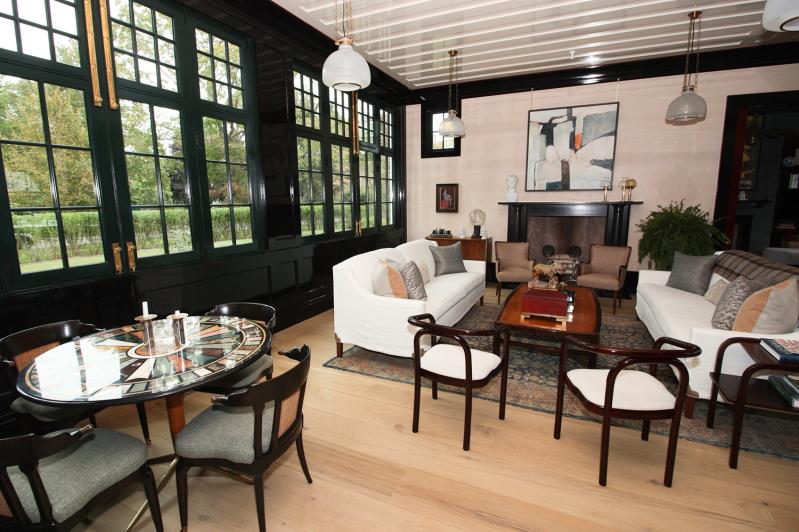 Lowering his teacup, Joseph Aversano, who had stopped by on behalf of the next East Hampton Historical Society house tour, pointed out that one David Huntting had done just that in days of yore, parceling out the David's Lane we've come to know.
The fabricated story is a multigenerational affair, involving a marriage to a daughter of a whaling captain from Sag Harbor, a pretend addition making up an entire side of the "Shaker farmhouse," and what was once called an annuitist who loses her steady income and thus lets out rooms for rent.
They dubbed the house the Dowager Inn.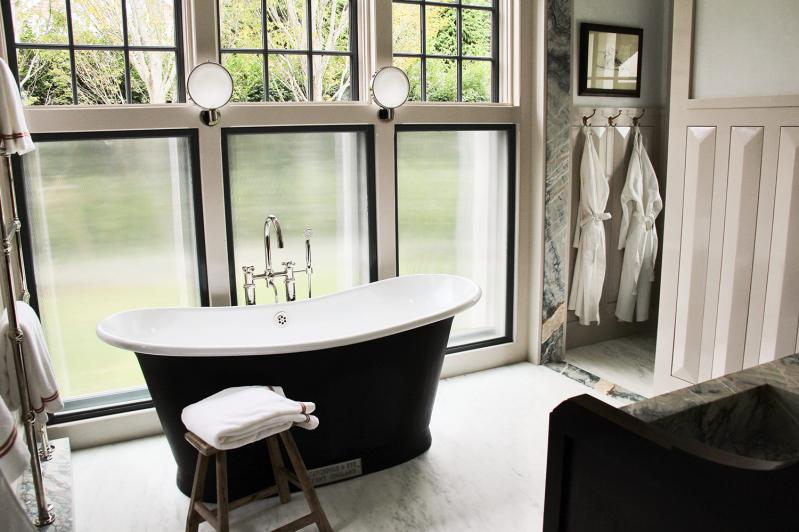 Nooks, crannies, and detailed paneling in a British Arts and Crafts vein abound, as do touches inspired by local architectural history as seen in the Baker House 1650, for instance, from the whitewashed shingled exterior to upstairs bedroom windows quirkily mismatched in size and number of panes.
Inside, well, is the kitchen always the heart of a house? Or is it simply revealing? Here it's open and dominated by large windows with many mullions, the trim painted a glossy black.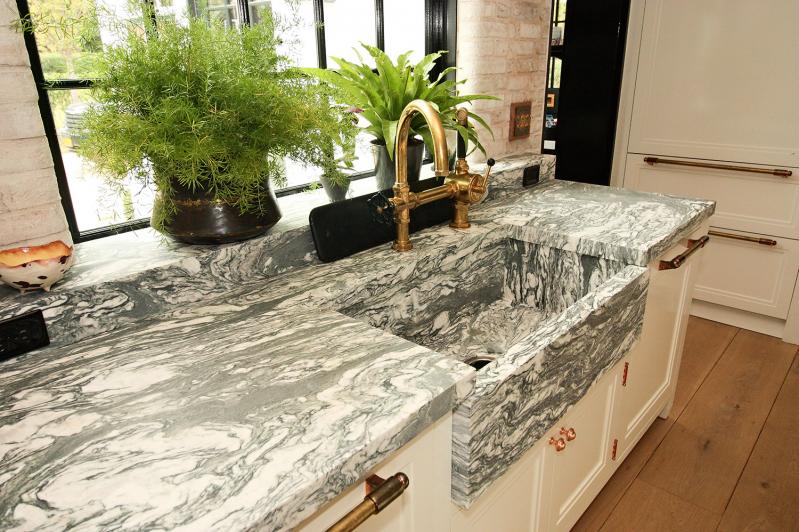 "I wanted more furniture and less cabinetry," Mr. Graybill, the lead designer throughout, said of his English countryside inspiration. "I don't want to apologize for cooking and hide stuff. I wanted it out, so when friends come over it's exposed." Glasses and plates are readily visible on shelves.
"I like to cook, but I like to do it alone, without people watching" — an intimate taking-care, in other words, not a performance. On those occasions when guests need a gathering spot, there's a place designed for just that purpose, a full tavern-size bar with a marble top front and center in the vast living room with accordion windows, where the lacquered black trim offsets walls of pale peach.
Piggybacking on the inn theme, the house has been carefully planned for entertaining and extended stays (with three stacked washer-dryer sets in the basement), but as Mr. Graybill, a soft-spoken Southern transplant, said more than once this day, he doesn't necessarily want to see guests before, say, 5 in the evening, so there are a number of tucked-away spaces for hanging out, one with banquette seating and a television just off the living room. It's the perfect miniature hotel lounge.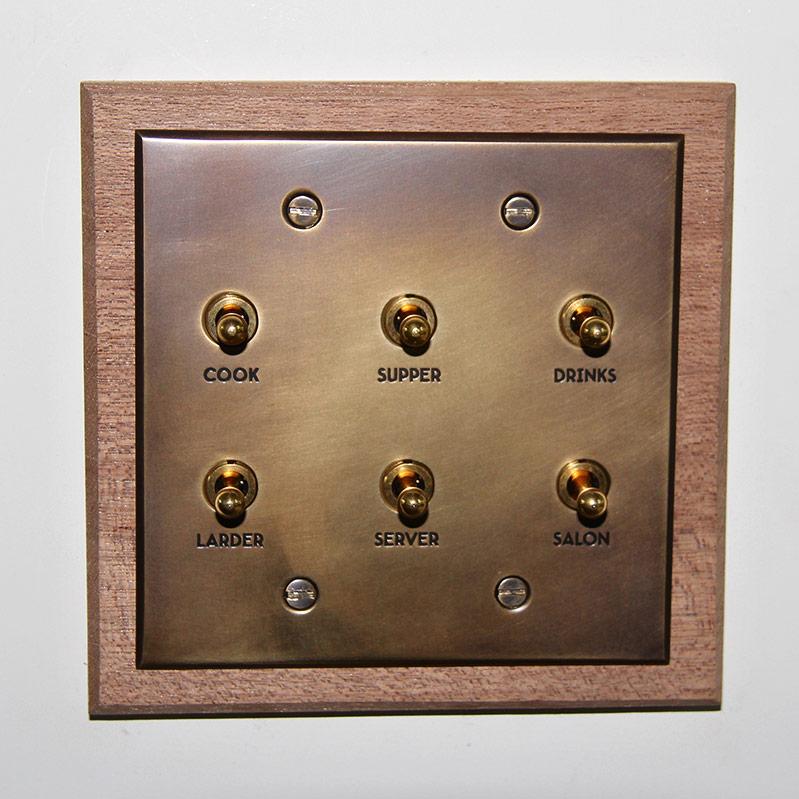 Outside, beyond the pool sits a kind of boathouse, a replica of the old schoolhouse behind Clinton Academy on Main Street, but with a major repurposing: It features a windowed wall that opens wide for dispensing drinks. Mr. Graybill calls it Margaritaville. He and Mr. Dokos hosted a party of more than 40 on the patio there over the summer.
But it's not just about parties and entertaining. They're pretty much in the house year round, and it's plenty accommodating of quiet time in front of one of the numerous gas fireplaces.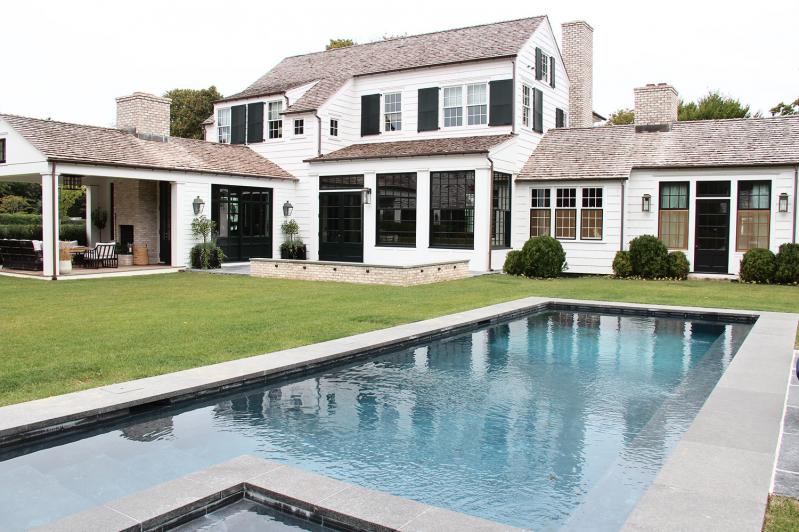 "There are so many places to hide in this house," Mr. Graybill remarked while giving a tour, indicating in particular a cozy "captain's room" that he prizes for naps or escaping with a book.
Your own chance to take a self-guided tour comes Saturday from 1 to 4:30 p.m., thanks to the historical society. A fund-raiser, it costs $65, or $75 on the day of. Tickets to a cocktail party at the Maidstone Club the night before are $200 and include the tour.