Several days after my wife, Loretta Orion, died on July 25, 2022, I discovered a wooden box containing a passel of love notes that passed between us when we began working at the Home, Sweet Home Museum in 1999. She was hired as the landscape gardener and I was the new historic site director. Since my notes are littered with references to body parts and a fondness for flimsy and transparent clothing, they need not be revealed in this essay. Loretta's notes do bear repeating, if only to illustrate why I loved that woman so much.
How could you not love a woman who wrote, "Dearest love. Thank heaven for the Royale Fish! [The restaurant where we first met in 1979.] Yippie! I met and married you! Coffee is ready, just flip the switch. Kisses on your everything. Love, Mrs. King."
Or how about this: "Yippie! Tomorrow you will be away for only two hours! I may go with you. The quality of my days is measured by the hours we are together. Sweet! How sweet it is to be loved by you. Mrs. King." (Loretta never referred to herself as Mrs. King in public. She had legally changed her last name to Orion after having to endure the last names of an absent father, an abusive stepfather, and a first husband.)
How would you like your loved one to write you this: "My sweetest heart, I hope you will be with me all day. A day without you is so sad and empty. I adore you — as you know — and would like to express it all day. Love, Mrs. King."
How lucky was I to be with this loving woman!
And there is more: "Morning, love. I'll miss you when I awake and you are already on the road and far away. Coffee is ready. Take something good to read. I am charging my 'cell' so I'll be ready if you call. Love, Mrs. King."
I guess we drank a lot of coffee.
Or how would you like to wake up in the morning to "Good morning, my sweet adorable love! Together today, yippie! Every moment lost is a big moment to me. So wonderful we have the opportunity to be together so much. Kisses on your sweet adorable face, my dearest husband! Love, Mrs. King."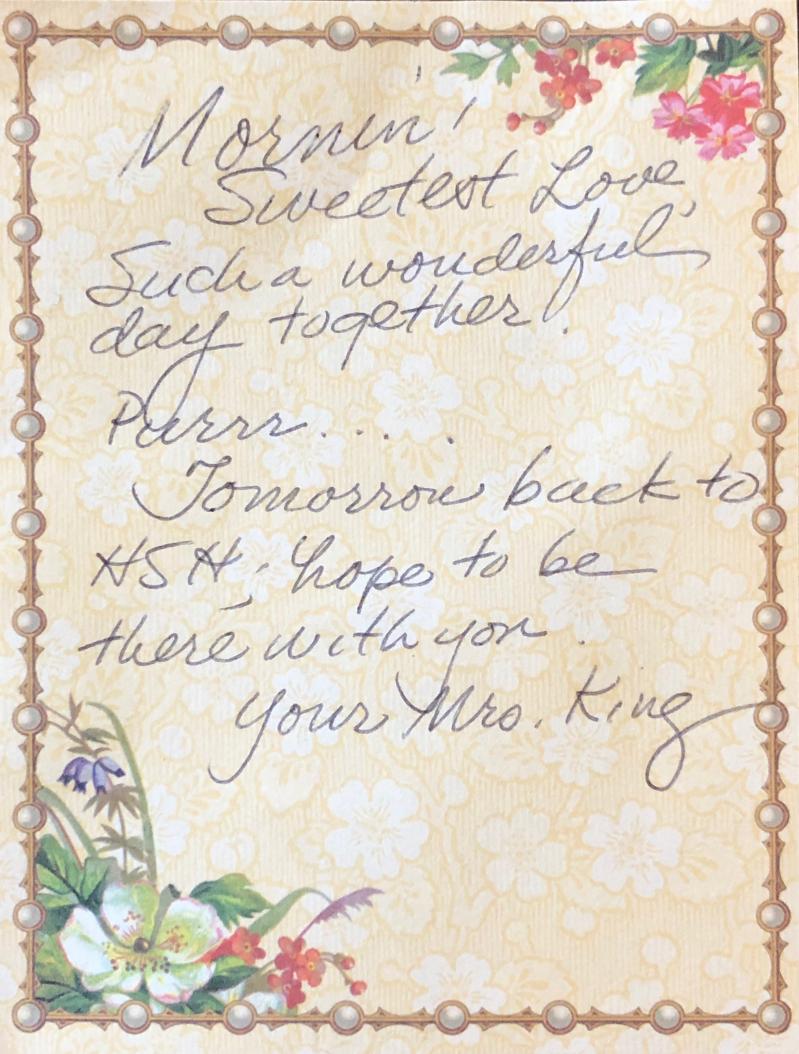 And she was not done. "Good morning, love of my life. This one and others to follow. Hope you don't have to leave too early and we can be together most of today. Love, your wife."
"Dearest love husband, I miss the honeymoon. I hope soon I can be with you every day at HSH. Together is heaven. Kisses, Mrs. King."
"Morning, love. I hope with all my heart that you feel better today. I love you with all my heart. Love, Mrs. King."
Are you kidding? How could one not want to take care of this loving person?
"Good morning, my husband and sweetest love. Coffee is ready, flip the switch. By then I will have kissed you on the mouth because Dr. Baer said it is safe. [Dr. Baer was the dentist who placed two implants in my mouth at the time.] Your adoring wife, Loretta."
Do you see why I loved this woman Loretta Orion so much?
And there is one more: "Good morning, my sweetest husband. Coffee is set up, just switch the button. Good day, right? You got your leg and neck to feel good, I felt good working in the garden. All is right with the world when nothing distracts us from our love. I adore you, source of all my happiness. Love, Mrs. King. Please give me a kiss before you leave."
There are more but I think you can get the point. Loretta Orion was the source of my greatest happiness. Besides being hired to teach at the Springs School, the next greatest accomplishment in my life was meeting her. The next great accomplishment after that was getting Loretta to let me kiss her! The next great accomplishment after that was getting Loretta to marry me. And I had 42 years enjoying the sentiments contained in the above notes.
Loretta's actions mirrored her rhetoric. Not knowing the difference between a pot pie and a pop fly, regardless, she supported my interest in baseball, including tolerating an entire room in our home devoted to it and actually making baseball curtains for the windows. She attended all the plays I was part of, sitting through numerous performances. She agreed to be the landscape gardener at Home, Sweet Home so we could be together there while I worked as the historic site director. And most important, Loretta agreed to conduct her anthropological research for her doctorate in the United States rather than her original choice, Bali, an island province in Indonesia. That's past the Shinnecock Canal!
It is no accident that her research libraries are still intact in our home in Amagansett, or that her etchings of Machu Picchu are still hanging on the walls, or that her 1940s-style coats with the shoulder pads that she wore with such elegance are still hanging in the front hall closet next to the town crier cape that she had made for me, or that her pictures fill frames in every room of our home. I never want to forget that beautiful, talented, creative, and loving woman who gave me such happiness, and the fact that I could have repaid Loretta with her care when she was faltering seems so little compared to what she gave me.
Besides, she had great hair and a great body. And she was a great cook and gave elegant dinner parties, and was kind to animals. She was also an inspiring and creative teacher. And, well, that's it for now.
---
Hugh R. King is the East Hampton Town historian.