My husband passed away days before Covid hit. There could be no funeral. The family was too frightened, so I came out to our house in Sag Harbor. I did the usual things a widow does, played his favorite music, read his poetry and Joan Didion's "The Year of Magical Thinking," put pictures on the icebox. Drank Scotch. Even smoked his Camels now and then.
But what finally helped me was planting a small garden. The iris bloomed its luscious purple, and the lily of the valley gave off its intoxicating scent. I loved it and wore Diorissimo for years. It always reminded me, not of Al, but of my mother, which I took great comfort in during these days of mourning. Because she loved him and because she gave me such beautiful memories of the holidays growing up.
This year, Thanksgiving came and went. My enormous Irish family was silent. Christmas was the same. But the lily of the valley took me back to a time and place when my mother and her brood were happiest, in the large shingled house on Rumson Road where she planted lily of the valley underneath the hedges out front.
It would be December 8th, the Feast of the Immaculate Conception, and she was taking the oldest three girls, Mary Jane, Ann, and me, on our annual trip into New York to buy dresses for the holidays. We were allowed one dress every other year, so the thought of finding the perfect one was daunting. We were dressed up in our Sunday clothes and all wore white gloves. I thought then it was a law that you had to wear gloves in the city. To this day I'm amazed by all the clothes she had to buy for 12 children; no pair of white socks and gloves was overlooked.
Riding on the train I was deliriously happy. We had her all to ourselves, a rare event, and were going to New York City, the cityscape looking magical in the distance. I suspect now that was her intention, a day of her undivided attention with her girls. We got off the train at Penn Station, her favorite building in all of New York, and followed her lead under the glass-domed ceiling through the crowds to 34th Street, where she hailed a yellow checkered cab. Ann and I sat on the fold-up chairs.
Passing a church, she explained that the line of people outside were poor and came there for food. (This was years before she integrated our beach club, to the dismay of most of the members.) The first stop was Lord & Taylor's windows and lunch at the Bird Cage. My mother ordered tea and little sandwiches with the crusts cut off. I asked her why there were only cucumbers and butter on them. "Put some salt on, they're delicious," and in fact they were. We then walked up Fifth Avenue behind her like ducklings to Best & Co. and Bonwit Teller.
At each store, she would sit outside the dressing room on a pretty floral-covered chair with carpet underneath throughout the store, while we would try on our choices and then model them for her, hoping to hear the magic word: "Stunning!"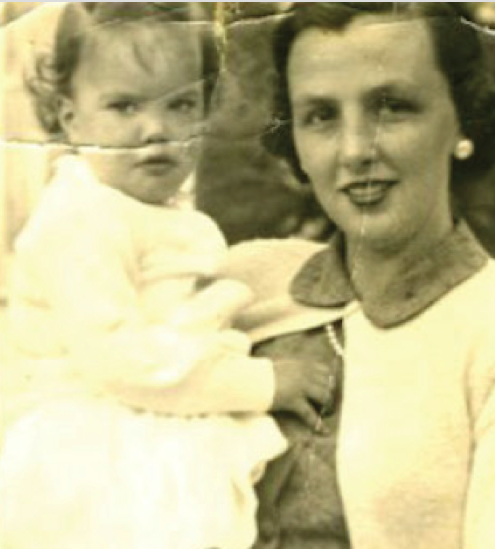 Our shopping finished, we made our visit to St. Patrick's Cathedral. There was an exhibit of wax popes, which we all thought very funny, and we made our way to Our Lady of Guadalupe, my mother's favorite, though I don't remember why. The enormity and beauty of the church were staggering; I had never seen anything like it, but in truth preferred our little clapboard church at home, with its statue of Mary to the left of the altar. I would go often at lunchtime to her statue in the church next to school and pray.
We lit candles and then left to cross the street to Saks. We had discovered a window in the eighth-floor ladies' room that framed the Christmas tree in the middle of Rockefeller Center and watched the tree lighting.
At last, each of us carrying a box with the lovely lettering of the store (we voted Bonwit Teller's violets the hands-down favorite), we went to Schrafft's. The waitresses had brogues and wore black uniforms with starched white collars that made them look like the nuns we had in school. Ann whispered, "That one looks like Sister Dora," and we all cracked up while my mother shot us a look and turned to greet them with her usual warmth and kindness. They remembered us, I should say here, from the years before, my mother's dark Irish beauty so familiar to these women who had left their homes in Ireland.
When her sweetbreads arrived, she told us what they were. Expecting toast with honey, we were horrified but content with our hamburgers. We then entertained her with our reactions to the wax pope exhibit, knowing how much she enjoyed poking fun at the church though she was deeply religious. We knew the day was ending when she took out her compact and put on her lipstick, Revlon's Cherry Flip. Her hair and her lipstick never changed throughout her life.
Back at home we went through the same ritual of showing her our dresses. I'm sure she was exhausted but she waited patiently. "Just perfect for you . . . you look so pretty in blue," she would say. She was not given to compliments, so I would remember that one for years and would go to bed that night feeling loved, and even pretty, my beautiful blue velvet dress hanging from the closet door.
Remembering those trips so long ago, I believe she was showing us another world apart from what we knew, a place so exciting that it took your breath away, filled with energy and the promise of dreams coming true. She was as comfortable in this world, with all the different people, as she was in our own.
She was showing us, by example, the importance of treating others with kindness and respect, of discovering new things and places and the power of simple pleasures: a lovely lunch of tiny sandwiches and tea in a blue birdcage. Perhaps most important, not settling until you found what you loved, here the "stunning" dress that you looked "perfect" in and a day in New York with my sisters that I will always remember, with her guiding the way.
---
Nora Sheehan has been creative director at magazines including Elle Decor, W, and Architectural Digest. She can be reached at [email protected]. Her common-law husband was Al Ellenberg, an influential editor with The New York Post.