Films and television offerings with East End connections found love from the Hollywood Foreign Press Association, which nominated several of them for their annual Golden Globes Awards. The awards, which have a reputation for predicting Academy Awards nominations, will be presented on Jan. 5 in Los Angeles.
Films with nominees in several categories included the Hamptons International Film Festival selections "The Irishman," "Marriage Story," and "The Two Popes." All were distributed by Netflix.
"The Irishman" was produced by Jane Rosenthal, a Bridgehampton resident, and stars Robert De Niro, who has a property in Montauk first purchased by his father, Robert De Niro Sr. The movie has been nominated for best drama, best director, best supporting actors (Al Pacino and Joe Pesci), and best film screenplay for Steven Zaillian. Mr. De Niro did not receive a nomination for best actor.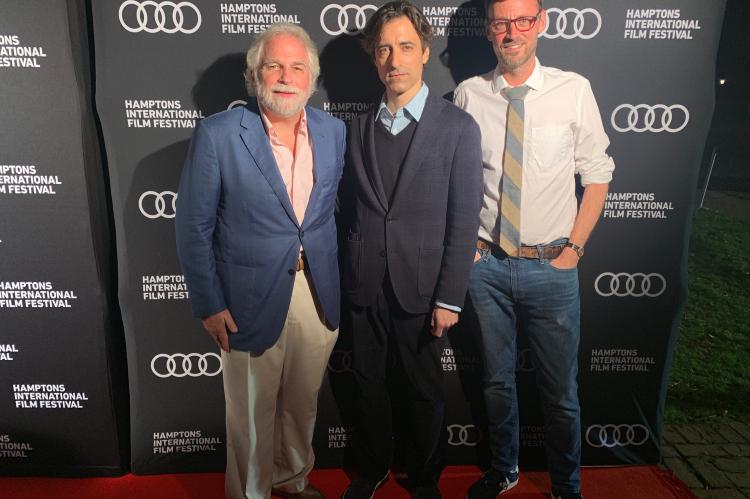 The North Fork part-timer Noah Baumbach's "Marriage Story" is also up for best drama, best actress (Montauk homeowner Scarlett Johansson), best actor (Adam Driver), best supporting actress (Laura Dern), best screenplay for a motion picture, and best original score by Randy Newman. Mr. Baumbach wrote, produced, and directed the film.
"The Two Popes" received nominations for best drama, Jonathan Pryce for best actor in a drama, best supporting actor for Anthony Hopkins, and best screenplay.
Other nominated actors with ties to the East End or films that screened at HIFF include Christian Bale for "Ford v Ferrari," Jennifer Lopez for "Hustlers," Daniel Craig for "Knives Out," and Roman Griffin Davis for "Jojo Rabbit." 
Bong Joon Ho's "Parasite," one of the buzziest entries at the Hamptons film fest, is nominated for best foreign language film, best director, and best screenplay. Other foreign language films nominated and shown in October at the festival are "Les Miserables" and "Portrait of a Lady on Fire."
Although a more tangential connection, the HBO series "Succession" was filmed in Water Mill at an estate once owned by Henry Ford called Jule Pond with a quarter mile of ocean frontage. The show was nominated for best television series in the drama category.